First Covid-19 patient without underlying health issues dies in Vietnam
A young worker at an industrial park in the northern province of Bac Giang became Vietnam's 44th coronavirus death.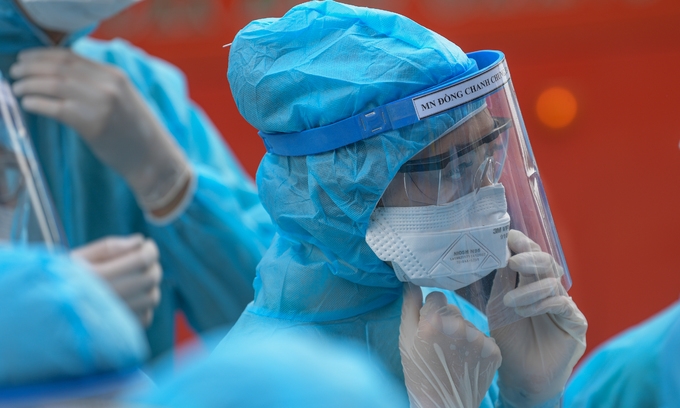 A medical worker prepares to take swab samples from workers at Bac Giang's Quang Chau industrial park for Covid-19 testing, May 15, 2021. (Photo: VNE)
A 38-year-old woman, known as Patient 4,807, succumbed to the virus on Monday, 7 days after her diagnosis. She reportedly had no underlying health issues, but her conditions worsened quickly after contracting the deadly Indian variants, the Ministry of Health announced.
The woman was a worker at Hosiden Vietnam Co., Ltd, Quang Chau industrial park, Bac Giang. Her test result came out positive on May 17 with classic symptoms. Within 5 days, however, she was diagnosed with pneumonia due to Covid-19 and respiratory failure complications. Her condition worsened on May 23. X-ray scans revealed that her lungs had been extensively damaged, requiring highly concentrated oxygen supply.
Over the following hours, her condition continued to worsen and she did not respond well to treatments. She died on Monday morning while she was transferring from provincial hospital to Hanoi's National Hospital for Tropical Diseases, a frontline hospital for the Covid-19 fight.
Her causes of death were pneumonia due to Covid-19, septic shock and advanced respiratory failure complications, according to the health ministry.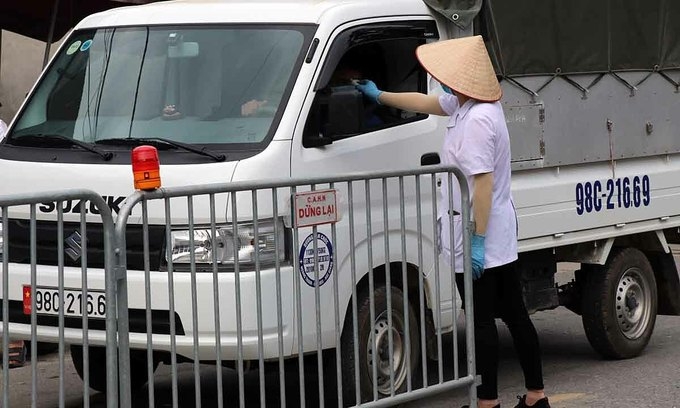 A medic checks the body temperature of a driver at a Covid-19 checkpoint near the Hanoi-Bac Giang border in Hanoi's Soc Son District, May 2021 (Photo: VNE)
Of the 44 deaths reported in Vietnam to date, patient 4,807 is the first one with no underlying health problems. Others were reportedly old and had been suffering from severe diseases for years, including end-stage kidney failure, cancer, diabetes.
The nation has recorded nine coronavirus deaths since the resurgence of the pandemic on April 27. Seven of them died at Hanoi's tropical disease hospital.
Bac Giang is the current biggest Covid-19 hotspot in Vietnam with a record 1,069 cases confirmed in the 4th wave. Most of the infections are workers at Quang Chau industrial park where Patient 4,807 worked. The area and three other large-scale industrial zones have been shut down to inhibit the virus from spreading.
Vietnam's tally has reached 5,404 cases. Prime Minister Nguyen Minh Chinh on Monday ordered subordinate levels to expeditiously work out a strategy for COVID-19 prevention at industrial parks.
The Government chief also demanded politicans come up with a vaccine strategy by expanding access to vaccine supply sources, designing mechanisms and policies to encourage vaccine research, development and manufacturing as well as proper vaccination plan.
Apart from diversifying access to external vaccine sources, Viet Nam is also seeking to boost domestic vaccine research and development, acquire patients of vaccine makers, and set up partnerships in vaccine production, according to Minister of Health Nguyen Thanh Long.
Nguyen said vaccines are the "effective weapon" against infectious diseases, including COVID-19.
In a bid to secure funding for COVID-19 vaccines, the Ministry of Finance last week submitted a proposal to the Government for approval of a VND25.2 trillion (US$1.1 billion) COVID-19 vaccine fund.
The total funding includes VND16 trillion from the State budget while the rest will be mobilized from local budget, business community, and organizations.
The fund will be used to purchase 150 COVID-19 vaccine doses for around 75 million Vietnamese this year, according to VGP.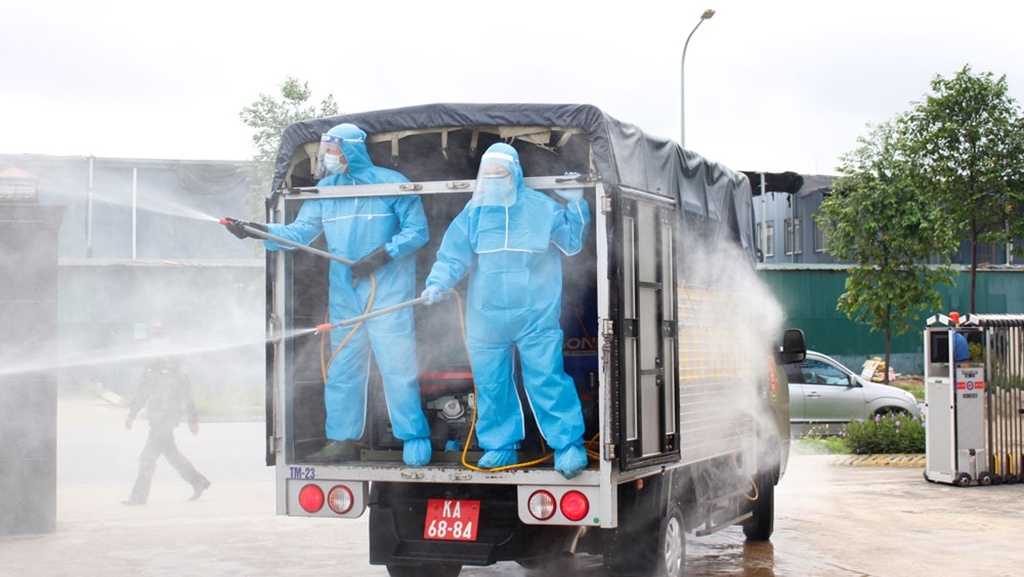 Medical staff disinfect streets in Bac Ninh, one Covid-19 hotspot in Vietnam (Photo: Thanh Nien)
The latest wave may last longer than the previous ones, especially in Bac Giang and Bac Ninh provinces, due to emergence of multiple outbreaks in dozens of localities and two new variants are behind the surge of new community infection cases, Minister Nguyen told VGP on Monday.
Despite the aforementioned challenges, the current wave has been put under control has been basically controlled in many localities like Yen Bai, Dong Nai, Quang Ngai, Nghe An, etc.