Florida's Keyontae Johnson collapsed during game, in critical but stable condition
Florida star Keyontae Johnson collapsed Saturday morning in the first half of the Gators' game against No. 20 Florida State and is in critical but stable condition at Tallahassee Memorial.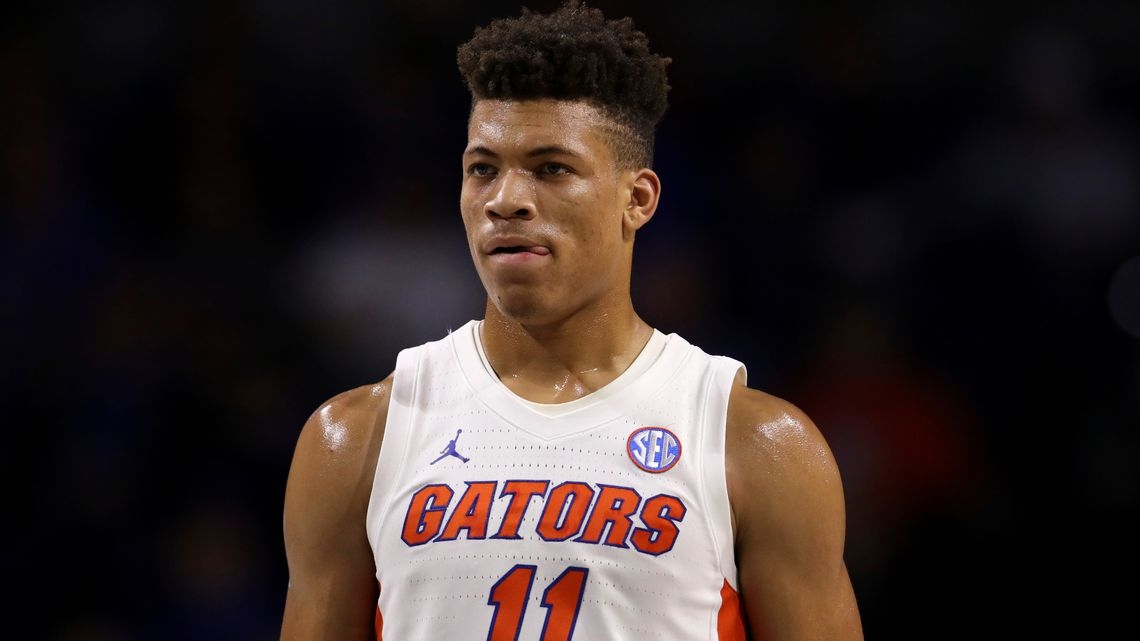 Gators basketball star Keyontae Johnson was in critical but stable condition Saturday afternoon after collapsing during Florida's game at Florida State (Photo: AP)
Keyontae Johnson's accident
As reported by CBS Sports, his collapse came after a timeout, and he was taken off the court in a stretcher.
Like most of his teammates, Keyontae Johnson tested positive for COVID-19 during the summer. Although the cause of Johnson's ailment was not immediately known, the coronavirus can lead to myocarditis, a viral infection of the heart muscle.
Just prior to the timeout, Johnson had finished an alley-oop with force that gave the Gators an 11-3 advantage. It remains unclear what caused him to collapse.
The game continued as planned despite Florida players in clear distress over the status of their star teammate. The Seminoles went on to win 83-71.
According to ESPN, Coach Mike White canceled postgame interviews to join Johnson at Tallahassee Memorial as his players boarded a bus for the two-hour trip back to Gainesville. According to the school, White will remain with Johnson at the hospital overnight.
Johnson's parents were flying in from Virginia to be with their son.
"Please keep praying for @Keyontae and his family. We all love him," White posted on Twitter.
Several Gators were in tears and a couple buried their faces in towels as White gathered his team to say a prayer.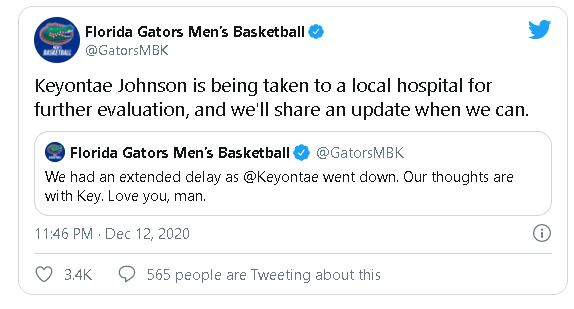 (Photo: Captured)
What's going on with the rest of the team and the game afterwards?
Officials gave the teams time to regroup, and the game continued a few minutes later. Florida State coach Leonard Hamilton said administrators twice gave the Gators the option of stopping or continuing the game -- at that time and again at halftime -- and said they ultimately decided to play. White let his players make the call.
"Whatever they thought was in the best interest of their team, then I would accept it,'' Hamilton said. "My administration asked me, and I told them we would be OK with whatever they decided. It was my understanding that they wanted to play.''
The Gators weren't the same afterward, as both teams seemed rattled. Florida (3-1) was ahead 11-3 after Johnson's dunk, but the 20th-ranked Seminoles (3-0) scored the next seven points and went on to an 83-71 victory.
Keyontae Johnson's seniors, teamates and fans wish him all the best
FSU coach Leonard Hamilton said some of his players cried after Johnson collapsed. Several of them knelt in prayer during the huddle afterward.
Hamilton said it was his understanding that the Gators wanted to continue playing, even after the traumatic experience, Tampa Bay Times reported.
"We're just all hopeful and praying that he's okay," Hamilton said.
Players, teams and coaches from across the country all offered Johnson their support, ranging from Auburn's Bruce Pearl and Texas Tech's Chris Beard to UCLA's Shareef O'Neal and Florida State's own account.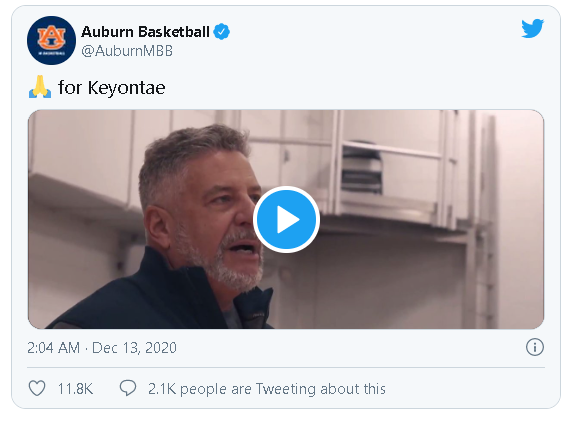 (Photo: Captured)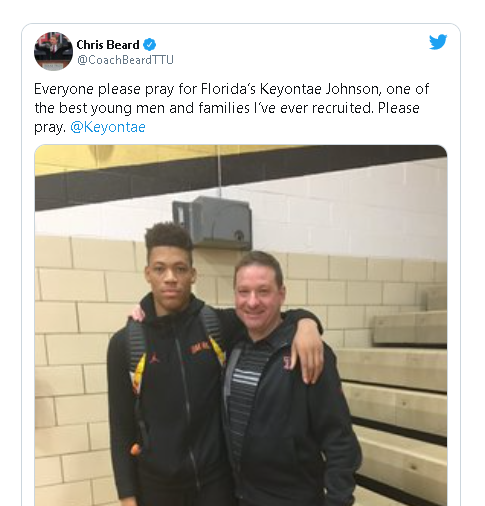 Chris Beard wishes him a quick recovery (Photo: Captured)
More about Keyontae Johnson
Johnson, a junior forward from Norfolk, Virginia, is averaging 19.7 points per game this season and is considered an NBA prospect. He scored five points in four minutes Saturday.
"I know you're fighting bro,'' teammate Tre Mann tweeted long after the game ended. "God got you.''
Johnson is known for his versatility and floor leadership and is considered a leading candidate for SEC Player of the Year. He averaged 14 points on 54% shooting from the floor and 7.1 rebounds as a sophomore.C
Focus
Vietnam has so far detected 108 Omicron cases returning from overseas in 10 localities, including 68 cases in Ho Chi Minh City and 27 cases in Quang Nam.