Video: Hurried dad's reaction saves son from tragic car accident
A Thai man was incredibly quick to get off the motorbike and grab his son along as he saw a pickup truck crazily running toward them. 
(Video: Tik Tok)
Like a scene from a Hollywood action film, the man has saved himself and his son's life from being hit by a pickup truck with his incredible agility.
CCTV footage shows how the man fearlessly gets out of the motorbike and grabs his son from the path of the fast vehicle which is uncontrollably hitting the sidewalk. Three motorbikes are hit on the spot and badly damaged.
The duo is reported to have just stopped by the sidewalk when the accident happens. Fortunately, both of them escaped the "death sentence" in split second.
The scene just like one in a Hollywood action movie.
The accident happened on July 10 in Thailand and has been widely circulated on the Internet.
The father's fearless act and incredible moves have been hailed by thousands of netizens. "His reflection is amazing!", one web user commented. "Geez! How lucky they are. God bless them", another account wrote.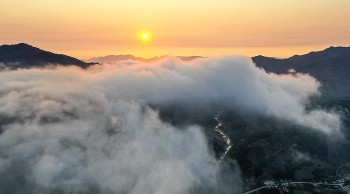 Multimedia
The gorgeous dawn behind a sea of fluffy white clouds creates a wonderful and beautiful picture of Truong Son Dong peak, Quang Ngai.