"Foodie thrill ride" to Le Mat village for exotic menu of snake, CNN suggests
CNN, the US' cable news network suggests tourists taking a ride to Le Mat village in Hanoi's peripheral district of Long Bien to explore the exotic menu of snake dishes.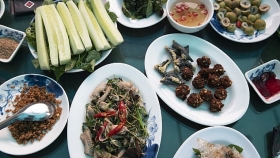 Nearly every dish on this table contains snake, with the exception of the plates of olives and cucumber slices.
For locals, the dishes of slithery reptile is familiar and expected, a natural part of their diet. For foreigners, it's perhaps the "ultimate foodie thrill ride," CNN wrote.
CNN cited the owner of one of the most popular restaurants in the area as saying that the history of snakes in Vietnamese cuisine began with blood. It is believed that snake blood heals headaches and is good for curing sore throats and bone problems.
Since the past 20 to 30 years, the villagers have flashed the idea of making snakes the local delicacies and Le Mat village has become well-known as a culinary destination, specializing in snake meat.
According to CNN, the menu-free experience at the restaurant means diners can get to choose which snake is going to end up on their table and witnessing the chefs preparing dishes of the snake makes the culinary trip more adventurous.
The CNN team described snake spring rolls, filled with ground reptile meat are "tasty and fresh with herbs found in all Vietnamese cuisine". Besides, the most popular sauteed snake meat also left imprints as "its texture is the closest thing to poultry or pork – though the snake can't be likened to either".
Le Mat ancient town has caught and bred snake for around 200 years. However, it is no longer appropriate and became illegal since Vietnam joined the International Convention on the Protection of Wildlife.
There are roughly 100 snake-farming households in Le Mat. These farms employ nearly 400 people. As well there are two large specialized farms that breed snakes and produce snake meat. Every day Le Mat receives around 1000 Vietnamese and foreign travelers looking to try this serpentine specialty.
Hard to believe that not long ago the business of snake breeding and meat production almost disappeared. From the 1960s to 1990s snakes around Le Mat were bred for restaurants and pharmaceutical purposes. Then, in 1993, Vietnam ratified the international convention on the protection of wildlife and imposed restrictions on the snake-breeding industry.
Snake meat disappeared from menus. In 2007, aware of the negative repercussions on the local dining economy, Vietnamese authorities granted Le Mat a "craft village" status. On this basis plans for development were drawn to reconcile snake breeding and meat production with increasing tourists eager to sample this most unique Vietnamese dining experience.
When it comes to real experience to witness the whole cage-to-table cooking, CNN stressed that the menu-free experience allows diners get to choose which snake is going to end up on their table.
"There's no rule that says you have to watch the snake meet its timely death, but many choose to witness the expert handler navigate his way around the slithering, hissing creature."
Once the snake is cut and killed it's ushered into the vast kitchen, where it's chopped, sliced and ground, its bones pulverized, and its skin cut into strips for a quick fry.
hanoitimes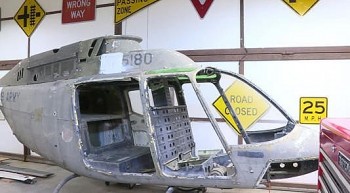 World
A piece of military history related to Vietnam is coming to life with a special project in a small Barton County townm in the US