Forbes: Vietnam's hotels get creative to survive the pandemic
US business magazine Forbes has recently published an article highlighting the Vietnamese hospitality sector's creativity to survive the COVID-19 blow.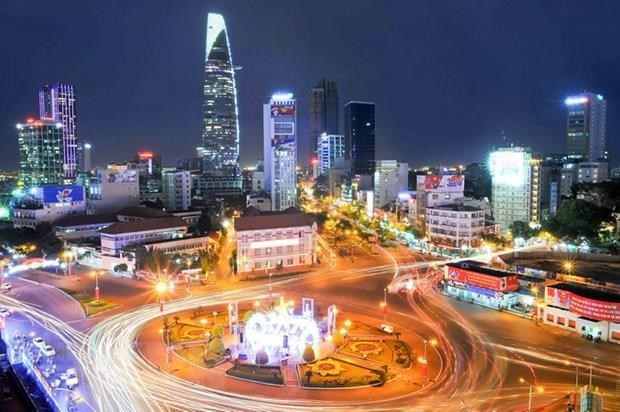 Alma Resort on the shores of Cam Ranh Bay in southern Vietnam. Photo: VNA
US business magazine Forbes has recently published an article highlighting the Vietnamese hospitality sector's creativity to survive the COVID-19 blow.
The article, by Brett Davis, said the tourism industry in Vietnam, like the rest of the world, suffered a seismic blow in 2020 due to the COVID-19 pandemic. It also forced some in the industry to rethink their approach to how to cater to guests and innovate their offerings.
One such innovation was developed at Alma Resort on the shores of Cam Ranh Bay in southern Vietnam, which built its own in-house app to create a safe, contactless way of delivering key information to guests.
Developed by the resort's IT team and available for download on Android, Apple, Windows and Amazon devices, the 'Alma Resort' app provides COVID-19 health and safety tips, menus for the property's restaurants, activity schedules and promotions as well as live stream broadcasts and information about events.
The resort's general manager, Herbert Laubichler-Pichler, said he believed it would soon be incumbent for five-star resorts across Vietnam to offer the same technology. "There is no facet of our lives that remains untouched by this pandemic and under the new normal, this app is an effective and contactless way to connect with guests and staff."
Domestic tourism the new lifeline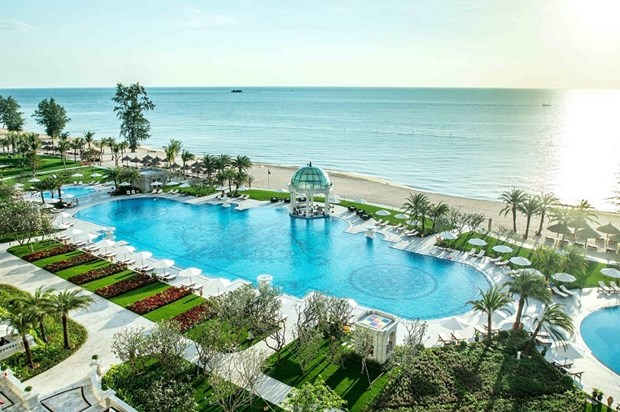 Vinpearl Resort & Spa on Phu Quoc island (Photo: VNA)
The author said Vietnam reached an all-time high of 18 million international visitors who generated about $40 billion in revenue in 2019, and the sector looked set to reach the government's goal of it becoming a key plank in the national economy.
All of that, however, went over a cliff between late January 2020, when flights from certain COVID hot spots were suspended, and April, when a total lockdown was enforced. From January to November that year, the country saw only 3.8 million international arrivals, down some 77 percent. To date, Vietnam is still not accepting any international tourist arrivals.
Because of these measures, Vietnam was one of the world's leading countries in controlling the spread of the pandemic and opened up opportunities many high-end tourism properties had, if not overlooked, paid scant attention to: the burgeoning Vietnamese middle class.
Domestic tourism, and the steadily growing purchasing power of Vietnamese consumers, came to be viewed as a lifeline for a desperately struggling industry, provided it could change its strategy in some key areas.One such example was in the food and beverage offerings, the article said.
Looking forward, Laubichler-Pichler predicted there would be a strong rebound in the Vietnamese tourism sector because of the pent-up demand for travel after a year spent in various forms of isolation.
PM orders consideration of Covid 'vaccine passport' for economic, travel recovery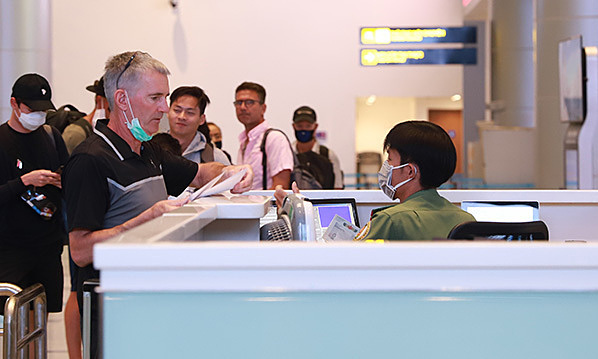 Police check a foreign man's passport at Da Nang International Airport, February 2020. Photo: VnExpress
Prime Minister Nguyen Xuan Phuc has recently ordered relevant agencies to map out plans for "COVID-19 vaccine passport" implementation to soon help tourism and aviation sectors recover.
He requested relevant agencies to consider "appropriate anti-pandemic prevention measures" as the country adopts an official policy for COVID-19 vaccine passport holders, VnExpress reported.
His directive came after tourism experts earlier this month suggested the government consider opening up to vaccinated foreign visitors from the third quarter in a similar vein to regional peers to revive the hard-hit tourism industry.
While some experts proposed those holding "vaccine passports" should still undergo 14-day quarantine in the absence of information on the potential risk of infection following two-dose inoculation, others suggested the exemption of mandatory quarantine if foreign arrivals show a vaccine certificate and negative test results before and after entering the country.
A "vaccine passport" entered the agenda as the Southeast Asian country committed to both containing COVID-19 outbreaks and ensuring economic growth, rebooting hard-hit sectors like aviation and tourism.
The government last year green-lighted the resumption of commercial flights to seven Asian destinations, mainland China, Japan, South Korea, Taiwan, Laos, Cambodia, and Thailand, but Vietnamese carriers are still not allowed to operate inbound flights./.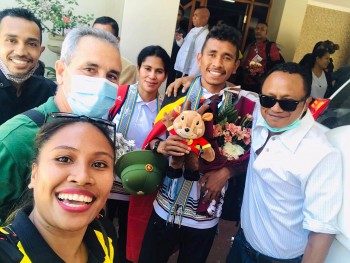 Viet's Home
Along with a Vietnamese flag, the foreign athlete also brought many souvenirs representing the love from his Vietnamese fans, like the signature Vietnam pith helmet.