Foreign markets in Ho Chi Minh City witness gloomy days
The dearth of customers in Ho Chi Minh City amidst the COVID-19 pandemic leaves the municipal markets and grocery stores struggling to stay afloat.
(Video: Vietnamnet)
According to Vietnamnet, the hallways of Ben Thanh Market, which used to be a hot tourist attration, now see just a fraction of the foot traffic they did at this time last year.
The same story goes for the Malaysian Market on Nguyen An Ninh Street and the Russian Market on Vo Van Kiet Street, where a lack of foreign customers has driven many vendors to close their stalls for good.
Longing for foreign customers
For several days, a tall Russian man could be seen wandering the aisles of a grocery store in the Russian Market in District 1, looking for a pack of salo – cured pork fat often used in Russian cuisine.
After ten days of searching in vain, the man — who works as a teacher in Vietnam — was finally in luck. An air shipment of salo arrived.
He bought five kilograms just in case the next shipment was delayed as well.
The Russian man is one of a few remaining foreign customers to roam the Russian Market, a situation caused by the country's closed borders.
Vendors at the market are doing their best to eke out a living from the sparse demands of local customers.
In the 20 years she has been running a stall at the Russian Market, shop owner Nguyen Thi Khanh Van said she has never seen foot traffic so low.
She is doing her best to stay afloat from the mix of Vietnamese customers and Russian expats who frequent her shop, but worries that her sales figures are dangerously low and her stocks of Russian delicacies are running out.
The pandemic, she said, has made it difficult to have goods shipped from Russia by air.
High shipping costs, limited access to products, and extremely long shipping times have put her business in a state of turmoil.
"There are people here who are accustomed to Russian living and Russian food. They can't live without it, so they are urging me repeatedly [for products]. I am also trying to get my hands on the supply, as [I know] how my customers miss Russian meals," Van was quoted by Tien Phong news as saying.
As for the garment kiosks in the market, those that have been able to stay open are running on fumes, with many vendors admitting they have done so just to keep the atmosphere alive at the place.
Hong Hue, a clothing shop owner who has been in the market since its inception, said she has never needed business this badly.
She has had to furlough her staff and put relatives in charge of her shop.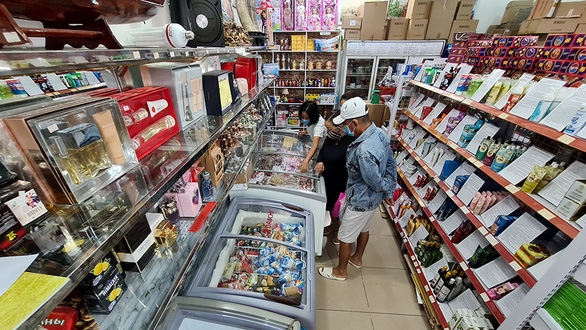 Customers in a shop specializing in Russian products in the Russian Market on Vo Van Kiet Street (Photo: Tien Phong News/ Tuoi tre)
Despite the pause in work, her business partners still text and call her to check in on her family, a gesture that she said is extremely touching.
Hue has nearly 30 years of sales experience in Russian products under her belt, having worked as a vendor in the erstwhile Saigon Tax Trade Center before the market moved to its current location on Vo Van Kiet Street.
She has made friends with a lot of Russian customers along the way, some of whom visit Vietnam regularly to source Vietnamese products for resale in Russia.
"They are yearning to come back to Vietnam. They are here to import goods as well as to escape the cold season [in Russia]. They all wish for the pandemic to end soon so they can visit tropical Vietnam," Hue said.
Going digital
Since the beginning of the pandemic, the entire Malaysian Market in District 1 has been desolate — a stark contrast with its pre-pandemic atmosphere.
Wy&Rine, an Islamic apparel shop owned by a Cham businessman named Fraris, is the only vendor keeping his storefront open.
After half a year with barely any customers, Fraris visits his shop to process online orders and to wrap parcels bound for Malaysia via air freight.
Nguyen An Ninh Street, where his shop is located, used to be a busting hub of Muslim-oriented food stall, boutiques, spas, and souvenirs.
Now, most businesses are shuttered as their owners have not been able to afford the sky-high rent in District 1.
According to Fraris, the rental for his shop costs hundreds of millions of Vietnamese dong per month. (VND100 million = US$4,300)
To cover the rent, he had no other choice but to reach out to the Malaysian Market for online sales.
There is no shortage of Islamic apparel in Malaysia, yet products from Vietnam have an edge in the market due to fabric quality and price, enticing Malaysian wholesalers and e-commerce sellers to import from him, Fraris revealed.
He still delivers to Malaysia even if the order amount is just a few dozen, since it is "better than none."
Shouldering a similar burden is Ngo Thi Thanh Mai, a Cambodian foodstuff retailer in the informally-titled Cambodian Market on Ho Thi Ky Street of District 10.
A retailer with 30 years of experience, Mai also said she has never seen such low footfall.
According to Mai, her customer base mostly consists of overseas Vietnamese living in the United States, Australia, and France. She also serves Cambodians expats.
Due to the pandemic, international shipping has nearly halted, yet overseas families still agree to pay high delivery fees to get their hands on Cambodian delicacies, Mai added.
"There are many times when I have tried using Vietnamese products as substitutes when supplies run out. Yet the food connoisseurs won't accept those — they insist on having Cambodian products. I have no choice but to wait for the pandemic to end so I can get my supply again."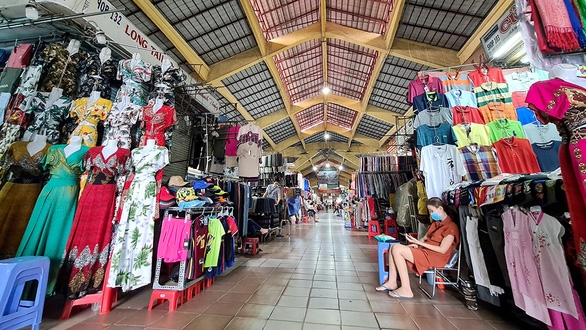 (Photo: Tien Phong News/ Tuoi Tre)
Gloomy days at Ben Thanh Market
A veteran fabric seller at Ben Thanh Market, Dang Thi Le Thu pointed out that one can see through the iconic main hallway, a situation that would have been impossible pre-pandemic.
Because of COVID-19, Thu's business sank into the red from May to July, although her profits began to slightly improve in August.
According to Thu, her shop only sees one or two customers each day.
Unable to cover the soaring rental costs, a handful of tourist-catering kiosks in the market have closed down, forcing their staff to work for delivery app Grab or local coffee shops.
"Two or three customers [a day] are good enough. Saddened as I am, I can't close down. It has to stay open to maintain a stream of working capital and ensure me a little profit," Thu said.
According to the management board of Ben Thanh Market, the premise hosts 1,400 retailers, but 50 percent of them have temporarily closed their business due to the absence of foreign tourists, Tuoi Tre reported.