Foreign Patients Thank Vietnamese Doctors at COVID-19 Resuscitation Hospital
On the morning of September 20, Y.U., a Bangladeshi patient with COVID-19, was discharged from the COVID-19 Resuscitation Hospital in Ho Chi Minh City
The foreign man could not hide his joy at being recovered after spending many days in the hospital. He is now able to walk on his own without having any severe symptoms of COVID-19.
"The doctors' treatment is very good," he said, adding that all the staff, doctors and volunteers are very helpful. "I'm very grateful for their help. They did a very good job and I'm very happy that I can get home," Y.U stated.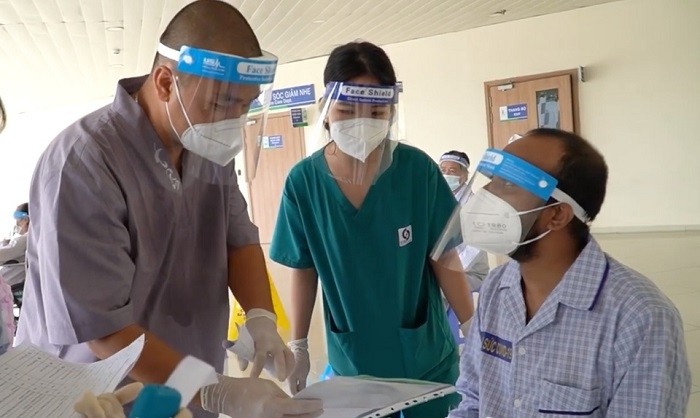 Y.U., a Bangladeshi patient with COVID-19, receiving instruction on discharge procedures from medical staff at the COVID-19 Resuscitation Hospital. Photo: Zing News
Meanwhile, Y.B., a Congolese patient who is also receiving treatment at the COVID-19 Resuscitation Hospital, has seen positive signs of recovery.
Y.B has lived and worked in Ho Chi Minh City for a long time, and contracted COVID-19 when the fourth wave of the pandemic hit the city. After recognising that his health condition was worsening, he contacted the local medical station, after which he was taken to the COVID Resuscitation Hospital.
He recalled that after being hospitalised, he took medicine according to the advice of doctors and now he feels better. "Everything is OK now," he said.
He extended his thanks for doctors, saying that God will bless all people at the hospital.
According to Doctor Pham Minh Huy, head of the 7A Department at the COVID-19 Resuscitation Hospital, the department is now providing treatment to three foreign patients with COVID-19. All three patients were in severe conditions but after being hospitalised for treatment, their health has quickly seen improvements.
As the patients are Chinese, Bangladeshi and Congolese, doctors face certain language barriers in communication. However, the patients have carefully followed doctors' instruction and shown good cooperation during their treatment.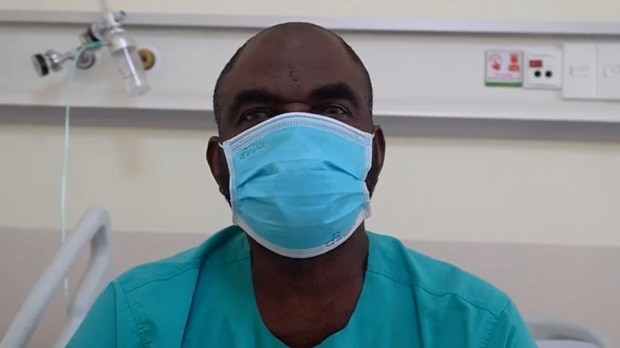 Patient Y.B extends his thanks to doctors and medical staff at the COVID-19 Resuscitation Hospital. Photo: Zing News
"The language barrier is the biggest obstacle we have faced in treating foreign patients," doctor Huy said, explaining that although some of medical staff at the department can speak English to support patients, several patients can't speak English, making communication difficult.
Thus, the doctors must seek other ways to explain and provide guidance for patients, and help them understand the oxygen therapy and follow the treatment regimens.
Huy said he was happy to witness his patients get better and be discharged from the hospital.
"We have tried our best. I hope that every day more patients can be discharged from the hospital and return to their families," he said.
Last year, British pilot Stephen Cameron, Vietnam's most seriously ill COVID-19 patient at that time, was at one point close to death, but was able to leave hospital after three months.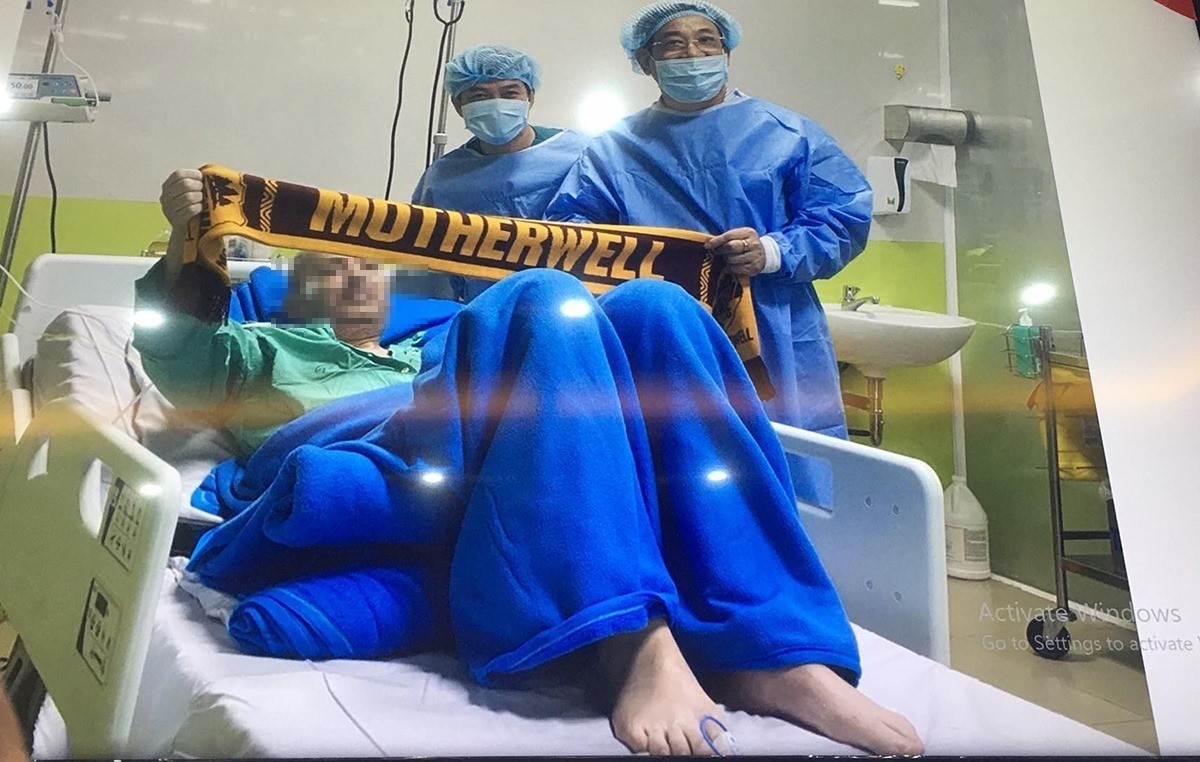 British pilot Stephen Cameron shakes hands with HCMC Chairman Nguyen Thanh Phong at Cho Ray Hospital on June 17, 2020. Photo courtesy of Cho Ray Hospital/ via VNE
The expat's illness and the highly publicized efforts of Vietnam's doctors to save became a symbol in Vietnam of the country's successful fight against the virus.
With the vast majority of Vietnam's COVID-19 patients already recovered, the news of a potential first death prompted a national outpouring of support, with dozens of people coming forward as potential lung donors, according to Reuters.
State doctors turned the volunteers down, saying donated lungs should come from brain-dead donors.
But under round-the clock care, Cameron improved. By June he no longer required a lung transplant and was taken off life support.
Vietnam spent over US$200,000 treating him. Vietnamese doctors reportedly accompanied Cameron on A special flight back to Britain.
The COVID-19 Resuscitation Hospital in Thu Duc City was put into operation on July 16 with capacity of 1,000 beds.
This is a high-level COVID-19 hospital treating patients in critical conditions and on the same level as the Central Hospital for Tropical Diseases and Cho Ray Hospital.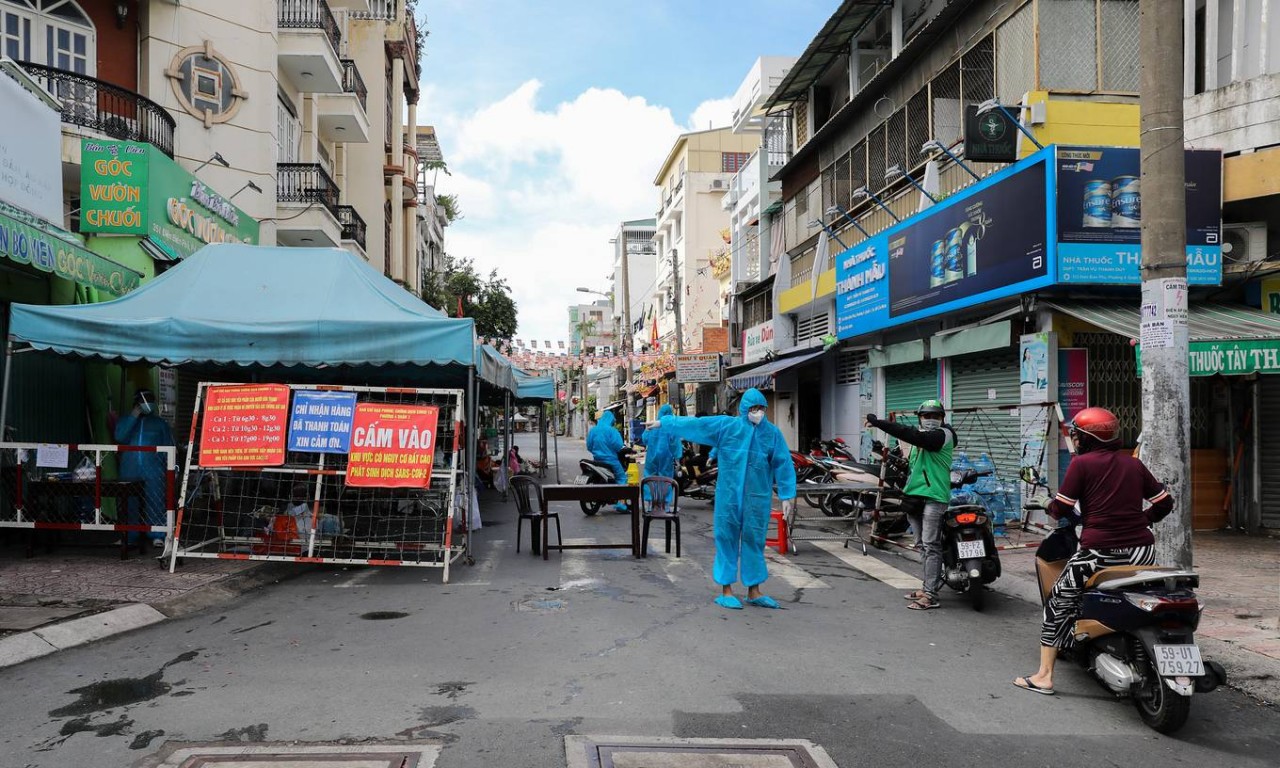 A residential area under lockdown on Vuon Chuoi Street, District 3, HCMC, July 30, 2021. Photo: VNE
The COVID-19 pandemic, first originated in Wuhan city, China's Hubei province, and has now spread to 221 countries and territories, devastating the life hundreds of thousands of patients. Nearly 4.7 million deaths have been reported worldwide.
In Vietnam, the latest resurgence broke out on April 27, and has infected 761,528 people, claiming 18,758 lives. HCMC remains the biggest epicenter while the situation in the northern city of Hanoi has abated.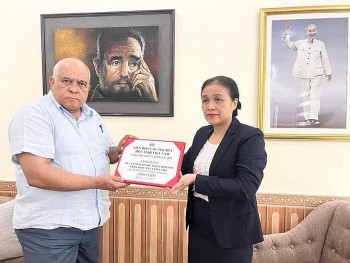 Focus
According to Cuba's News Agency Prensa Latina, on August 16, President of Vietnam Union of Friendship Organizations Nguyen Phuong Nga said that Vietnamese people will always stand by and support Cuba no matter what difficulties our friend is facing.