Expat: 'Vietnamese Medics Have Given Me Another Chance to Live'
Waking up after nearly 10 days in a coma, an expat in Vietnam has thanked local doctors and nurses for saving him from coronavirus death's door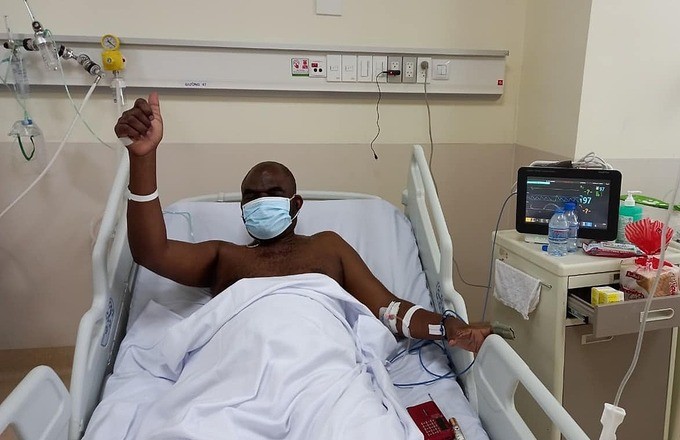 Yokolo Bayyenda said he is thankful to Vietnamese doctors and nurses for saving his life. Photo: Ministry of Health
Yokolo Bayyenda, a 64-year-old Congolese, contracted the coronavirus not long after moving to HCMC for work. He reportedly had severe breathing difficulty, his blood oxygen level sharply decreased and was admitted to the Covid-19 Resuscitation Hospital. He was then given medical monitoring and care along with other severe Covid-19 patients.
On Sept. 10 afternoon, he regained consciousness after nearly 10 days comatose. In broken Vietnamese, he tried to express his gratitude to medical staff, who he said had worked all day and night to fight for his life.
Bayyenda is among three foreigners treated for Covid-19 at Department 7A, HCMC's Covid-19 Resuscitation Hospital.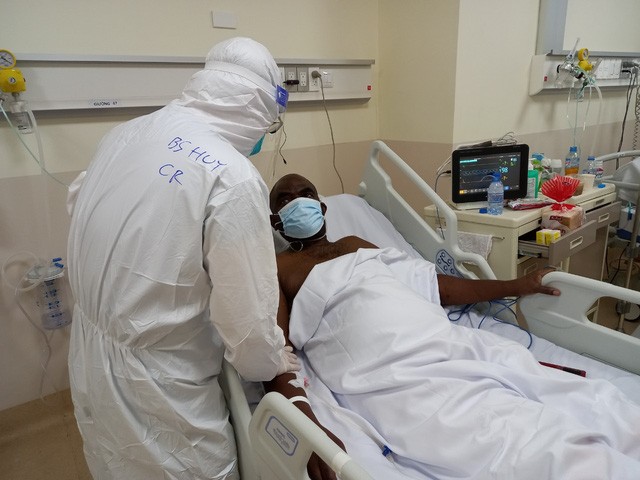 Bayyenda is consulted by Dr. Pham Minh Huy, manager of Department 7A. Photo: Ministry of Health
A few hospital beds away is Chang H, a Taiwanese patient who has also survived the deadly illness. His condition has improved considerably.
The patient says the sentence "y tế Việt Nam, y bác sĩ Việt Nam là người thân" (Vietnam healthcare, Vietnamese doctors and nurses are my relatives) over and over, especially to medics.
"While I was fighting for life, medical staff and volunteers have fed me, helped with my personal hygiene, and encouraged me," Chang said.
Another foreign Covid-19 patient at the department also learned the sentence "cảm ơn y bác sĩ Việt Nam đã hồi sinh cuộc đời tôi" (Thank you Vietnamese medics for giving me another chance to live) to express his gratitude.
"I am able to live now, it's all thanks to the Vietnamese medical personnel," he told VNE.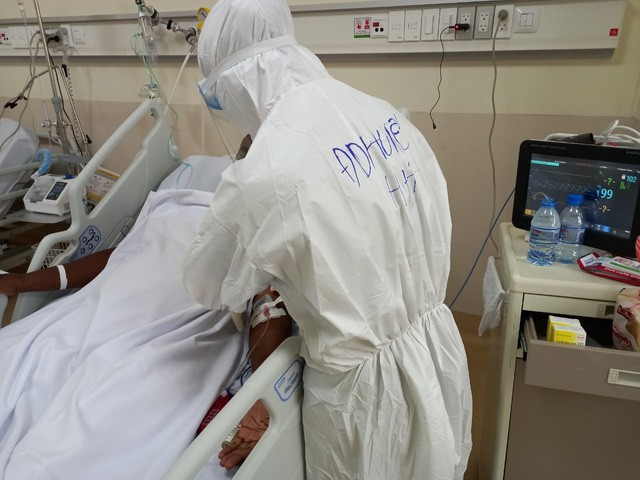 Foreign Covid-19 patients are given the same care from medics as Vietnamese patients. Photo: Ministry of Health
Dr. Pham Minh Huy, manager of Department 7A, said the biggest difficulty in treating foreign patients was the language barrier. The healthcare workers have tried different ways to communicate and consult with patients.
"The most important thing is convincing the foreigners to stick to Vietnam treatment regimens and not to give up oxygen support," Huy said. "If the patients panic and remove oxygen support because they don't clearly understand our treatment, the illness will get worse quickly."
The doctor said he especially remembered the case of an obese Chinese Covid-19 patient. He was admitted to the hospital with severe Covid symptoms, but the doctors couldn't give him the regular treatment regime due to his obesity.
The expat was then treated with anticoagulation and high flow nasal cannula and gradually liberated from the ventilator. When he regained consciousness, he was given all-day care from medics, both physically and mentally.
"He was finally released from the hospital in 'indescribable' happiness. Every survival is an encouraging gift for us," Huy added.
Last year, British pilot Stephen Cameron, Vietnam's most seriously ill Covid-19 patient at that time, was at one point close to death, but was able to leave hospital after three months.
The expat's illness and the highly publicized efforts of Vietnam's doctors to save became a symbol in Vietnam of the country's successful fight against the virus.
British pilot Stephen Cameron shakes hands with HCMC Chairman Nguyen Thanh Phong at Cho Ray Hospital on June 17, 2020. Photo courtesy of Cho Ray Hospital/ via VNE
With the vast majority of Vietnam's Covid-19 patients already recovered, the news of a potential first death prompted a national outpouring of support, with dozens of people coming forward as potential lung donors, according to Reuters.
State doctors turned the volunteers down, saying donated lungs should come from brain-dead donors.
But under round-the clock care, Cameron improved. By June he no longer required a lung transplant and was taken off life support.
Vietnam spent over US$200,000 treating him. Vietnamese doctors reportedly accompanied Cameron on A special flight back to Britain.
So far in the ongoing Covid-19 wave, Vietnam has recorded more than 585,000 Covid-19 cases, including 286,242 in HCMC, the current epicenter.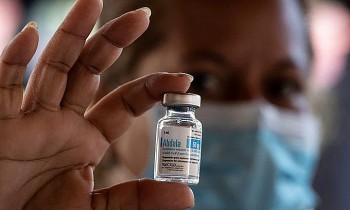 National
Vietnam News Today (September 19): Vietnam records 9,360 new local Covid cases; Vietnam approves emergency use of Cuba's Covid-19 vaccine; 4,000 foreigners vaccinated in Hanoi; Climate change adaptation featured in HCM City's master plan.
World
Somewhere in Portugal, there is a historical site named Quinta da Regaleira castle and its mysterious Initiation Wells that charms many tourists because of its unique architectural design.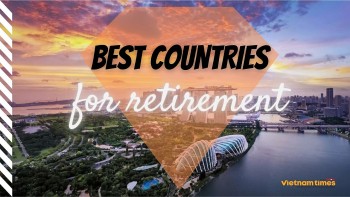 Handbook
If you are planning to relocate for your retirement, find out top 10 best countries that help you're no longer tied to a specific location.