Foreign tourists in Hoi An, goodwill 'tourism ambassadors'
Receiving enthusiastic assistance from Hoi An residents, many foreign tourists affirmed that they would serve as bridges boosting the image of Hoi An in particular and the Central region in general to international friends.
Stranded in Hoi An ancient town due to the Covid-19 pandemic, many foreign tourists have received enthusiastic aid from the local authorities and residents, Vietnamplus reported.
Many visitors expressed their affection towards a safe and hospitable Hoi An, asserting that they would serve as bridges boosting the image of Hoi An in particular and the Central region in general to international friends.
Given the complicated development of Covid-19, Artur Gorge, a Portuguese national have been stuck in the ancient town for over the past year. His finance is run out, he has to teach online but can only earn enough to keep the wolf from the door.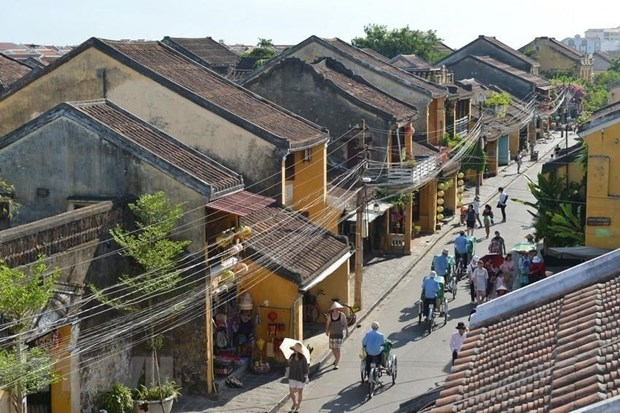 Hoi An Ancient Town Photo: VNA
To share with the difficulties that foreign tourists have incurred, the owner of Mr. Tho Garden villa minimizes the rental expenses and only collects the electricity and water charges. Living at Mr Tho Garden villa, Artur can cook, wash and use other services like at his home.
"Initially, I felt extremely worried to know Vietnam closed its border and the epidemic in Europe still raging. Stranded in this ancient town, I have got support from the local authorities and citizens. Over the past year, I have been safe from the pandemic. I realize that people here have sternly abided by the anti-epidemic measures. I really appreciate their support", Artur Gorge was quoted by Vietnamplus as saying.
The Mr Tho Garden villa has 5 rooms, four of which are dedicated to tourists hailing from the US, Finland, Germany with the cheapest price. Apart from the Mr Tho Garden villa, several other establishments in Hoi An offers free accommodations for foreign visitors.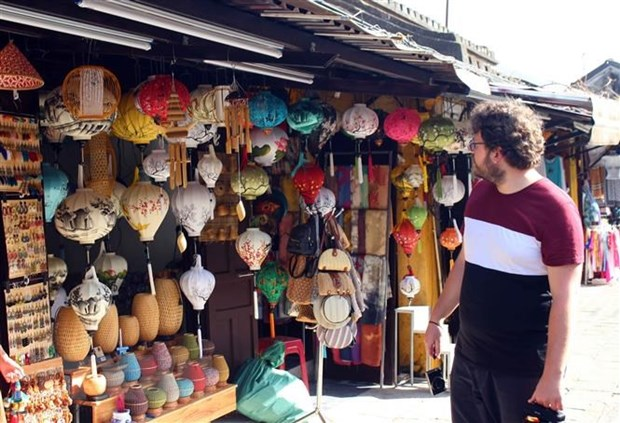 A foreign tourist at Hoi An. Photo: VNA
Although the accommodation establishments have been hard hit by the epidemic, the way that they have been supporting stranded foreign visitors shows the kind-heartedness of Hoi An people.
Anastazja Szagajdeuko, from Poland, said "Everything here is as perfect as at my home. I feel totally secure when staying here".
"I know that Vietnam has been implementing its inoculation campaign. Hopefully, it will soon stamp out the epidemic and more and more tourists visit Hoi An", she added.
"Sharing difficulties with stranded foreign visitors is also a way to promote the image of a friendly Hoi An", said President of the Quang Nam Homestay & Villas Branch Pham Thi Linh Chi.
There are currently about 1.800 foreigners staying in the Quang Nam province including 850 people working and the remaining stuck due to Covid-19.
In March last year, Hoi An sent off 39 international tourists, who were quarantined at the Hoi An Coco River hotel and tested negative for SARS-CoV-2, came back to their countries.
Vietnam recorded a 79 percent decline year-on-year in the number of foreign visitors in 2020 due to travel restrictions amid the pandemic as the country received 3.83 million foreign tourists against a record 18 million in 2019, according to official data.
The government has closed national borders and canceled all international flights since March 25 with only Vietnamese repatriates, foreign experts, and highly-skilled workers allowed in with stringent conditions.