Vietnam's former Covid-19 hotspot expected to recieve Russian tourists from next month
Russian travel companies based in the central coastal province of Khanh Hoa have proposed allowing Russian tourists to enter the locality from next month on chartered flights after a long suspension due to COVID-19
The central province of Khanh Hoa, home to the famous beach town of Nha Trang city, is much loved by Russian tourists. Photo: Vietnamnet
Russian travel companies based in the central coastal province of Khanh Hoa have proposed allowing Russian tourists to enter the locality from next month on chartered flights after a long suspension due to COVID-19, according to a local official.
Tran Viet Trung, director of Khanh Hoa's Department of Tourism, said Khanh Hoa, home to beach town Nhan Trang, has been Russia's most popular tourism destination in Vietnam for years,
A representative of a Russian travel agency with an office in Khanh Hoa told at a seminar on tourism recovery post COVID-19 on October 2 that it had sent a proposal to the Civil Aviation Administration of Vietnam (CAAV) seeking permission to resume charter flights to bring Russian tourists back to Vietnam.
Meanwhile, Le Van Nghia, head representative of Russia's Siberia Airlines in Vietnam, said the firm is ready to operate charter flights to bring Russian tourists to Khanh Hoa with the frequency of one trip a day. Earlier, the airline operated many special flights to repatriate Russians stranded in Vietnam due to COVID-19 travel restrictions.
Hoang Phong Thu, chairwoman of Pegas Misr Travel Vietnam, an arm of Russian tour operator Pegas Touristik, said partners kept asking her firm when it could bring Russian tourists to Vietnam as the Russian government had announced the list of countries that its citizens could come to as tourists, including Vietnam.
However, Trung said the proposal may be refused since Vietnam remains closed off to foreign tourists to curb the spread of the novel coronavirus.
Though the government allowed the resumption of some international commercial flights to seven Asian destinations, including mainland China, Japan, the Republic of Korea, Taiwan, Laos, Cambodia, and Thailand, foreign tourists have yet to be allowed back into the country, VnExpress said.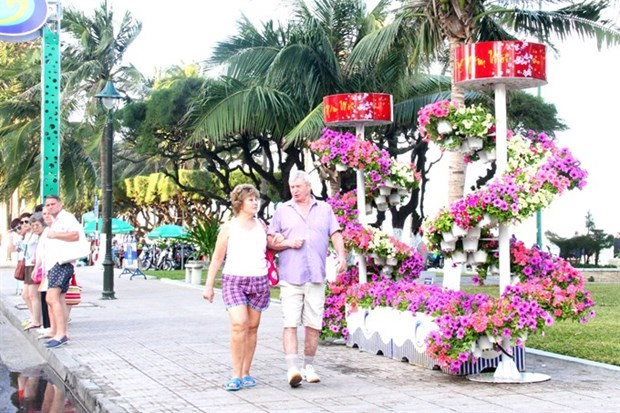 Last year, Khanh Hoa welcomed over 451,000 Russians, most of them traveling to the province on chartered flights and staying for long periods. Photo: baokhanhhoa.vn
The only foreigners currently allowed entry are those carrying diplomatic or official passports, experts, managers, high-skilled workers, and investors, their family members, international students, and family members of Vietnamese citizens.
Russia is the world's fourth biggest Covid-19 hotspot with over 1.1 million infections and 21,000 deaths.
Trung said Khanh Hoa has made a plan to welcome foreigners coming for official missions to stay at luxury resorts far from residential areas.
Provincial authorities are also working with foreign travel agencies like Anex Vietnam, Pegas Misr Vietnam, and Siberia Airlines to outline a plan to welcome Russian tourists back to Khanh Hoa, he added.
Russia is the second largest tourism source market of Khanh Hoa, after China. Last year, Khanh Hoa welcomed over 451,000 Russians, most of them traveling to the province on chartered flights and staying for long periods.
Between January and September, the number of tourists visiting Khanh Hoa reached some 986,000, down by 80 percent year-on-year, resulting in a 76 percent drop in the province's total tourism revenue.
Vietnam welcomes only 44,000 foreign arrivals in Q3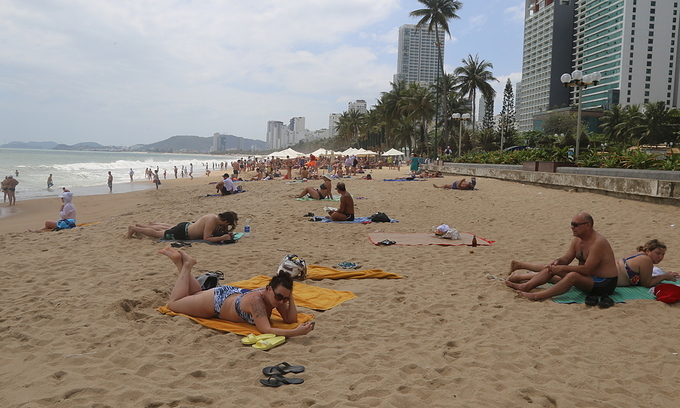 Foreign tourists at a beach in Nha Trang Town in central Vietnam, February 2020. Photo: VnExpress
As many as 44,000 foreign visitors arrived in Vietnam during the third quarter of this year, equivalent to just 1 percent of the figure in the same period last year, the General Statistics Office (GSO) reported.
COVID-19 prevention measures and international travel restrictions are behind the declines.
Those arriving in Vietnam in the period were mainly foreign experts and technical workers at projects around the country.
Arrivals from Asia accounted for 73.1 percent of the total international arrivals in the first nine months of the year but were down nearly 73 percent year-on-year, with Cambodia the only exception with a rise of nearly 12 percent.
Meanwhile, the number of European visitors fell over 58 percent year-on-year.
According to the UN World Tourism Organisation (UNWTO), domestic tourism will recover faster than international tourism, making it easier for countries to promote post-pandemic socio-economic recovery. It recommends that countries focus on marketing strategies and enhance financial support to recover their tourism markets as early as possible.
Deputy General Director of the Vietnam National Administration of Tourism Ha Van Sieu said Vietnam's second tourism stimulus programme is expected to promote domestic tourism development and the establishment of service supply chains and alliances, thus diversifying tourism products to attract visitors./.
Vietnam had reported no new COVID-19 cases on October 4 afternoon, marking the 32nd consecutive day without local infections, according to the National Steering Committee for COVID-19 Prevention and Control.
The national count stands still at 1,096 COVID-19 cases, including 691 local infections.
Among the active patients, one has tested negative for the novel coronavirus SARS-CoV-2 once, two twice and four thrice.
So far, 1,020 patients have been given the all-clear and there are now no patients in critical conditions.
The death toll from the disease remained at 35, most of them elderly people with serious underlying conditions.
Some 16,445 people who had close contacts with COVID-19 patients or came from pandemic-hit regions are being quarantined across the county.