Foster families – second home for hundreds of overseas Lao students in Vietnam
Over 400 overseas Laos students studying in Vietnam have been fostered by Vietnamese parents, which is a testament to the long-lasting bilateral relation between Vietnam and Laos.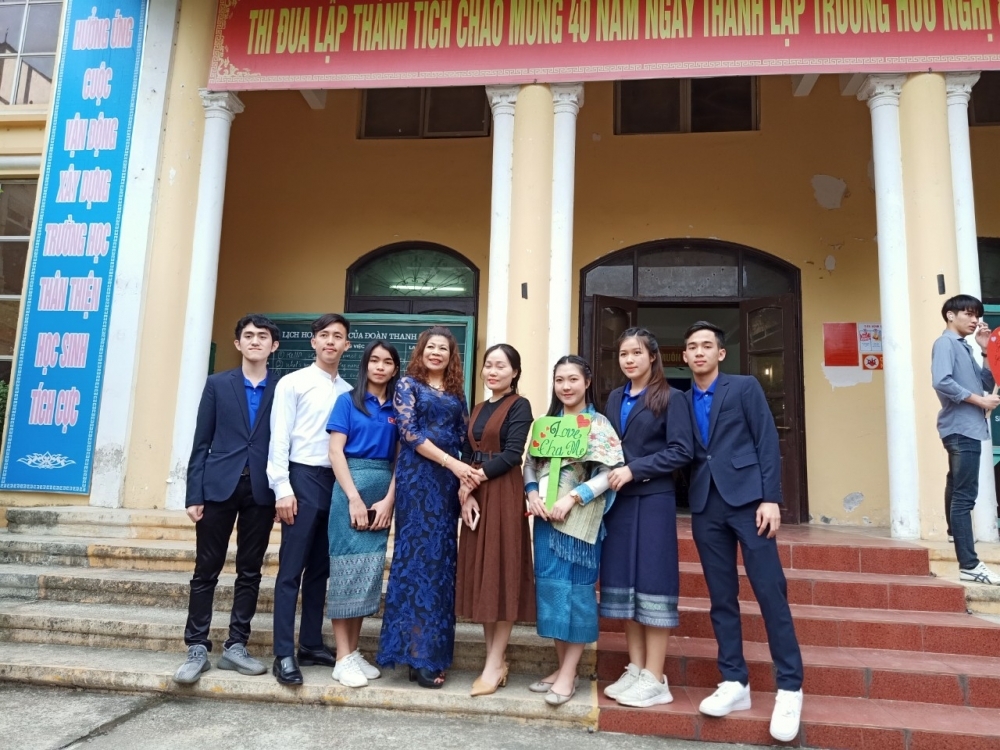 (Photo: Thoi Dai)
According to Ms. Chu Kim Phuong, the Fostering Program aims at giving overseas Lao students a second home with their foster parents where they can spend time at weekends or holidays. Thereby, the overseas students will have an opportunity to integrate into Vietnamese culture and lifestyle while practicing Vietnamese languages.
The Fostering Program was first launched in 2016, with the number of fostered students grew year by year. To date, over 400 Lao students have been temporarily adopted. Notably, most members of the Vietnam-Laos Friendship Association of Son Tay town were born and raised in Laos. Therefore, becoming foster parents of overseas Laos is a great happiness to them.
Evidence of Vietnam – Laos bonding relation
Over the past years, Mr. Phan Van Bon's family has been fostered dozens of Lao Vietnamese students from Friendship school 80. Bon is the Head of Vietnam-Laos Friendship Association of Son Tay town. He was born in Laos' capital Vientiane, brought to Thailand at the age of 2 then returned and settled down in Vietnam at 17. Therefore, for him, lending Lao students a helping hand during their stay in Vietnam is his token of gratitude to his infanthood in the Land of a Million Elephants.
"Some students not listed in the foster list asked us themselves if they could be our children, which really moved us. Many high school graduates still keep in touch with us even though they are pursuing higher education or have returned Laos", Bon told Thoi Dai. "Some of us even attend our foster children's university graduation ceremony".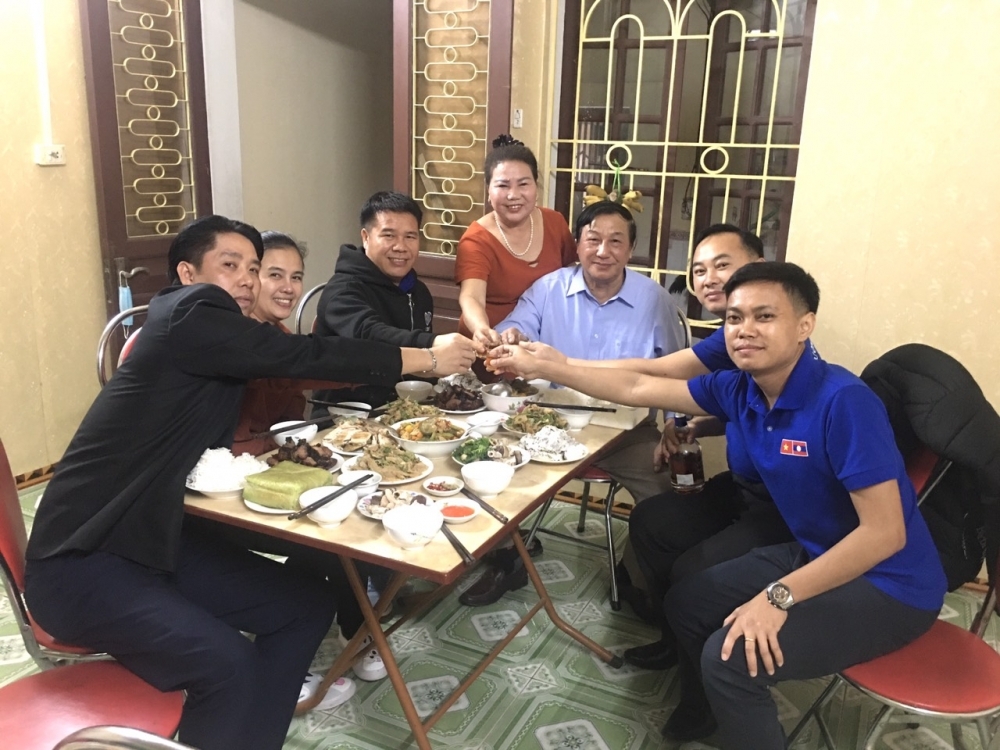 Mr. Phan Van Bon's families with their fostered children (Photo: Thoi Dai)
Meanwhile, Ms. Tran Thi Hong Ly, a teacher at Friendship School 80 has fostered 30 Laos students in the last 5 years. Speaking in a statement with Thoi Dai, Hong said her family often has fostered sons and daughters over to dine and wine, prepare Vietnamese traditional dishes and learn Vietnamese culture together. Especially, Hong helps the overseas students a lot with their learning Vietnamese language.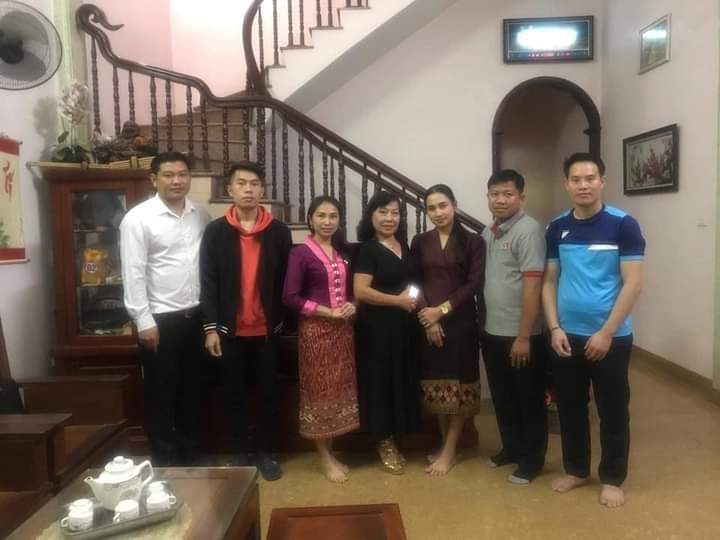 Ms. Tran Thi Hong Ly and her fostered sons and daughters (Photo: Thoi Dai)
Ms. Tran Thi Bich Lien is having 27 fostered children. Lien said her Laos sons and daughters are gentle, honest, affectionate, well-behaved.
"Overseas students like us are granted profound attention from not only the Vietnamese Government but also from local authorities and organizations", Touada Yang, head of Lao Youth Union said while giving a speech on behalf of overseas Laos students living and studying in Vietnam.
The special bonds between Laos students and Vietnamese families are evidence of the long-lasting bilateral relationship between Vietnam and Laos.
Earlier last week, more than 400 Lao students studying in the central province of Thua Thien-Hue practiced traditional rituals of the festival, including Buddha statue bathing and thread tying at a gather to celebrate Bunpimay, the traditional New Year Festival of Laos.
Water Splash Festival is one of the traditional cultural festivals of Southeast Asian countries. The Laotians call Bunpimay, the Thais call Songkran, is Chol Chnam Thmey with the Cambodians and Thingyan in Myanmar.
The festival means to bring cool, prosperity for the universe, purifies human life. In these days, people are splashing together to bless, pray for good weather, a prosperous and happy New Year. Festival in Laos is often referred to as the "Bun" meaning doing good to be blessed.
According to VNA, Phimmachanh Luckyjane, a second-year student of the College of Economics under the Hue University said that the event made he feel like at home. Phimmachanh thanked leaders of the university and the authorities of Thua Thien Hue for supporting them in both study and life.
According to Tran Cong Phu, Director of the provincial Department of External Relations, said that over the years, the province has strengthened cooperation with Lao localities in all fields, especially education and training.
Each year, Thua Thien-Hue provides 10 scholarships to Lao students. Since 2002, the province has received 1,200 Lao students, more than a half of them have graduated.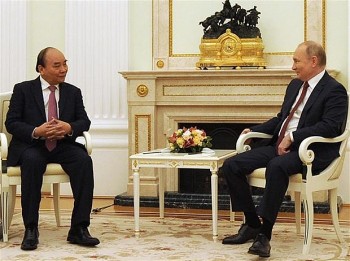 National
An article in Russia's independent newspaper focused on the Vietnam-Russia relationship and the significance of President Nguyen Xuan Phuc's visit to Russia from Nov. 29 to Dec. 2.