Germany supports textile workers in Viet Nam affected by COVID-19
The German Development Ministry (BMZ) is supporting over two million workers in textile factories in seven nations, including Viet Nam, as part of its Emergency COVID-19 Support Program.
The German Development Ministry (BMZ) supports over two million workers in textile factories in seven nations, including Viet Nam. (Photo: VGP)
The German Federal Ministry for Economic Cooperation and Development (BMZ) is to give €14.5 million (US$17m) to an International Labour Organisation (ILO) program to help garment workers affected by COVID-19 in seven countries.
The multi-donor initiative provides cash transfers and personal protective equipment (PPE), as well as awareness-raising campaigns, in Bangladesh, Cambodia, Ethiopia, Indonesia, Laos, Madagascar, and Vietnam, according to Ecotextile News.
Accordingly, the German Government will provide EUR14.5 million to help two million people. For example, young mothers and workers particularly at risk of falling into poverty will receive one-off support payments.
The project also aims to build up testing capacities in order to protect workers' health. With these measures, the sponsor is expected to preserve hundreds of thousands of jobs, VGP cited.
To be specific, the initiative will build on the country level activities of three existing ILO areas of work: the Vision Zero Fund (VZF), social protection, and the Better Work Programme - making use of their existing local networks and operations.
The program will also support the practical implementation of the Call to Action in the Global Garment Industry. By helping to coordinate public and private sector responses to the pandemic the project also contributes to the overall efficiency and coherence of responses to the crisis, ILO stated.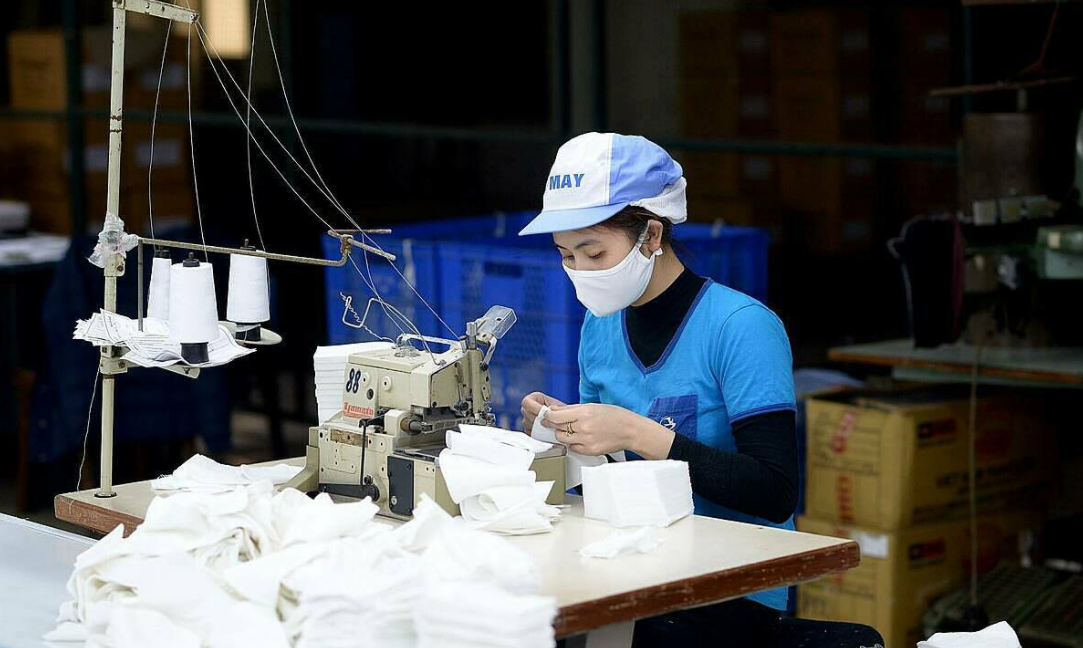 Vietnam garment industry faces challenges as COVID-19 strikes. (Photo: VN Express)
According to Vietnamnews, since the COVID-19 pandemic broke in Vietnam, many Vietnamese garment and textile businesses have received notices from their US and EU partners that they will temporarily stop receiving goods for three weeks to one month. The Vietnam National Textile and Garment Group (Vinatex) reported a 15 percent decrease in revenues and a 25 percent decrease in profits despite partially switching to manufacturing face masks and protective clothing and retaining all its workers.
A report by the Ministry of Industry and Trade stated that Vietnam's apparel production in July increased by 13.2 percent from June but was nearly 5 percent down year-on-year in the year to date. Exports of textiles and footwear are down 21 percent and 8 percent in the first seven months of the year. Vinatex forecast the country's garment exports to decrease by 14-18 percent year-on-year in the second half, and full-year exports to drop by 16 percent to around $32.75 billion.
"A key lesson from COVID-19 is that it is essential to immediately support both businesses in their effort to survive and the workers that lose jobs and income", says ILO Deputy Director-General for the field operation and partnership Moussa Oumarou. "Such immediate humanitarian support must be part of the longer-term plan to build back better", Ecotextile News quoted.
With its Emergency COVID-19 Support Programme, the German Development Ministry is engaging in a massive effort to strengthen health infrastructure, improve food security, and promote job-saving measures in developing countries.