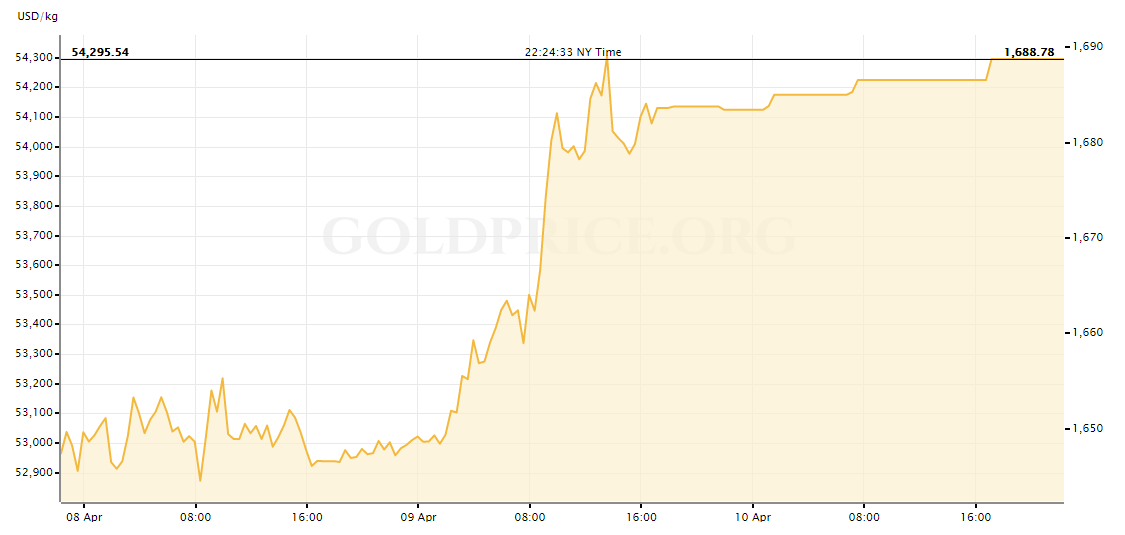 Gold price chart April 11 (Photo source: Gold Price)
Gold Price Today April 11 increased by 2.5% to 1,688.78 USD/ounce, after having reached the highest level since March 9 was 1,690.03 USD/ounce. Meanwhile, US gold futures price increased by 4.1% and closed at 1,752.80 USD/ounce.
Price of gold today rebounded to a 7-year high after new data from the US showed that the number of applications for low unemployment benefits rose to a total of 15 million in just the last 3 weeks.
On April 9, the Federal Reserve Bank of America (FED) announced the next package of financial measures worth 2,300 billion USD to support the world's leading economy to overcome the crisis caused by the pandemic. FED Chairman Jerome Powell emphasized the role of the Fed is to provide support and ensure the most stability in the period of economic activity stagnation, and decision "will help ensure the most robust economic recovery possible". He stated that the United States' top priority is addressing the current public health crisis, providing assistance to the disadvantaged and limiting the spread of SARS-CoV-2 virus causing the COVID-19. This might affect the gold price.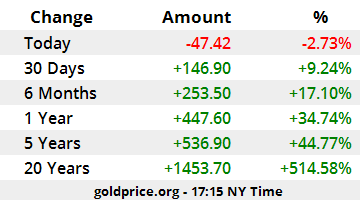 Gold Price performance as of April 11 (Photo source: Gold Price)
The WTO says global trade will decrease this year by between 13% and 32%. The organization offers a wide range of forecasts because so much of the economic impact of this crisis is uncertain. At the peak of the financial crisis in 2009, trade dropped by only 12.5%.
"In an optimistic scenario, our economists see global commodity trade volume decrease by 13% this year compared to 2019. If the pandemic is not controlled and governments do not implement and coordinate effective policy responses, the reduction could be 32% - or more", said the WTO Director General.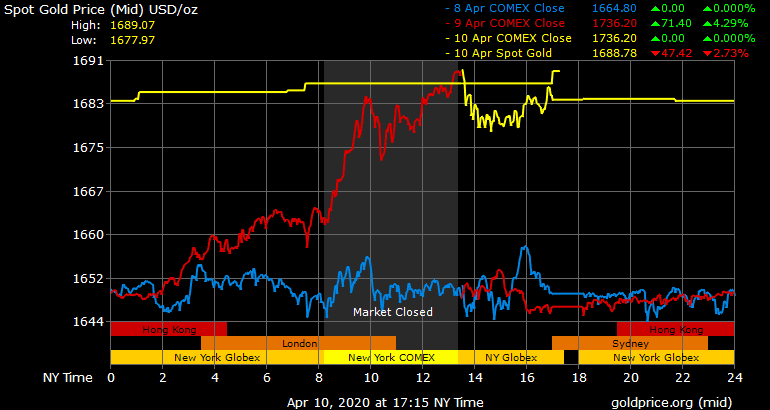 Spot Gold Price April 11 (Photo source: Gold Price)
Forecast on the price of gold
Investment bank Goldman Sachs (USA) forecasts that gold price may reach 1,800 USD/ounce in quarter 2/2020, an increase of 100 USD more than the prediction of this bank.
The forecast of gold price increases came when the organization thought that the complicated movements of the Covid-19 epidemic and low interest rates caused the demand for precious metals to increase.
ANZ Bank also forecasted that gold price might reach 2,000 USD/ounce in Q2 this year.
Investment bank TD Securities also forecasts that gold price will increase to 1,800 USD/ounce in the near future and reach 2,000 USD/ounce by the end of this year, according to FX Empire.
Candy Lee