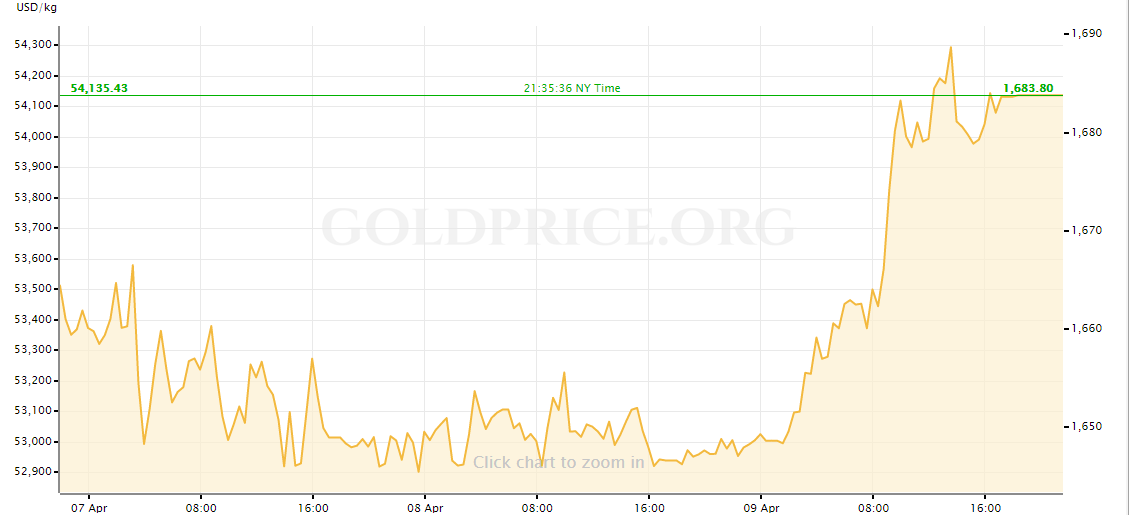 Gold Price Chart (Photo source: Gold Price)
Gold price today skyrocketed to 1,684 USD an ounce after the US Federal Reserve (Fed) announced a massive stimulus package to ease the economic impact from the pandemic. Accordingly, the agency will provide $ 2,300 billion to support local governments and small and medium businesses in the US. Gold price today rose nearly $ 40 to the highest since 9/3. Total this week, precious metals rose 4.2%.
Fed Chairman Jerome Powell said that the bank was committed to use its powers "forcefully, pro-active, and aggressively until" the US economy is "solidly on the road to recovery." Powell's comments in a prepared speech delivered virtually followed data showing jobless claims in the US surging by more than six million for the second week in a row, prompting fears that unemployment could reach more than 15%. This might affect price of gold in the short term, according to Mining.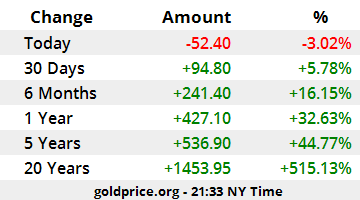 Gold Price Performance (Photo source: Gold Price)
Recent figures show that the number of Americans applying for unemployment benefits in the past 3 weeks has exceeded 15 million. The blockade measures have made the US economy almost level off. To date, the country remains the largest epidemic region in the world, with more than 460,000 cases of Covid-19.
"The economic impact of a pandemic can put pressure on price of gold for a very long time, even if the pandemic is pushed back. Gold will therefore benefit from the banks' record monetary stimulus. central bank, "commented analysts at Commerzbank.
Last month, Goldman Sachs said inflationary concerns triggered by the central bank policy response to the pandemic could send gold to $1,800 an ounce. "We believe physical inflationary concerns with the dollar starting near an all-time high will for once dominate financial asset inflation that was a feature of the past decade."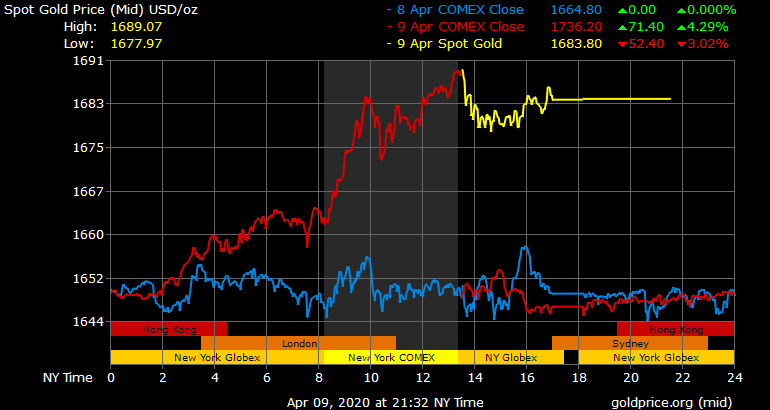 Gold Price chart (Photo source: Gold Price)
According to data from the World Gold Association, reserves at gold ETFs in March reached a record 3,185 tons, or US $ 165 billion. Activity in major physical gold markets around the world this week, due to blockade orders tightened supply.
Global gold-backed exchange-traded funds (ETFs) had $23 billion, or 298 tonnes of net inflows in Q1 2020 – the highest quarterly amount ever and the largest tonnage additions since 2016, the World Gold Council said.
During the past year, gold ETFs added 659 tonnes, the highest on a rolling annual basis since the financial crisis, with assets under management (AUM) growing 57% over the same period. For the month of March, gold ETFs added 151 tonnes for a net inflow of $8.1 billion, boosting holdings to a new all-time high of 3,185 tonnes, reported by Mining.
Candy Lee