Google Logo Features Vietnam Flag on National Day
The Google homepage today features the national flag of Vietnam to celebrate the country's 76th anniversary of National Day (September 2)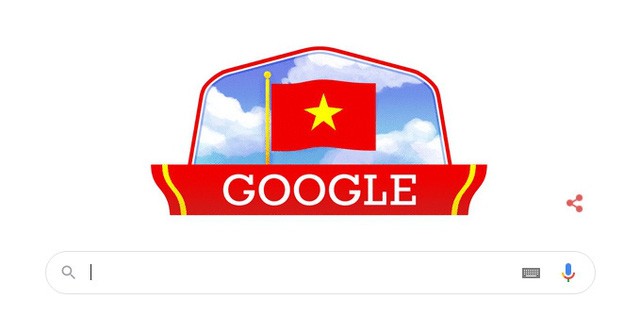 The illustration on today's Google's homepage. Photo: Captured
September 2 marks the historical day President Ho Chi Minh read the Declaration of Independence to establish the Democratic Republic of Vietnam. Celebrating the national holiday has become an annual event of all Vietnamese people in the past 76 years.
On this special occasion, Vietnam's red flag with yellow star is hung up as an icon of the nation, Google said. Therefore, its illustration this year features a red flag flying in the blue sky, different from the normally still images on other special days.
During National Day's celebrations, Vietnamese people often hang flags in front of their houses or spend time with extened family. Even though this year's holiday is quite different when most family members gather indoor due to the Covid-19 pandemic, the message of national unity is still treasured. Vietnamese people are always united and getting stronger, a Google statement said.
On this day last year, the giant search engine also displayed an idyllic rowboating scene full of traditional Vietnamese symbolism on its Vietnam homepage.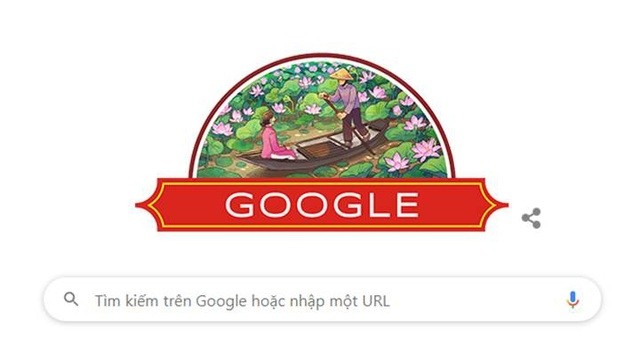 Google's last year illustration on Vietnam National Day. Photo: Captured
The man paddling is depicted wearing an iconic Non La a conical leaf hat that originated thousands of years ago and has since become synonymous with the nation's culture. Opposite of the man steering the boat, a woman is dressed in the elegant national costume of Vietnam: the Ao Dai which embodies the pride of the Vietnamese people.
The two are encircled by lily pads and lotus flowers, typical flora found throughout Vietnam's lakes and ponds.
Other doodles to have depicted Vietnamese culture were on banh chung (a traditional sticky rice cake), Khue Van Cac (the pavilion of the Constellation of Literature located inside Vietnam's first university), the traditional ao dai dress, the Hung Kings Temple Festival (a commemoration of the mythical founders of Vietnam on their death anniversary), and the ancient town of Hoi An, a UNESCO heritage site in central Vietnam, VNE reported.

Google Doodle' illustration to celebrate Vietnam National Day in 2010. Photo: Captured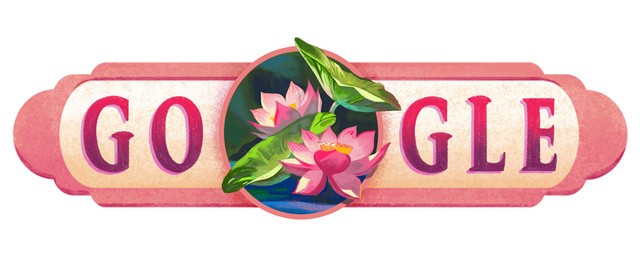 Google Doodle' illustration to celebrate Vietnam National Day in 2016. Photo: Captured
Google Doodle' illustration to celebrate Vietnam National Day in 2009. Photo: Captured
Vietnamese residents are enjoying a four-day holiday, starting September 2. This year, the National Day is less celebrative as Hanoi, HCMC and several other localities are undergoing prolonged social distancing to curb the coronavirus spread.
Prime Minister Pham Minh Chinh on August 31 signed official dispatch No. 1108/CD-TTg on strengthening COVID-19 prevention and control during the country's National Day holiday.
He asked Chairpersons of the People's Committees of centrally-run cities and provinces to continue directing and strengthening prevention and control measures in a strict and effective manner. The issuance was made as Vietnam battles its worst coronavirus outbreak yet.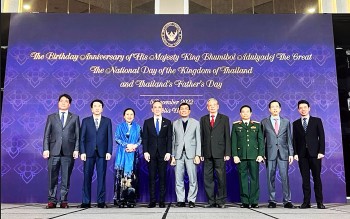 Friendship
The Royal Thai Embassy organises the reception on the occasion of celebration of the Birthday Anniversary of His Majesty King Bhumibol Adulyadej the Great, the National Day of the Kingdom of Thailand and Thailand's Father's Day on 2nd December 2022 in Hanoi.