Hang Ma Street puts on brilliant red makeover as Tet draws near
Hanoi Old Quarter's Hang Ma Street has been lightened with festive atmosphere as Lunar New Year - the biggest holiday in the country - is just two weeks away. Sparkling traditional decorative items adorn the street, attracting flocks of buyers and visitors.
Lunar New Year (Tet) - the most important festival of Vietnamese people
Tet holiday – Vietnamese Lunar New Year or simply Tet Vietnam is the most significant festival in the S-shaped country. As a result of being calculated by the lunar calendar, the Tet festival often occurs at the end of January or the beginning of February, which is later than New Year's Day. As the longest Vietnam holiday, Tet Vietnam is the most wonderful occasion for all foreign tourists to spend their Vietnam vacation packages enjoying the festive atmosphere and exploring one of the oldest festivals in the world. Tet Vietnam is celebrated to welcome the Lunar New Year and summarize what they did in the old one. It is considered an important mark for changes, plans, and progress.
In addition, Vietnamese people believe that what they do on the first day of the new year will affect their rest. Therefore, they pay great attention to every word they say and everything they do. Furthermore, Tet in Vietnam may be the only occasion for all family members to have happy moments together after a year of hard-working.
Tet vibe pervades Hang Ma street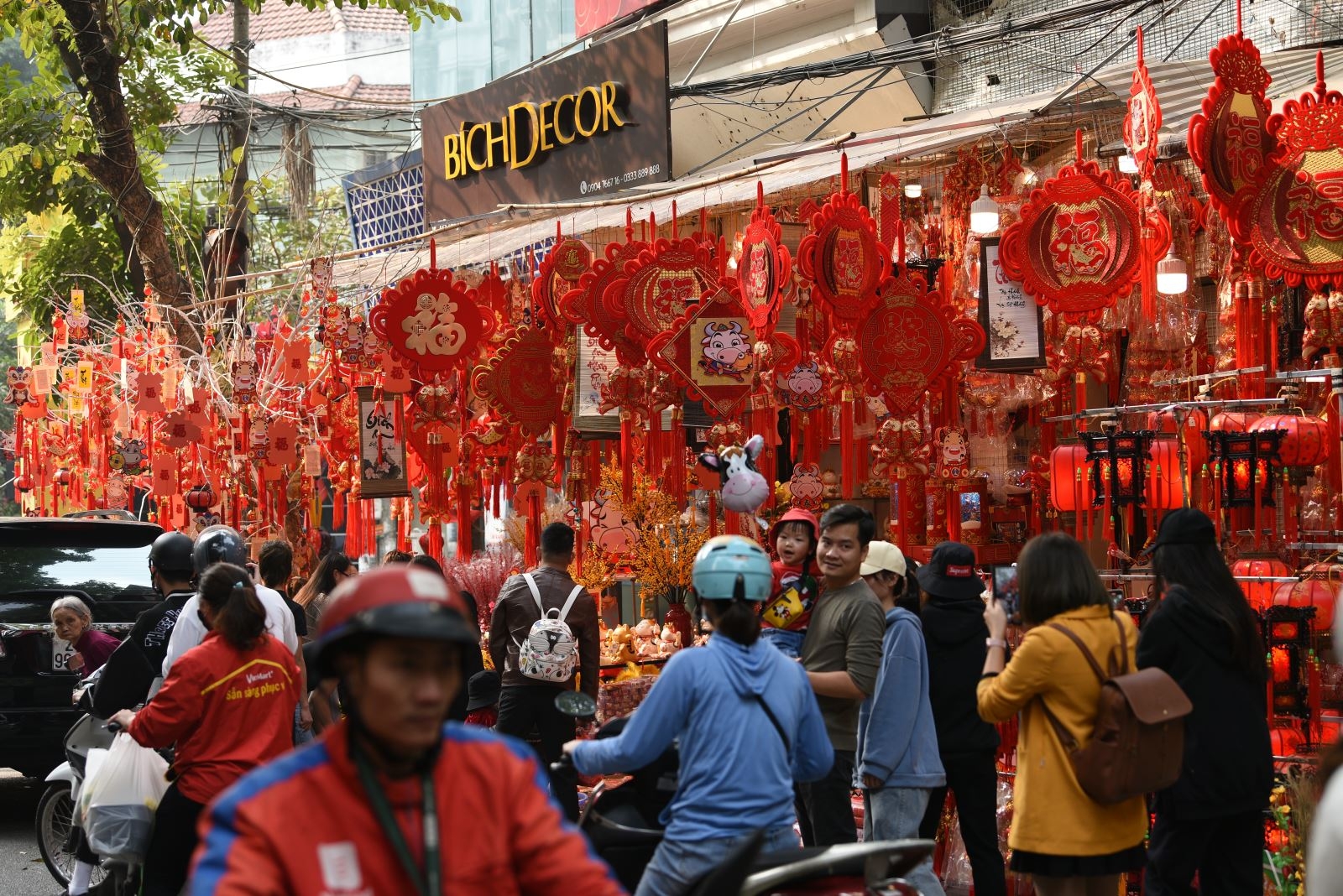 (Photo: Tin Tuc)
Being colored in brilliant red has long been a norm of Hang Ma Street every year when Tet draws near. Hundreds of decorative items are on display for sale, giving the old street a vibrant, festive vibe, as reported by Tin Tuc.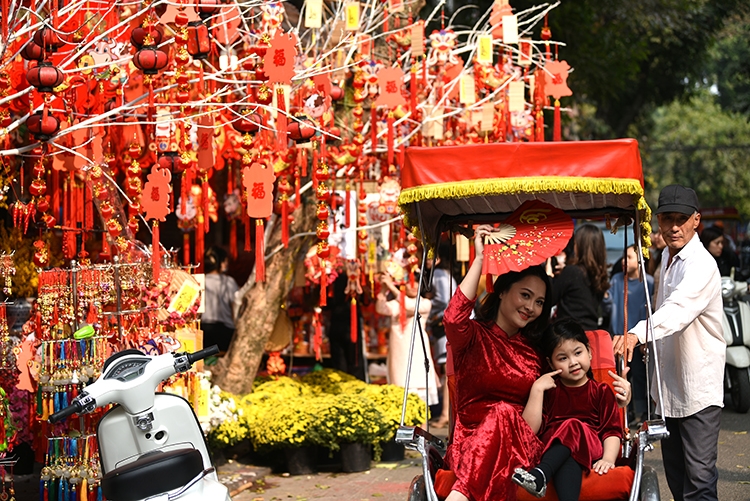 (Photo: Tin Tuc)
These decorative items are often hung on peach blossom trees, kumquat trees, apricots trees, etc to signify household's wish and usher in good fortune.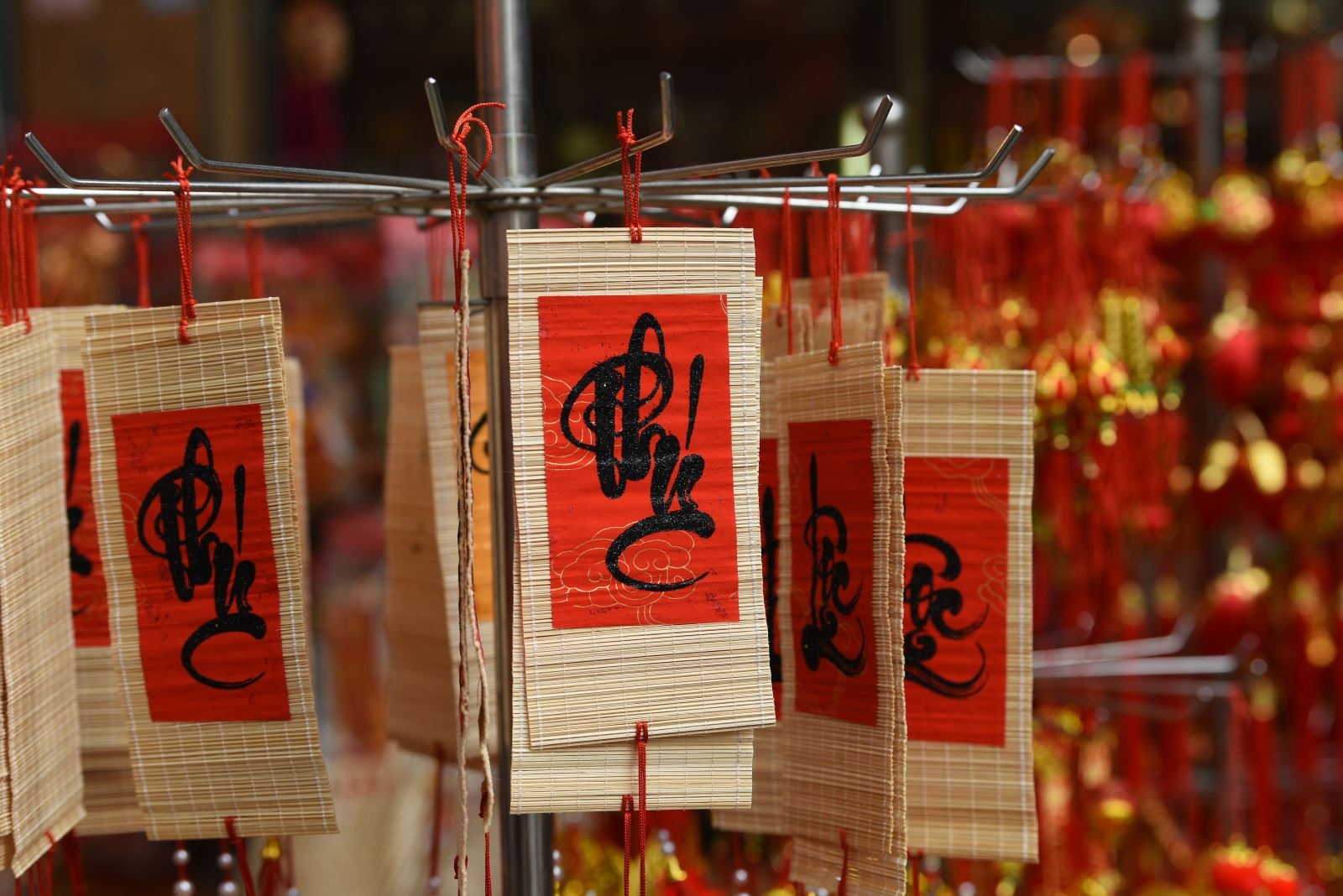 (Photo: Tin Tuc)
For a long time, the Vietnamese custom of asking for and giving good words has become an indispensable traditional custom on the first days of the Lunar New Year. The agile strokes of the brush contain therein good aspirations for a new year full of prosperity, luck and peace.
The verses and best wishes carefully inscribed on red paper are spiritual gifts to welcome in the new year, representing good aspirations for the whole year, according to Vietnamnet.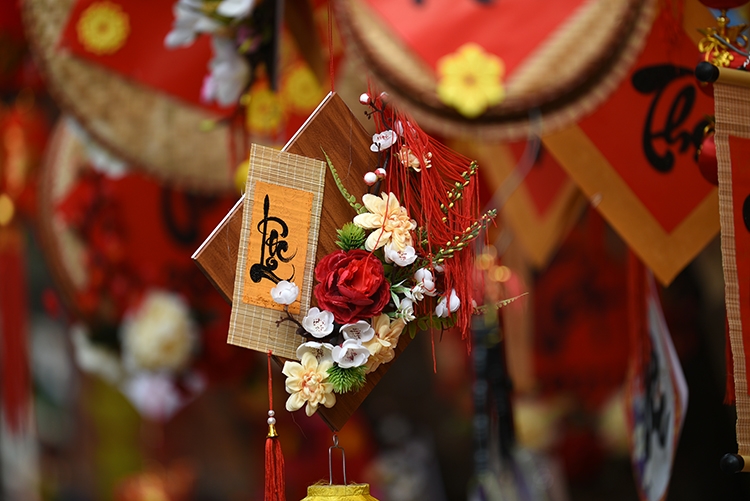 (Photo: Tin Tuc)
Lanterns, red envelope, couplets, calligraphy, are among the most sought-after items during the occasion. The wishes of luck, peace and happiness are written on couplets and calligraphies.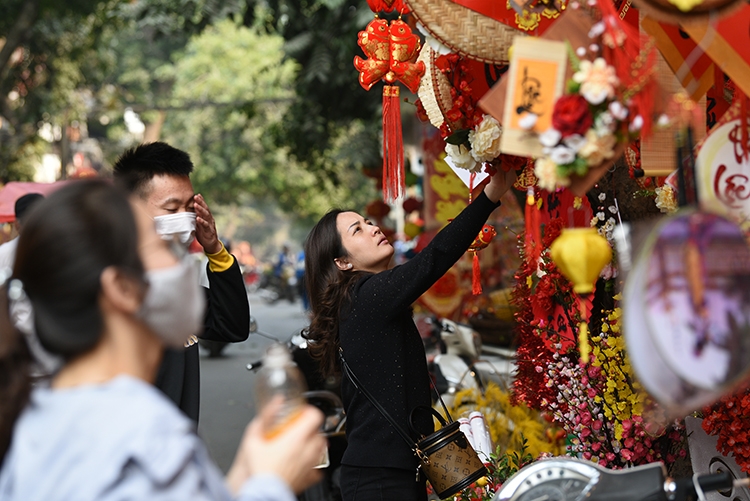 (Photo: Tin Tuc)
Tet decorative items sold in Hang Ma street this year are priced from VND 15,000 - 500,000 (US $0.65 - 22).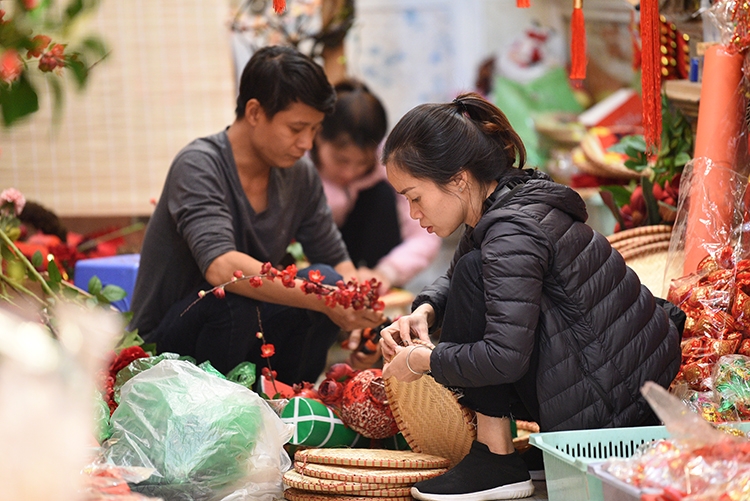 (Photo: Tin Tuc)
A small merchant family on Hang Ma street busy placing the Tet tray to meet customers' growing demand.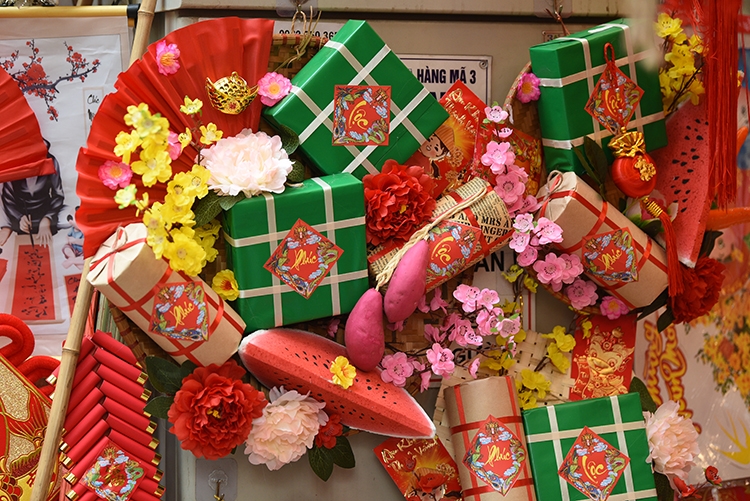 (Photo: Tin Tuc)
Miniatures replicating iconic food during Tet are ubiquitous along the street, including model of Banh Chuc (sticky rice cake), watermelon, apricot flowers.Red and golden color are the two most prominent as they symbolize good fortune, prosperity and weath.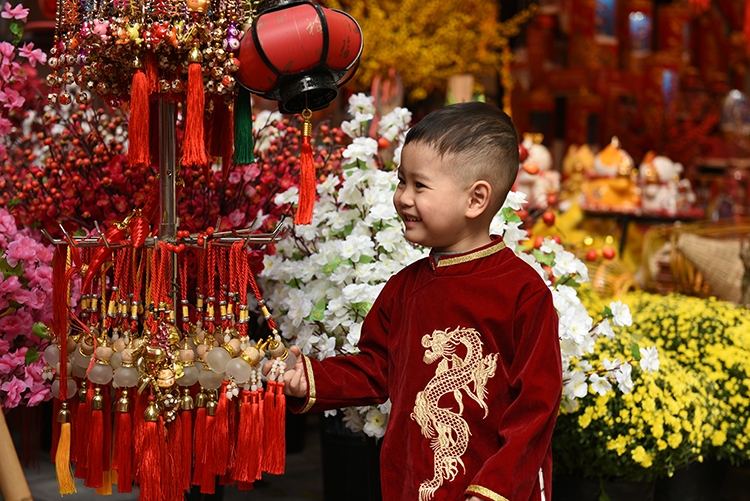 (Photo: Tin Tuc)
Many families take their kids to go down the streets so that the children can enjoy the vibrant, celebrative atmosphere. This is also the chance for them to embrace the traditional and cultural values at a young age.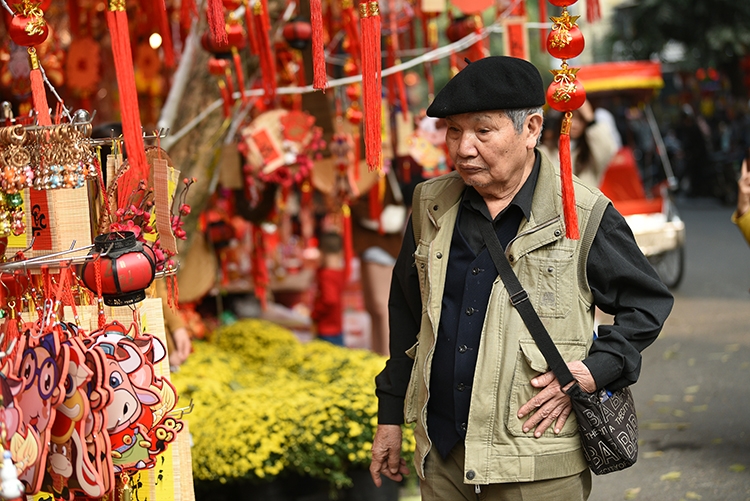 (Photo: Tin Tuc)
Old people can find a sense of nostalgia as they walk down the streets. They are not here just to buy decorative items but also to have a returned ticket to the Old Quarter in the good old days.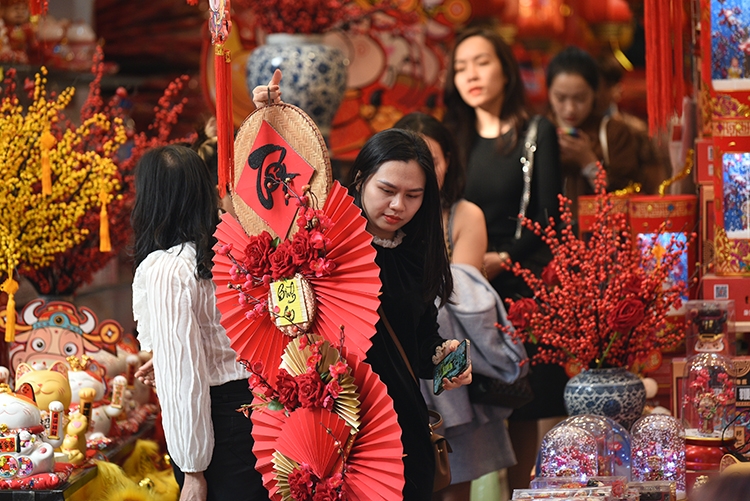 (Photo: Tin Tuc)
In spite of the financial impact the COVID-19 pandemic has brought in, Vietnamese people still shopping for Tet ornaments, hoping for a better year to come.