Hanoi Book street reopens after social distancing ease
May 2 marks the second day that Hanoi Book Street resumes business after over one month of closure following social distancing order.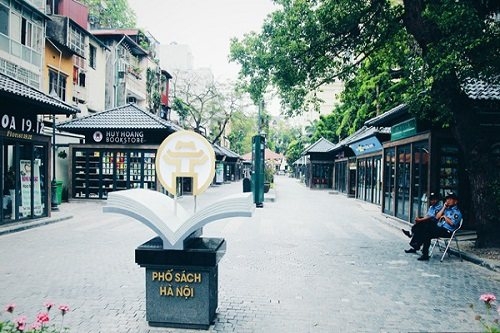 Hanoi Book Street (Photo: Vietnam paradise travel)
The Book Street was officially given a nod to re-open doors to customers May 1, right on the occasion of International Worker's Day, according to the information from the Executive Board of Hanoi Book Street.
The Executive Board of Hanoi Book Street has earlier announced to temporarily close and stop all activities to protect Hanoians and tourists' health upon the complicated development of COVID-19 pandemic on March 19.
All book stores have well-prepared in advance for the reopening day, from sterilization, introduction of newly-released books to promotion programs.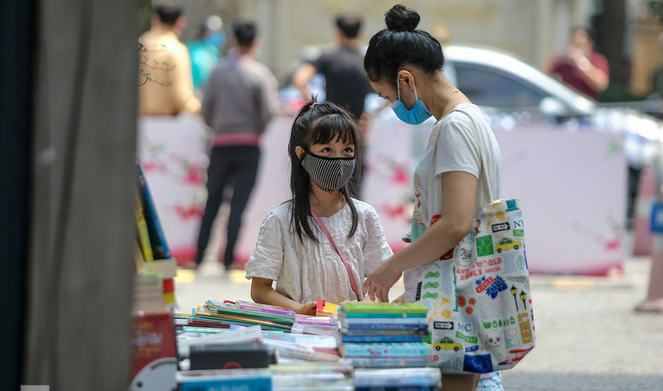 Two siblings buying books in the facade of a store in Book street (Photo: Tien Phong)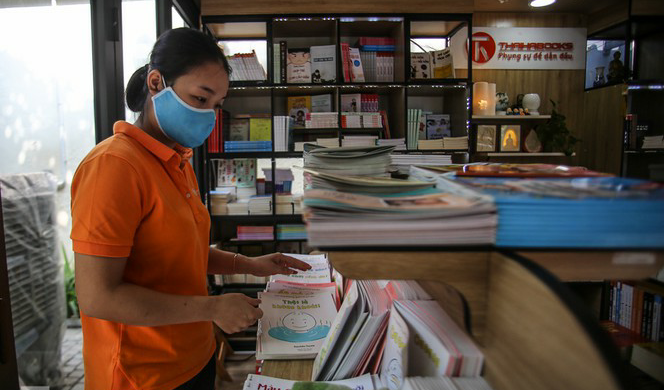 All buyers wear facemask (Photo: Tien Phong)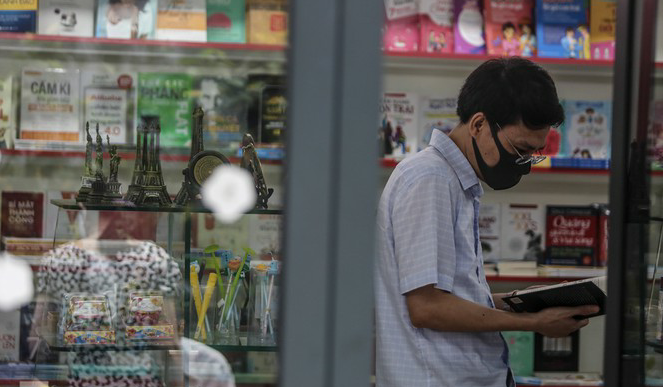 (Photo: Tien Phong)
Hand sanitizers, social distancing notice boards are put right at the two entrance gates to notify customers not to gather in large numbers. Besides, buyers are also reminded to strictly follow anti-pandemic safety measures in each store they visit.
According to a representative from Tan Viet bookstore, both Vietnamese and foreigners well adhere preventive regulations including wearing face maks, staying at a distanced proximity with each other. However, the street is still sparsely visited on the first two days, as its resumption to normal operation is still unknown to many.
Books of diverse genres, from economics, politics, social culture, famous Vietnamese and foreign literary works, to children books, comics, stationery corners will be introduced to readers on this reopening occasion.
Hanoi Book Street lies in 19/5 street, Hoan Kiem Hanoi to promote reading culture and develop a learning society for the country's sustainable development. May 1 marks its 3rd anniversary since its first opening, Kinh te do thi reported.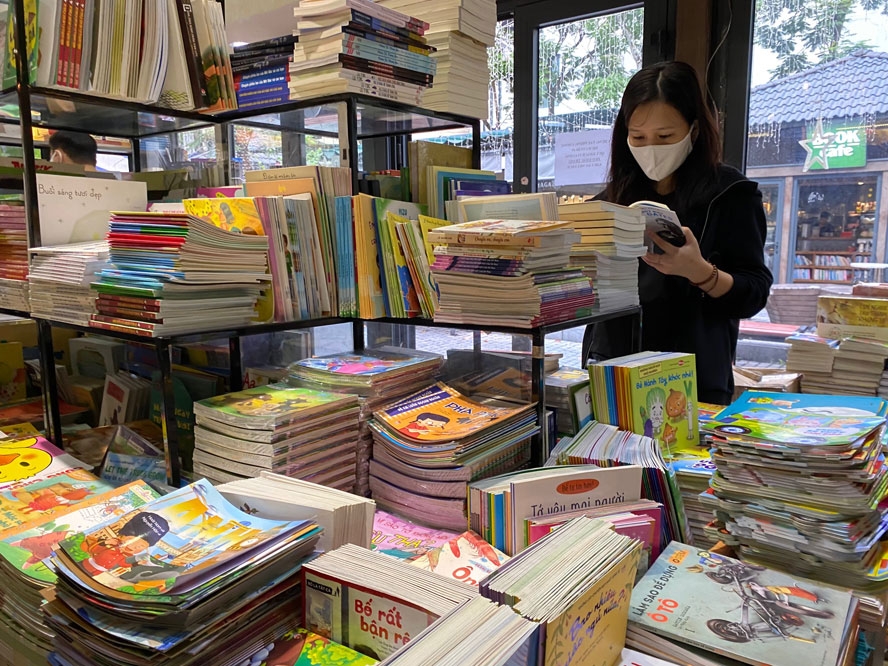 (Photo: Hanoi Moi)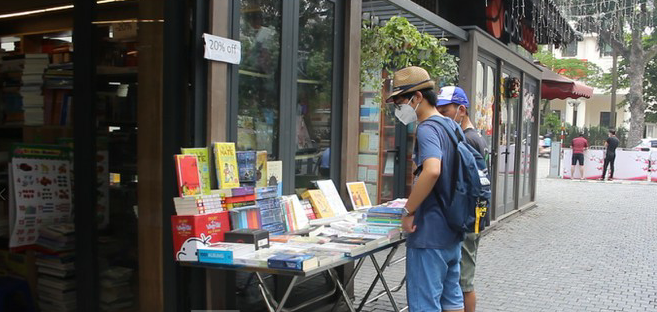 (Photo: Tien Phong)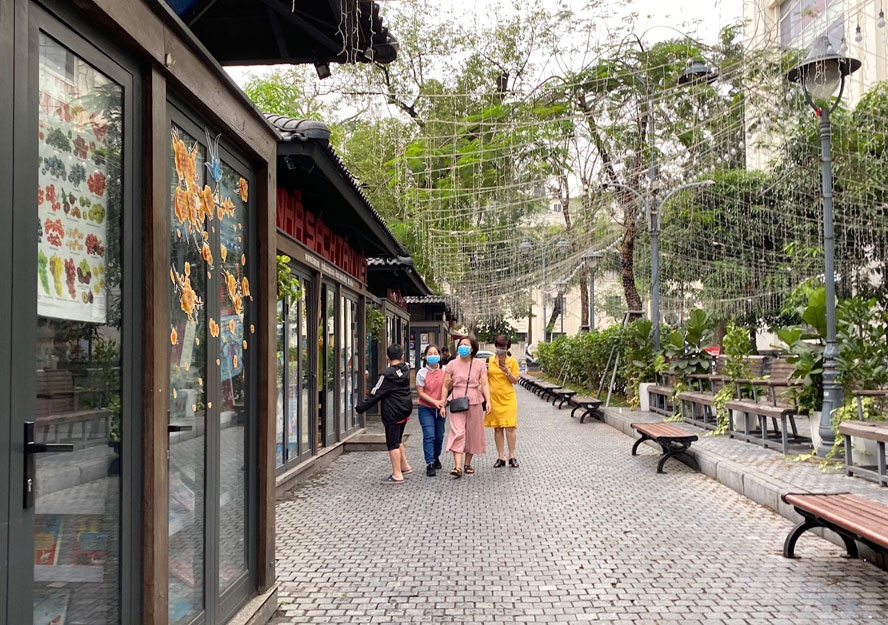 (Photo: Hanoi Moi)
Situated nearby the Hanoi People's Court and the historical attraction Hoa Lo Prison, the 200m book street was designed in the form of a pedestrian street, stretching between the Ly Thuong Kiet and Hai Ba Trung Streets. Promising to become a popular destination, the first street in Hanoi dedicated to books welcomes thousands of visitors each day to look for books and enjoy a new reading environment, particularly during weekends, according to Vietnam paradise travel.
The street features 16 booths with easy access for people with disabilities, children and the elderly, along with public computers for readers to search for book information. Public information stations and electronic books with free wifi and water are also equipped and there are a small square for exchange activities, talks and book introduction.
The open book and coffee space outside offer a comfortable reading corner for those who want to have a coffee whilst reading their newly purchased books. Readers can spend hours passionately enjoying their favorite books thanks to air-conditioned bookstores, indoor chairs and helpful assistance provided by booksellers.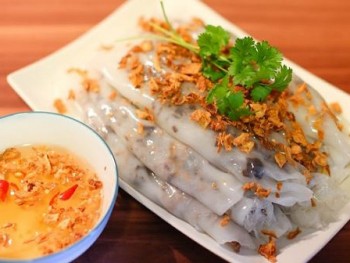 Travel
Banh Cuon is the next representative to bring Vietnam into the world culinary field.