Many tourist sites in Vietnam allowed restoring after social distancing ends
After a long time of halting operation due to Covid-19, series of historical relics and tourist sites nationwide have got green lights from local authorities to reopen and receive visitors.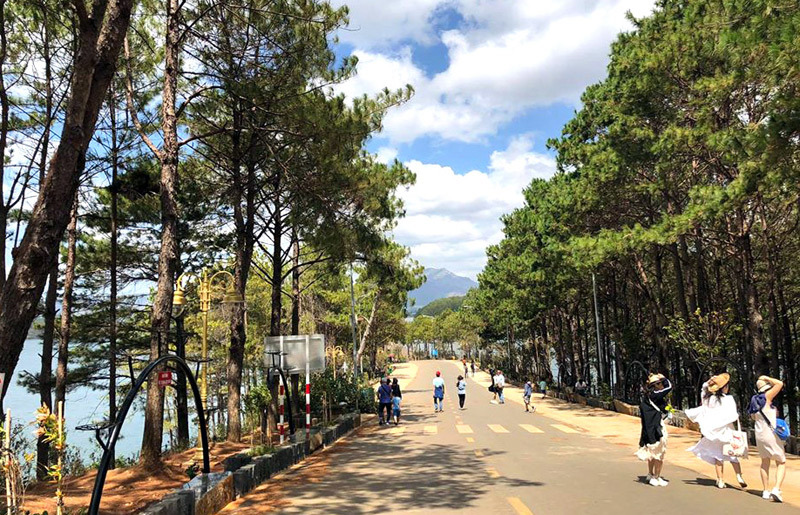 Tourists flock to Bien Ho, Gia Lai. Photo by Vietnambiz.
Gia Lai
Gia Lai People's Committee issued a document on implementing some Covid-19 preventive measures in the area on April 23. Accordingly, some manufacturing, businesses, and services are allowed to resume operation, however, must ensure to follow the instruction of preventing Covid-19 of the Ministry of Health. Those facilities were also encouraged to provide delivery products.
Some relics and cultural sites, as well as popular landscapes, are reopened to welcome visitors. Festivals, art and culture events, karaoke lounges, bars, clubs, beauty salons, and sporting events are still forbidden.
Quang Nam
The central province of Quang Nam also proposed to resume its normal activities under control to revive the economy and stabilize social security. Businesses including coffee shops, restaurants, diners are allowed to reopen but must follow the regulations on epidemic prevention.
Non-essential businesses also in the list, however, the owners must take responsibility for Covid-19 preventive measures.
For tourism activities, resorts, hotels, and accommodation facilities, homestays can receive visitors. Outdoor tours must be limited within 10 tourists. Public beaches are still at the halt.
Ngu Hanh Son (Marble Mountains) landscape site in Danang city, which was recognized as a National Special Relic by the Prime Minister in 2019, will be restored, covering a total area of 100ha, including the core 2.2sq.km zone and buffer zone as well as stone sculpture village, VNS reported.
The site will be improved under special protection, promoting the tangible and intangible heritage of the 400-year-old Non Nuoc stone sculpture village and craft community.
The Marble Mountains – which features five mountains by a pristine beach in Ngu Hanh Son District, 6km southeast of the city center – was given the name Ngu Hanh Son by the 18th of King Minh Mang under the Nguyen Dynasty in 1837.
The landscape – one of the most popular sites for tourists among the Danang Museum, Cham Sculpture Museum, and Bana Hills Mountain – attracts nearly 2 million tourists annually.
It's also the second National Special Relic in the city after the Dien Hai Citadel.
Da Lat, Ca Mau and Phu Quoc also get nods to resume normal activities to some extent, except for mass gathering events, karaoke lounges, bars, among others.
Hanoi and Ho Chi Minh city have yet to announce when tourism activities are resumed.
Hit hardest by the COVID-19 pandemic, Vietnam's tourism sector is likely to be one of the first to recover strongly after the pandemic is brought under control, Vietnamtourism cited an expert from Savills Vietnam as saying.

Local travelers, which accounted for 82.5 percent of all tourists last year, are expected to rise in number within a short period of time, while international visitors will return at a slower but steady rate, especially those from China and the Republic of Korea (RoK).

In terms of international arrivals, the category expected to return the quickest is business travelers, especially to gateway cities, followed by independent travelers and those arriving for meetings and conferences, and finally tourists traveling in groups.

The country's tourism sector is expected to fully recover within some six months after an announcement is made that the pandemic has been contained, Gasparotti said.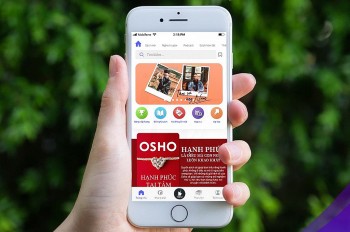 Make in Vietnam
Although the market is still new, audio book makers have a high growth rate. Currently, both Voiz FM and Fonos have a monthly revenue increase of six times compared to the first month of the year.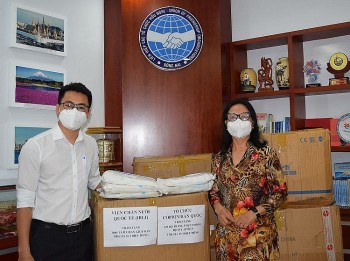 Friendship
Foreign organizations joined hands to prevent and control the Covid-19 in the southern province of Dong Nai.
Women in Business
In the complicated pandemic, corporate culture was an important factor to lead the enterprise through difficulties, said Ngoc Bich Tran, Tan Hiep Phat Deputy CEO.