Vietnam to put off National High School Examination as coronavirus plays havoc
Roughly 900,000 12 graders will take the annual National Exam for highschool graduation and university entrance on August 8-11, one month and a half later than usual, said Vietnam Ministry of Education and Training.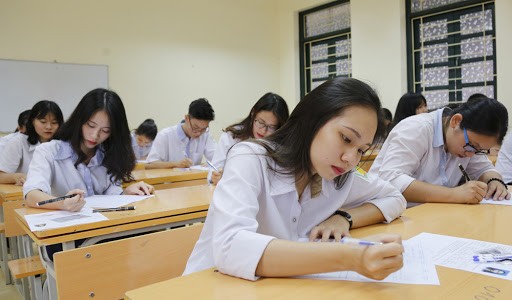 12 graders sitting for 2019's National Highschool Exam (Photo: Kinh te do thi)
Accordingly, the Ministry on March 13 sent an urgent dispatch to cities and provinces across the country on the newly-adjusted academic year calendar. The 2019-2020 school year is expected to end before July 15, nearly one month before the National High School begins. In other words, it's not until late August will 900,000 students get their exam results. New college year is expected to start at least one month late consequently.
In the meantime, the ministry also urged its provincial-level departments to review, streamline teaching contents, set up online teaching (via Internet and television) until schools are re-opened.
"Chairpersons of Provincial People's Committees will proactively decide on the time students return school based on the new revised calendar, while ensuring the safety and suitability to real disease control situation in each locality", official dispatch of the Ministry stated.
"We will continue keeping a close watch on developments of the COVID-19 outbreak in order to provide timely instructions to local departments and schools", he added.
However, announcement on the start of Highschool Entrance Exam is yet to be given.
The MOET revised this school year's academic calendar for the first time last month, in which the closing date was delayed to June 30 while the national high school graduation exam was rescheduled to July 23 – 27.
As of March 14, Vietnam confirmed 49 COVID-19 infections, including 33 new cases reported within one week, the remaining 16 cases were all recovered and discharged from hospitals. 33 provinces across the country witness prolonged school break, from kindergarten to university, as part of their effort to curb the spreading of COVID-19.
The COVID-19 outbreak has so far spread to 128 countries and territories worldwide, killing as many as over 5,000 people.