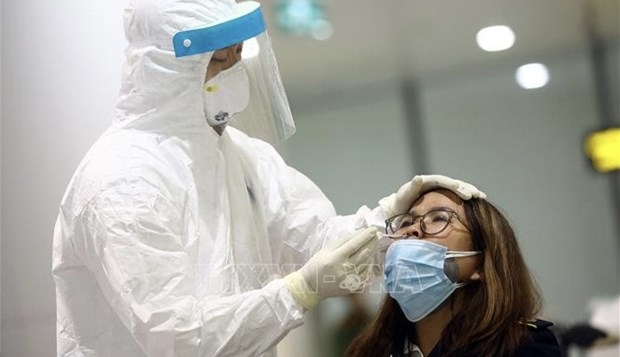 Hanoi conducts random Covid-19 testing for 1,000 people at Noi Bai airport. Photo: VNA
Chairwoman of the Hanoi's Vietnam - Bulgaria Friendship Association Le Thu Ha and Tran Thanh Ha, treasurer of the association on June 15 have transfered the amount of VND 50 million (USD 2.176) into the account of the Hanoi Committee of the Vietnam Fatherland Front (VFF).
The sum was donated by members of the Hanoi's friendship association to support the fight against the ravaging pandemic.
Although it has only been established for six months, the charter and its executive board have already faced difficulties because of the pandemic but with high spirit, scientific working methods, members have enthusiastically responded to the call.
Chairwoman of the Vietnam Fatherland Front's Hanoi Committee Nguyen Lan Huong highly appreciated the activities of the association, its members and those who are following and supporting the association.
According to NDO, Chairman of the Hanoi People's Committee Chu Ngoc Anh and Chairwoman of the city's Fatherland Front Committee Nguyen Lan Huong have called on local organisations, businesses and people to donate to the city's Covid-19 vaccination programme.
In a letter jointly issued on June 16, Anh and Huong said they want organizations, businesses and residents of Hanoi to share in the responsibility with the city by contributing money and resources for the procurement of Covid-19 vaccines.
This aims to help the city soon achieve herd immunity against the virus and bring life back to normal, the letter said.
Hanoi is scheduled to host a show called Hanoi joins hands to fight Covid-19 on June 19.
The number of cases since the fourth wave of the pandemic began on April 27 was 8,994. The capital has logged a total 736 cases of Covid-19 so far.
After more than two years of campaigning, on December 27, 2020, the founding congress of the Hanoi's Vietnam - Bulgaria Friendship Association took place.
The establishment of the association is the expression of concentrated feelings and aspirations of those who have studied and worked in Bulgaria. On April 13, 2021, leaders of the Association went to the city People's Committee to receive the decision approving the establishment of Hanoi charter signed by Vice President Le Hong Son on behalf of the President.
On May 14, Chairwoman of the Hanoi Union of Friendship Organizations Nguyen Lan Huong signed and issued a Decision on recognition of the executive board and key positions of the Hanoi's Vietnam - Bulgaria Friendship Association.
Hannah Nguyen