HCM city-funded medical station to be built in Truong Sa archipelago
The Vietnam Fatherland Front Committee of Ho Chi Minh City just handed over VND 30 billion (USD 1.27 million) in donations from local people and soldiers to help build a medical station on Nam Yet Island in Truong Sa (Spratly) archipelago in Khanh Hoa province, reported VNA.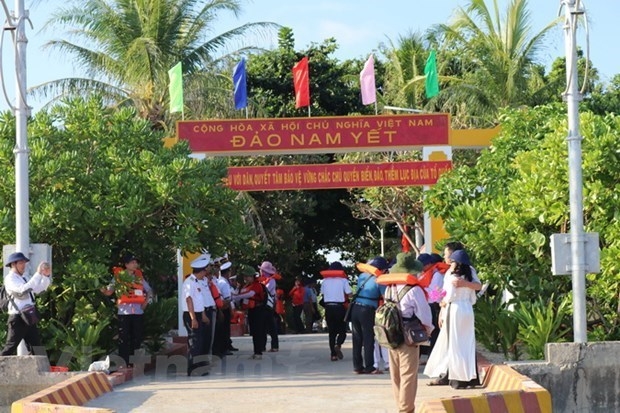 A corner of Nam Yet island in Truong Sa archipelago (Photo: VNA)
At a ceremony on April 29, Vice Secretary of the HCM City Party Committee Vo Thi Dung and President of the municipal Vietnam Fatherland Front Committee To Thi Bich Chau handed over the token of the funding to Rear Admiral Luong Viet Hung, Deputy Commander of the Vietnam People's Navy.
Hung expressed his gratitude for the great support from HCM City authorities and people to the Truong Sa archipelago in recent years.
On behalf of the Vietnam People's Navy, he committed to using the funding to quickly open the medical station.
HCM City will continue to step up campaigns to encourage local people to contribute more to the "For homeland's sea and islands" fund.
Located in the north of Truong Sa Archipelago, Nam Yet island is called the "Coconut island". From afar, the island is like a blue silk strait with ranges of coconut trees. Reported by Radio the Voice of Vietnam (VOV).
With a width of about 200m and a length of 600m, Nam Yet island is oval-shaped. Trees typical of Truong Sa archipelago are planted on Nam Yet island but coconuts are the most numerous.
Coconut trees are resistant to the harsh climate on the island. They produce fruit throughout the year and particularly during the dry season. A tree can provide two to four clusters coconuts.
Products made from coconut trees are popular on the island. The leaves are used to cover vegetable gardens and animal shelters. Dried coconuts are used to scoop water. Some skilled soldiers even embed shells to make nice gifts for their family and friends./.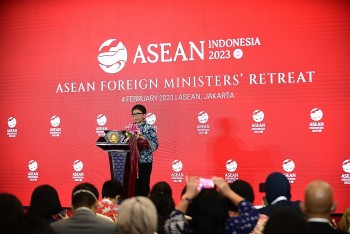 National
Indonesia hosted the first major meeting for its 2023 ASEAN Chairmanship - the 32nd ASEAN Coordinating Council (ACC) meeting and the ASEAN Foreign Ministers' (AMM) Retreat.