200 people, including Truong Sa soldiers perform in "Proud of Vietnam" music video
Up 200 local artists, doctors, soldiers stationed on Truong Sa (Spratly) archipelago have performed together in a music video entitled Tu Hao Viet Nam (Proud of Vietnam), a hit that displays the nation's gratitude to people working on the frontline in the fight against the COVID-19 epidemic.
According to VNA, the music video was produced in one month in Hanoi, Hai Phong, Ho Chi Minh City, Thailand, and the Truong Sa archipelago.
"It is lucky for the crew to film the most important scenes with the participation of many people before Prime Minister Nguyen Xuan Phuc's social distancing decision in April 1," said director Mai Thanh Tùng.
Sponsored by the Ministry of Health, the song Tu Hao Viet Nam was composed by Nguyen Xuan Tri to praise Vietnamese unity, solidarity and cooperation throughout the country to cope with the COVID-19 pandemic.
The music video includes groups of children from Sao Tuoi Tho Club; health workers from the National Hospital for Tropical Diseases No 2; Monk Thich Ban Hoan; and soldiers from 146 Brigade, Naval Zone 4 in Truong Sa.
It's not the first song being covered to raise people's awareness of prevention measures and send a message of community solidarity whilst giving encouragement to all people to combat the pandemic.
Since the COVID-19 outbreak began, Vietnamese musicians have been writing songs to cheer people up. These songs have been widely shared on the internet and other media.
The very first song "Ghen Co Vy" is Vietnamese public announcement on the COVID-19 in the form of a song, created by the National Institute of Occupational and Environmental Health.
The song also is a parody of another popular song, also by Khac Hung, Min and Erik called "Ghen" (Jealousy). Ghen Co Vy, with "Co Vy" (Ms. Vy) a local nickname for the new coronavirus, premiered on the institute's official YouTube channel in February.
The song went viral worldwide after being broadcast on HBO's Last Week Tonight with John Oliver, who praised Vietnam for many useful propaganda measures on the disease.
Billboard has ranked Vietnamese song "Ghen Co Vy" among its 10 COVID-19 songs which will bring a degree of humour to listeners amid the global panic that surrounds the pandemic./.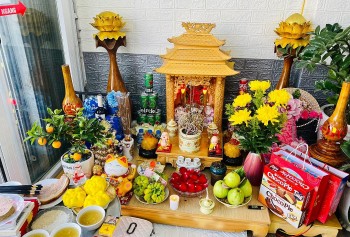 Handbook
Learn more about an ancient Vietnamese tradition that may bring you good fortune!