Health centre supporting Vietnamese expats in Poland in coronavirus testing procedures
LOTUS, a health care centre set up under Vietnam-Poland cooperative efforts, is assisting Vietnamese people in the European country in handling testing procedures for COVID-19, free of charge.
A health worker tests samples to diagnose COVID-19 at a lab in Warsaw, Poland, on May 14 (Photo: PAP/VNA)
The centre began the assistance on May 25, asVietnamese expatriates in Poland have significant demand for coronavirus testing.
Those with ambiguous symptoms must pay for the tests, and many others, especially manual labourers, have encountered difficulties in accessing testing services due to limited language skills and the lack of a bank account.
LOTUS will provide free support for Vietnamese people to complete procedures for registering for tests at the Diagnostycka laboratory, including registering online, completing paperwork, paying fees online, and preparing for testing.
Tests for COVID-19 at medical centres in Warsaw currently cost PLN 534 (USD 131) each. Results are available in 48 hours or 72 hours on the weekend.
Established in October 2009 as a joint stock company, LOTUS is the first concern of its kind set up under the two countries' cooperative efforts in Poland.
Poland has a large Vietnamese community of some 25,000 people.
The number of confirmed coronavirus infections in Poland increased by 236 since May 25 and reached 21,867 the Ministry of Health said on May 26 morning. Another six people have died, bringing the death toll to 1,013.
The first case of coronavirus infection in Poland was reported on March 4.
On March 20, Poland introduced a state of epidemic. On March 31, the government announced further restrictions on the movement of people. Some of the restrictions were lifted on April 20 with further easing introduced on May 4 and May 18./.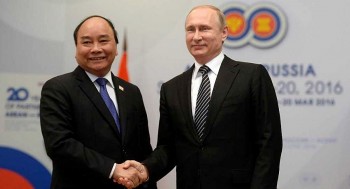 Friendship
The visit is expected to boost bilateral cooperation in Covid-19 prevention and control, especially in promoting Russia's support for vaccine production and technology transfer.