Heart-touching love story of a 70-year-old American man and his Vietnamese spouse
In nearly eight months living in Vietnam, Anthony was hospitalized three times as he could not acclimatize to the weather but the American national determined not to return to his homeland without My Hanh.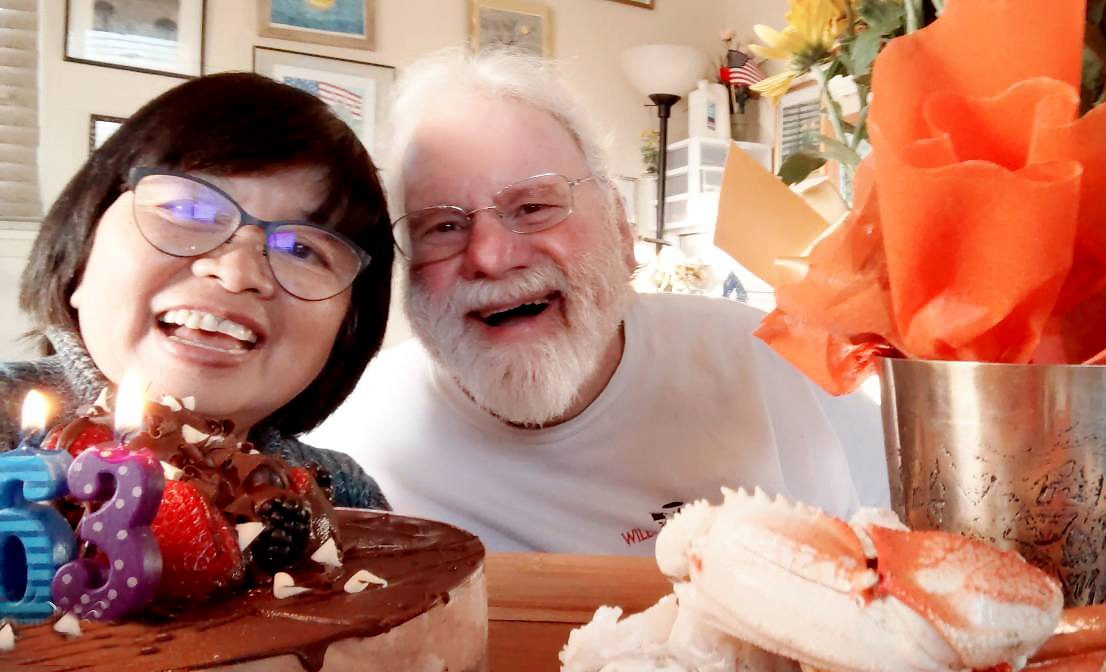 Anthony T.Costanz and his wife My Anh on her 63rd birthday at their house in Monterey, California. Photo courtesy of Anthony.
While My Hanh, 64, was putting down the paintbrush and looked to her completed picture, Anthony T. Costanz was stepped toward her, putting hands around her shoulder and constantly praised her works, according to Vnexpress.
He also boasted that nearly 50 pictures hung on the walls of the living room and all of his clothes were made by his wife.
For Anthony, the Vietnamese wife was beyond his expectation as he always wished to marry a woman that is good at domestic works and as good as his mom. My Hanh was his happy landing after two failed marriages.
From half of the global afar, My Hanh also experienced an incompleted marriage at the age of 24 and she decided to stay single and worked as a French and English teacher to raise two kids.
Reminding the destiny meeting in the Christmas of 2015, Hanh randomly added a social media account that features a picture of a man with his beard as white as the snow. After chatting some words, the duo started to make a video call to get better knowledge of each other. " He looked like a Santa Claus and he appeared right at the Christmas night that made me feel it was a miracle", Hanh said. And the man was nobody other than Anthony.
After a week of chatting, Anthony picked a flight ticket from the US to Vietnam when he was 65 years old. It is the first time he spent as many as 20 hours onboard to Sai Gon and arrival day was a traditional Tet holiday.
During the first two weeks, Hanh guided him to some notable place and invited him to her department in District 1 after the third week. Anthony was then an "honor guest" in some of her English classes.
Moving in together, Anthony was charmed by Hanh's simplicity. Before returning to the US, Anthony took Hanh to a jewelry shop and she just picked a really simple and affordable ring at US$ 36 that amaze him.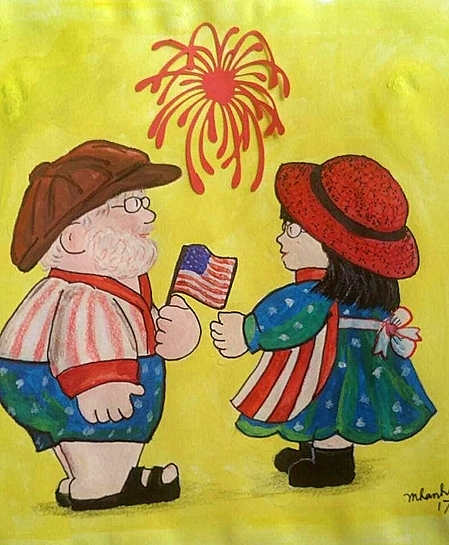 Hanh and her children called Anthony "Santa Claus". The picture drawn by Hanh depicts their love story. Photo courtesy of Anthony.
Returning to the homeland, Anthony spent one month and a half to register procedures to sponsor Hanh to the US. "I just looked forward to meeting her soon.", he said. About two months later in February, the American man flew back to Vietnam and then stayed with Hanh as a real husband despite a series of difficulties including the food taste and the traffic fright.
One of the hardest things for him was the living space that was totally different from that in the US. He had a house in a temperate zone in his country with a 300- meter- square garden but in Vietnam, he shared the living space in a 24-meter-square house with Hanh, her older son, and her daughter. However, he later acknowledged that traditional Vietnamese women have a tendency to live for their children and had no query then.
On a night in June, Hanh and her children were in a panic when Anthony got oppressive and high blood pleasure, he was taken to the hospital and treated until feeling better as well as taken care by Hanh. Anthony was hospitalized two more times due to the scorching heat of Sai gon that he can not acclimate. He was advised to come back home to the US but denied providing that Hanh was accepted to go with him.
After the procedures to take Hanh to the US was accepted, the Vietnamese woman then move to the US to live with Anthony and it has been four years until now, the old couple feels that they were born to each other. Anthony created happiness for his wife by buying her series of painting supplies, textiles, and registered a website to promote her works.
Hanh has also presented a box of jewelry left by Anthony's mother as a compensation for the simple ring some years earlier.
"I promised to take you here to ensure your budget, to have you by your side and have you retire with me," said Anthony when he promised to his new love. Now he is still carrying the promise out with Hanh.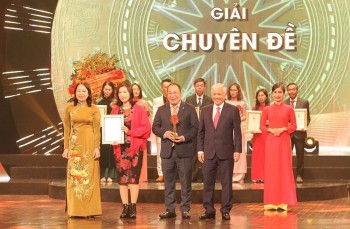 Overseas Vietnamese
VietnamTimes (Viet Nam Union of Friendship Organizations) is a reliable address for overseas Vietnamese to quickly and objectively update political, economic, cultural, and social news. The agency has created a helpful forum and connection between expatriates and the motherland.