Ho Chi Minh City book street sets summer vibe with diversities of activities
The exhibition displaying books and documents under the theme "Ho Chi Minh: Life and Career" that provides wide ranges of books, articles and documents about President Ho Chi Minh, kicked off at Ho Chi Minh City Book Street. The event lasted until May 22.
This is one among series of activities to celebrate President Ho Chi Minh's 130th birth anniversary (May 19, 1890 - May 19, 2020), 109 years since Uncle Ho's departure to find a way to save the country (June 5, 1911 - June 5, 2020).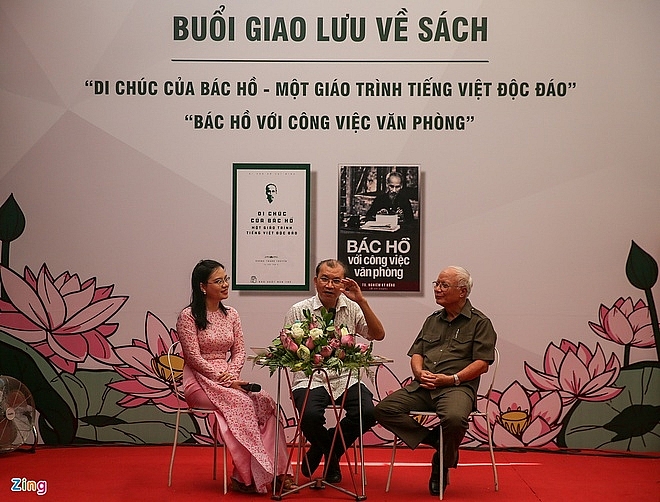 Author Duong Thanh Truyen (middle) and Dr. Nghiem Ky Hong (right) made a discussion on the topic about Uncle Ho. Photo: Zingnews/Y Kien.
Under the framework of the exhibition, the discussion about "Uncle Ho's Will - A unique Vietnamese textbook and Uncle Ho with office work" featuring author Duong Thanh Truyen, Dr. Nghiem Ky Hong took place on May 19.
In parallel with the exhibition to celebrate the 130th birthday of Uncle Ho, the organizer of the event implemented many meaningful programs.
From May 23 to May 26, the "Silent Warriors" photography exhibition takes place in a part of the Ho Chi Minh City's Book Street. The exhibition shall display the work of author Hoang Giang Huy, who took photos on scenes of frontline doctors fighting against the COVID-19 pandemic.
The exhibition aims to pay tribute to doctors and healthcare workers who have been continuously serving the community during Covid-19 pandemic.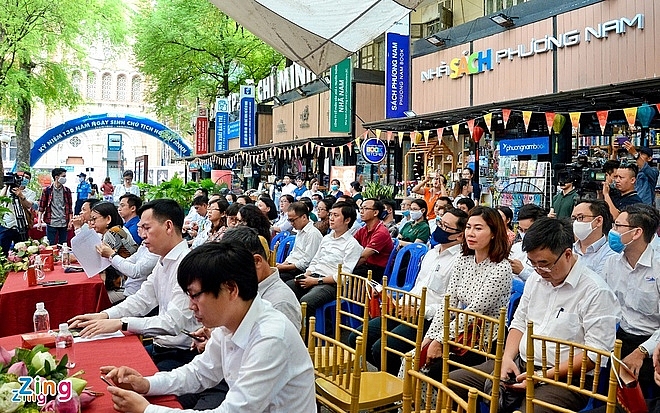 Programs organized on Ho Chi Minh City's Book Street attract a lot of guests and book-lovers. Photo: Zingnews/Y Kien.
On May 23, the exchange and introduction of the book "The summer trains" written by Binh Khoi will be held at the area. The program is organized by Culture and Arts Publishing House.
"The summer trains" comprises 20 short stories and vignettes. Besides family topics, the book also has stories of love, friendship and daily life. Young author Binh Khoi graduated with a master's degree in Vietnamese Literature. Being born in the 1990s, he has work experience in many media corporations in Vietnam.
Make in Vietnam
Vietnam introduced potential for trade and investment to Algeria's localities