Hue draws attentions with summer flower carpets
Hue is coloring itself with various summer flowers in bloom. The flower carpet is partly the result of the "Green Sunday" movement, which encourages citizens, organizations to plant green trees and flowers around the city.   
The "Green Sunday" has been kicked off for almost over one year now, aiming at building a city with year-round flowers, Thanh Nien reported.
Accordingly, office facilities, educational establishments in the area are encouraged to grow seasonal flowers within their campus.
Each ward must also grow at least one flowers road or flowers garden . Especially, all the cross-river bridges in the city are lined with green trees and flowers.
The result is, local people and visitors can easily catch sight of colorful flowers in every step they go and might probably fall even deeper in love with the dreamy city.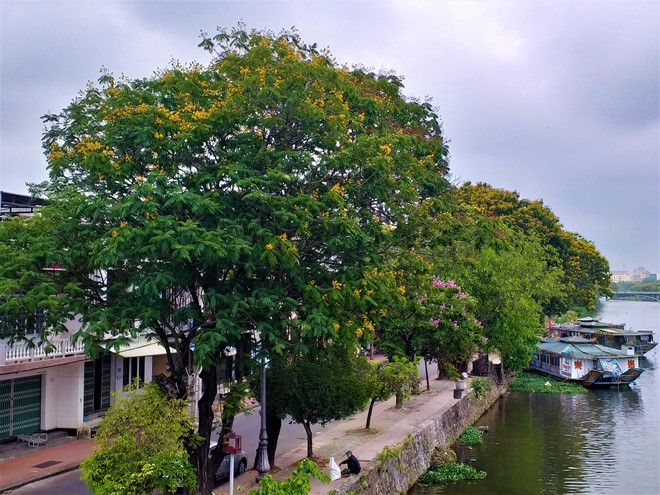 (Photo: Thanh Nien)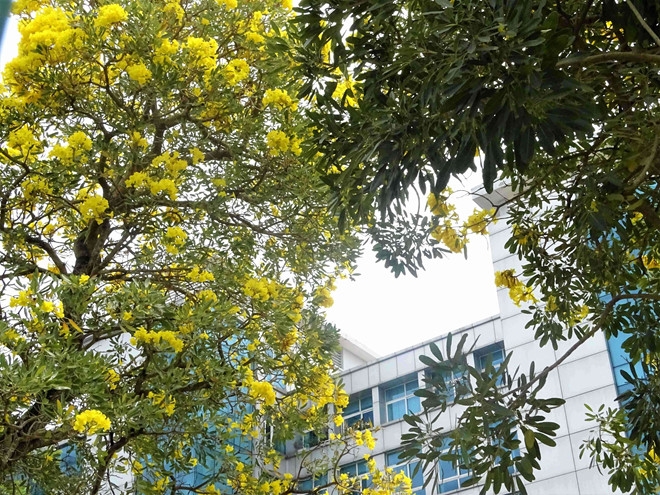 (Photo: Thanh Nien)
May Bell flowers in bloom at the People's Committee of Hue city
Every year when summer draws near, May bell are in full bloom, surprising even locals who've been witnessing the spectacular scene it brings for years.
May bell's blooming season lasts for several weeks, according to Thanh Nien.
May Bell flowers seemingly put on a yellow dress for the city.
Red silk cotton flower boats its own charm at the People's Committee of Hue city.
This time of the year is also the yellow "sua" flowers at its brightest. Though the flowers in bloom for a only a short period of time, its fallen petals on the streets makes a scenic romance.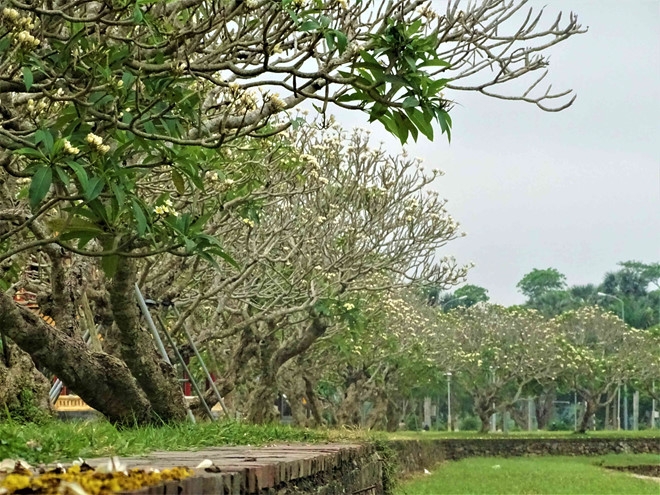 (Photo: Thanh Nien)
Plumeria flower boasts a delicate charm.
Lines of plumeria flower stretching along Hue Palace has long become an iconic scene of the ancient city.
Copper-beech flowers also "make use of" the summertime to show its most gracefulness.
Lotus is a symbol of purity and integrity in Vietnam. Lotus flowers have long been in Vietnamese people's hearts, life and culture. Contemplating lotus flowers, we can see images of Vietnamese people.
The lotus flowers have long been associated with Hue, ingrained in Hue locals' hearts, and can be easily found in the city's ancient architectures, cuisine and culture. Thus, you can catch sight of lotus every step you take, from lotuses in lakes and ponds to the Hue royal palace. The flowers' fragrance is not any less alluring, deserves it the title national flower of Vietnam, according to VNE
White lotus flowers are of no less beauty with its pureness
Lagerstroemia turns the corner purple. Lagerstroemia is a symbol signaling summery season in Vietnam.
Soapberry flowers, are grown in several parks in Hue
Walking street along Huong river also impresses visitors with a variety of flowers.
People enjoys the tranquility amidst flowers carpet at Huong river bank