HUFO, Indian Consulate General Aid Ho Chi Minh City's Quarantine Facilities
Ho Chi Minh City is the country's largest hotspot with almost 300 new cases.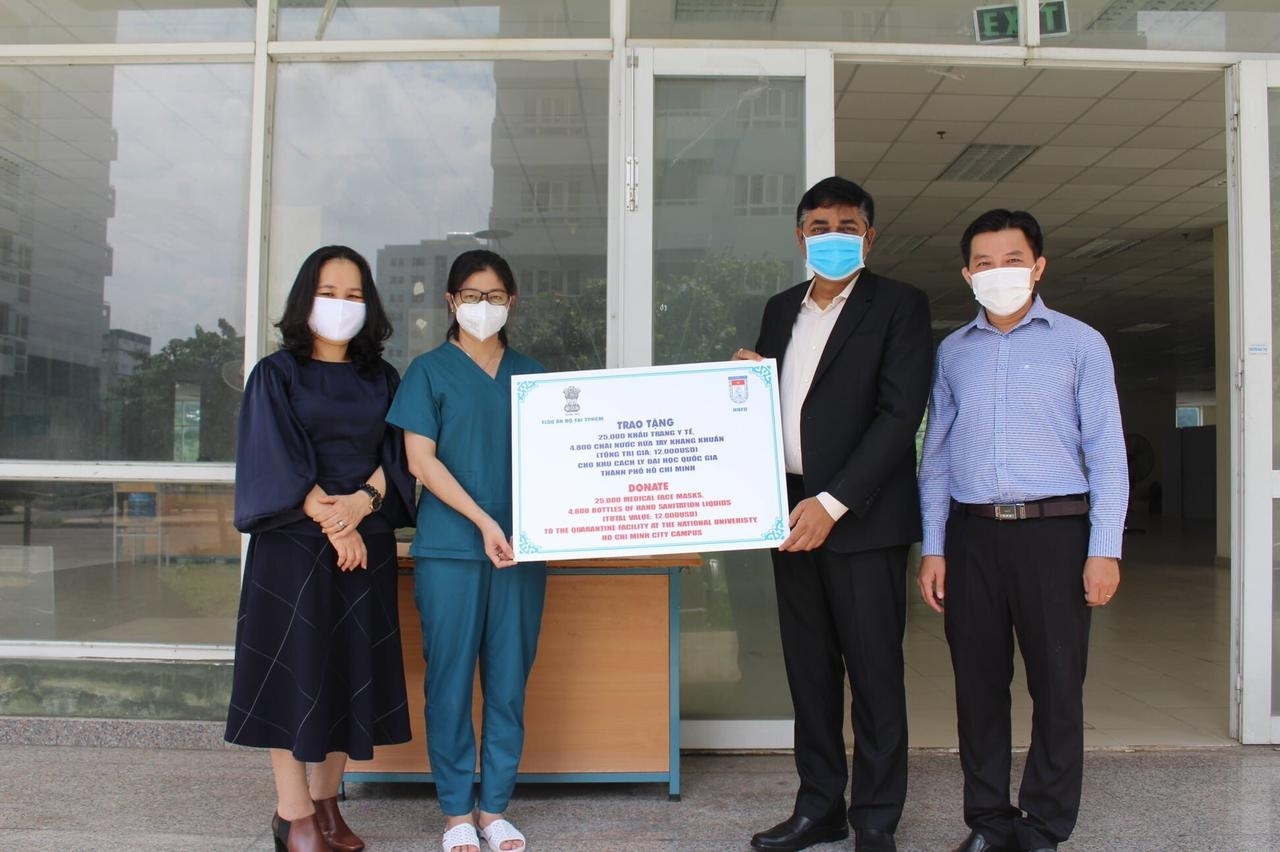 At the handover ceremony on July 7. Source: HUFO
The Ho Chi Minh City Union of Friendship Organizations (HUFO) in collaboration with the Consulate General of India and the city's Vietnam - India Friendship Association presented a donation included medical supplies to the quarantine facility at the National University Ho Chi Minh City Campus on July 7.
More than 1,600 people suspected of being infected with Covid-19 currently are being isolatied at the quarantine facility.
Recording high daily cases with multiple clusters in many places since the end of May, HCM City becomes the locality with the highest number of infections in Vietnam. This worst-ever Covid-19 wave has put intense pressure on the healthcare sector of the entire country including the city's hospital system and centralized isolated areas.
As public quarantine facilities are strained to meet the demands of ever-growing suspected cases of Covid-​19, Consul General of India, Dr. Madan Mohan Sethi and HUFO Vice Chairwoman Le Thi Hong Diem have been presented to hand over the gift of 25,000 medical face masks and 4,000 bottles of hand sanitizer liquids to the quarantine facility at the city's National University Campus.
Total value of the medical supplies is USD 12,000.
Speaking at the handover, the quarantine facility's representatives expressed their gratitude for the enthusiastic support of the Government, Consulate General of India as well as the HUFO.
For his part, Consul General Sethi also wished the medical team in particular and the government and people of Vietnam in general to do well in their tasks, control the pandemic soon and look forward to continue the sincere mutual assistance between the two countries' governments, health sectors and people.
Earlier on July 6, the HUFO, on behalf of the Indian Consulate General, also presented medical supplies worth USD 6,000 to the concentrated isolation area of ​​An Binh Hospital, which is in charge of more than 400 people suspected of being infected with Covid-19.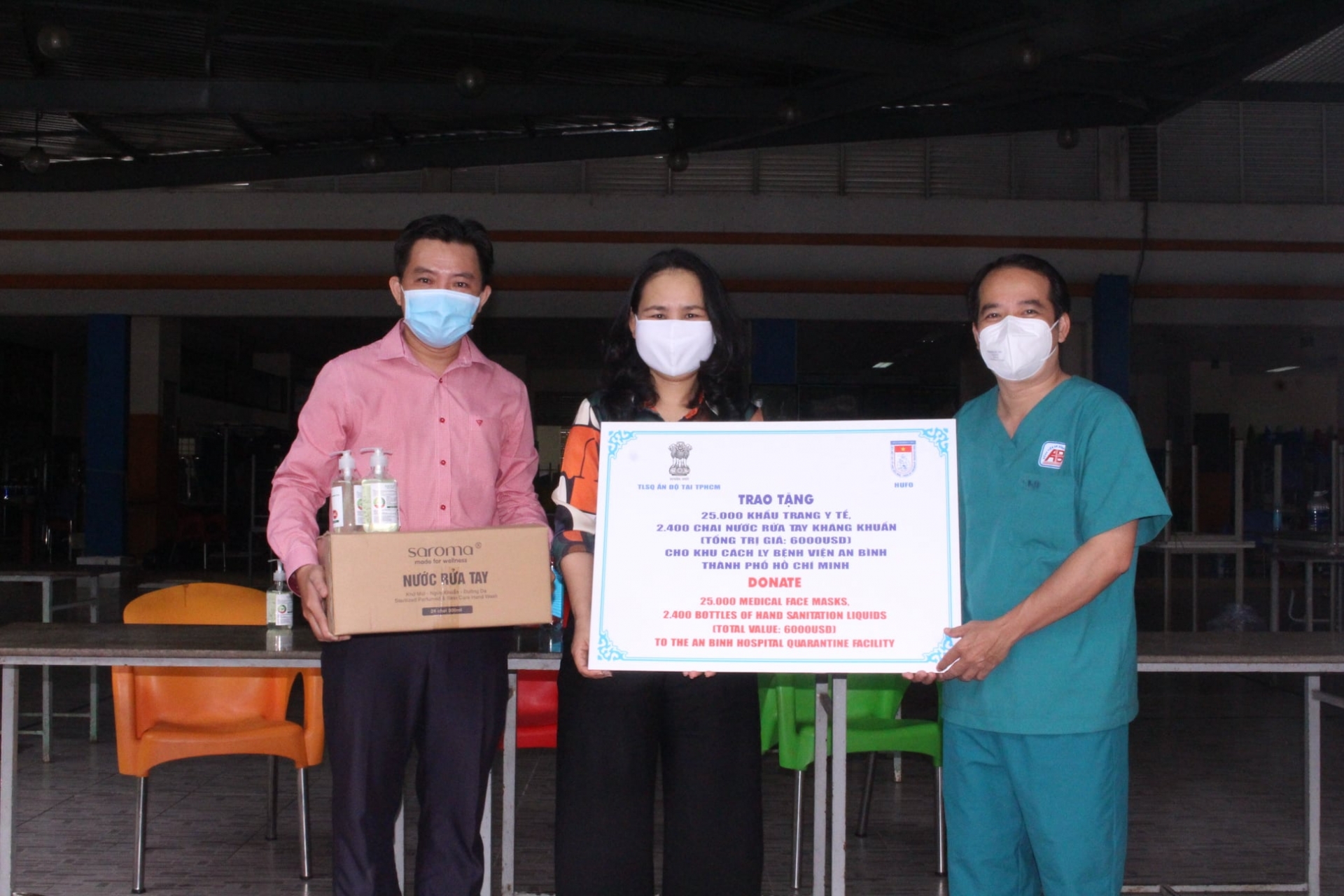 HUFO Vice Chairwoman Le Thi Hong Diem presents medical supplies worth USD 6,000 to the concentrated isolation area of ​​An Binh Hospital. Source: HUFO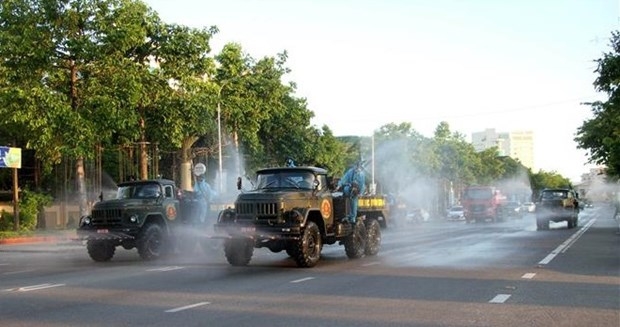 Disinfecting streets of Ho Chi Minh City - Vietnam's largest economic hub. Photo: VNA
According to a report by the department citing by VNA, from April 27 to July 7, HCM City recorded 8,151 coronavirus infections in the community, including 45 deaths.
The city is currently treating 7,118 patients.
107 sites in 22 districts of Vietnam's most populous city have been put on lockdown in the fourth wave of outbreaks.
HCM City will apply social distancing measures under the Prime Minister's Directive 16 for 15 days starting from July 9, said Chairman of the municipal People's Committee on July 7.
Local people are asked to stay at home and only go outside for essential trips such as buying food and medicines, or emergency care. Essential good delivery services are allowed.
The city authorities also have requested the suspension of public transport, technology ride-hailing services and traditional motorbike taxis.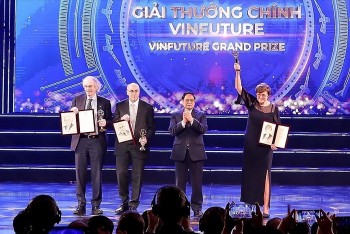 Handbook
Three times higher than Nobel Prize's monetary value, special prize for female innovators - Here's what you may not know about the new scientific prize launched by a Vietnam's leading group.