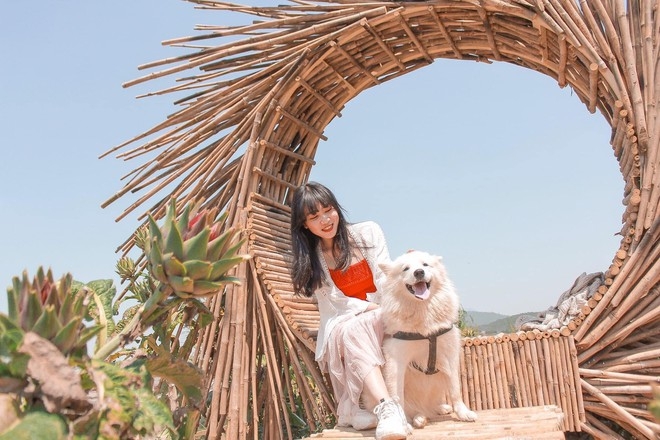 Coffee goers can safely play with the dogs at Puppy Farm cafe (Photo: Thanh Nien)
The Puppy Farm Café belongs to the 29-year-old Tran Thanh Nha, a puppy lover. The "farm" is home to nearly 100 canines of different breeds, most are the royal breeds such as Husky, Alaska, Corgi, Bulldog, Akita, Shiba, Goldendoodle, Poodle, Basset, Hound, Alabai, etc., whose price can be amounted to billions of VND (dozens of USD). These pooches showing up in the farm comes in different ages, sizes and character, some weighs up to 50-70kg, however, all are gentle, friendly and cute.
The dogs have a very ordered and organized daily schedule of eating, sleeping, bathing, playing and welcoming guests, etc. They are alternately fed with pork, beef, chicken, salmon, etc.
"The pack consumes over 200kg of food every day. Besides, I also feed them vitamins, can xi, and other supplements. It costs us a total of over VND 300 million (nearly US $13,000) per month", Minh Tuan, Nha's brother-in-law told Thanh Nien.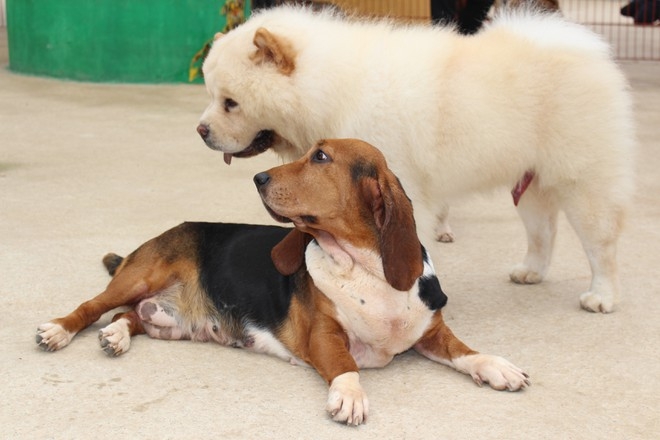 Two royal dogs (Photo: Thanh Nien)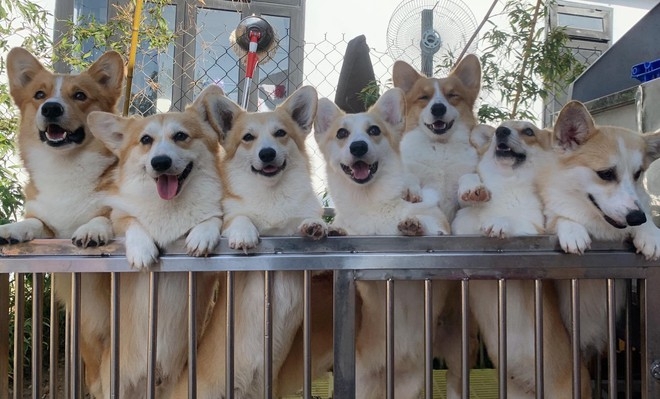 Dogs at Puppy Farm Cafe (Photo: Thanh Nien)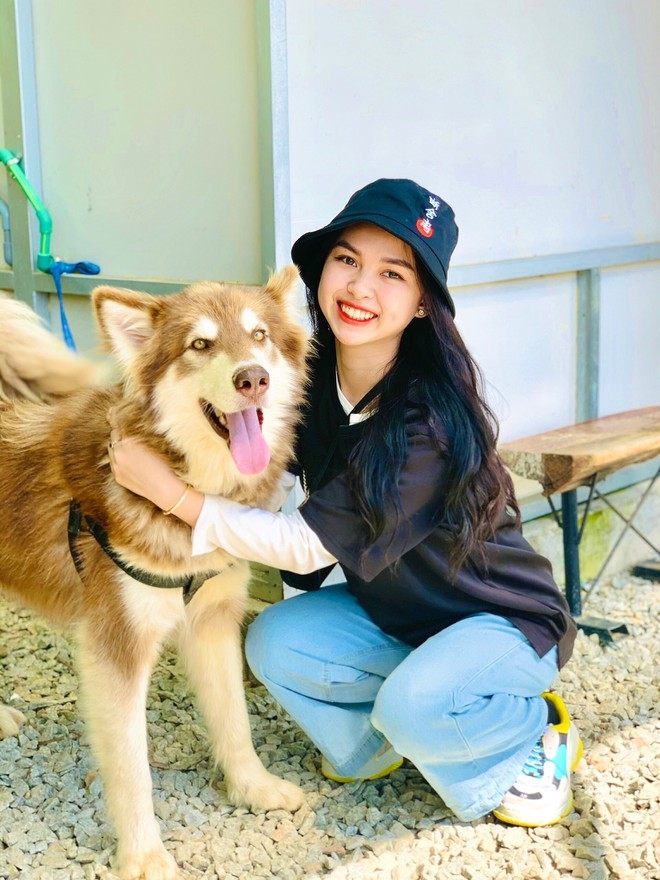 A guest taking photo with on of the dogs in Puppy Farm Cafe (Photo: Thanh Nien)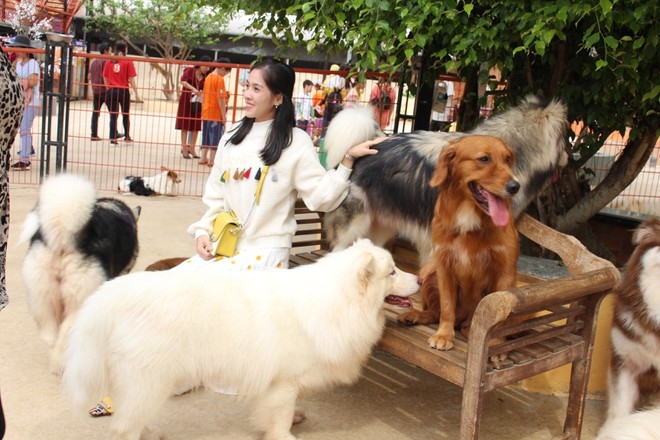 At Puppy Farm Cafe (Photo: Thanh Nien)
According to Nha, her puppy farm café opens at 8am. daily, but as early as 5:30, the dogs are already up to have breakfast and go for a bath, getting ready to meet new guests.
Her puppy café welcomes hundreds of coffee goers and pet lovers every day. On peak days, there are even thousands of people visiting Puppy Farm café.
"Some people visit us very early. They have a cup of morning coffee, enjoy playing with the pets then continue their trip in Da Lat", Nha said. "Some visitors looks intimidated at first, but then get used to the dogs and have real funs with them", she said, adding that her dogs are very friendly and approachable, even with children.
Thanks to the favorable weather conditions, (low temperature, fresh air), Da Lat is a more suitable environment to raise different breeds of dogs – with some imported from European countries, the US, Japan. Da Lat is no doubt a "kingdom of puppies", Thanh Nien comments.
Besides Puppy Farm Café, the Hug-Pets café is another ideal option. The place is famous for the Russian wolf-dogs who own a smooth, thick fur and large body.
On top of that, the Alaska House, Kong Café, Gâu Café and Dog Clubhouses are other must-visit dog-themed cafés in Da Lat in the list.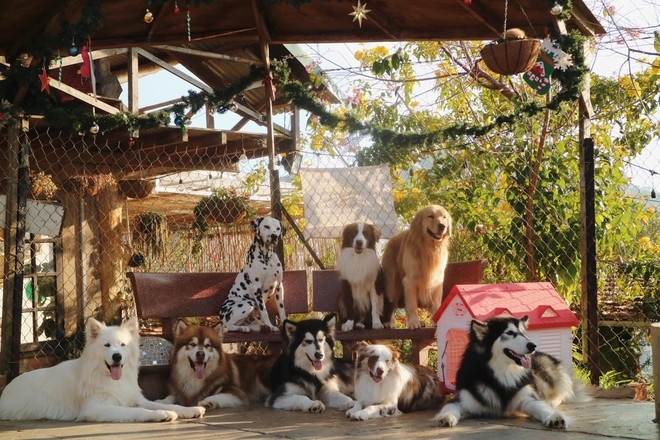 The royal dog breeds at Black Rock Garden (Photo: Thanh Nien)
At the Cats and Dogs Clubhouses (Photo: Thanh Nien)
Cats and Dogs Clubhouses (Photo: Thanh Nien)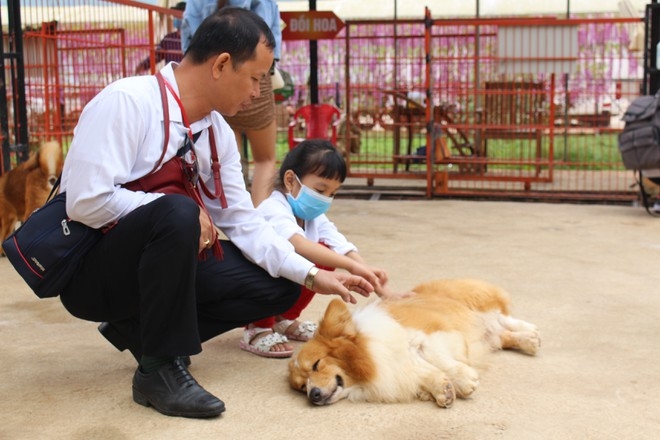 A little girl playing with a dog at Cats and Dogs Clubhouses (Photo: Thanh Nien)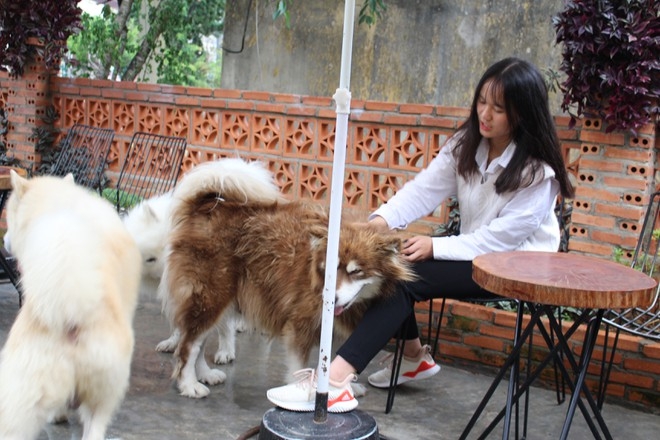 Cats and Dogs Clubhouses (Photo: Thanh Nien)
Jasmine Le