Vietnamese's painting fetches US$ 1 million at French auction
A lacquer painting by renowned Vietnamese painter Pham Hau was sold for 833,000 euros during an auction held by French auction house Aguttes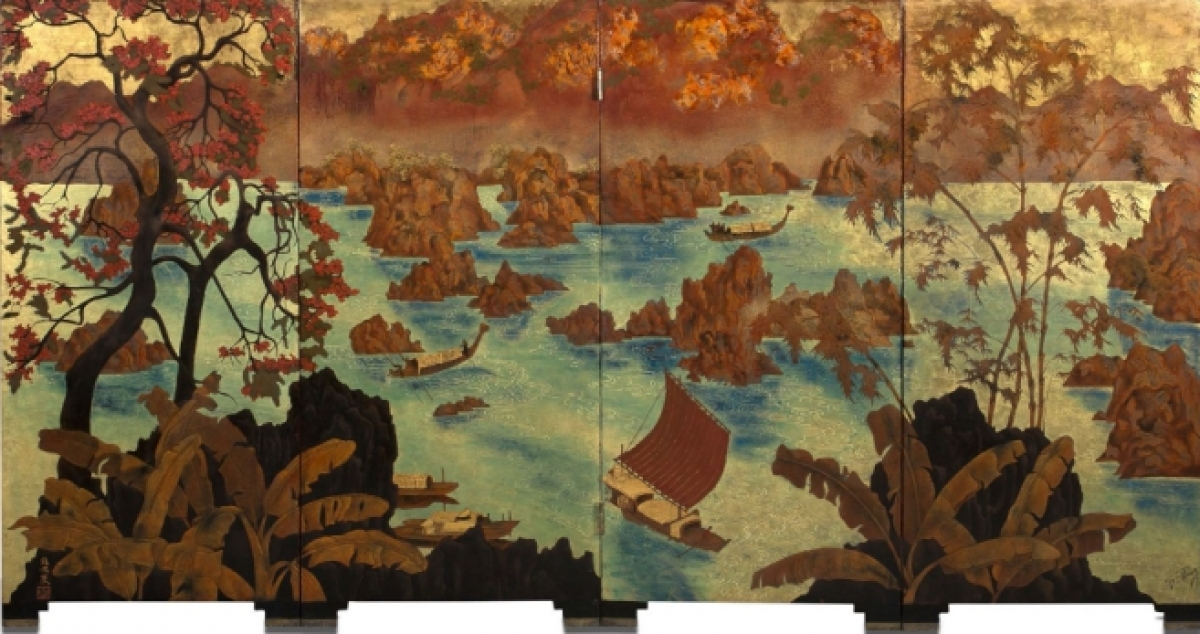 A painting titled Paysage Aux Jonques, also known as Thác bờ, by Pham Hau sold for over US$ 1 million. Photo: VOV
The painting titled Paysage Aux Jonques, also known as Thác bờ, was painted by artist Pham Hau in 1943. It was put up for sale during the "Asian Painters, Major Works" session on June 7, according to VOV.
"Pham Hau's reputation in the current painting market is undisputed, especially since lacquer paintings took the throne at international auction floors," said art researcher Ngo Kim Khoi. "Pham Hau was famous for putting lacquer on paintings, as well as applying it to commonly used items such as beds, cabinets, trays. He soon succeeded from exhibitions in the country as well as in Paris, especially since he won the Gold Medal at Salon 1935 organized by the association for fine arts."
According to auction house Aguttes, Pham Hau's lacquer painting Paysage Aux Jonques is a perfect testament to a new generation of Vietnamese artists trained at the Indochina School of Fine Arts. Teaching at the school gave Pham Hau the richness of his color palette, the traditional red and black mixed with gold and silver here enhanced by an extremely rare blue, giving completely new shades and more contrast.
This lacquer painting forms a screen with four vertical format panels showing the beauty of Vietnam's scenic spots. Lush vegetation such as banana leaves, apple blossoms or bamboo, emphasize the tropical nature of Vietnam.
The session also featured several other works by Vietnamese artists, including Le Pho, Mai Trung Thu and Vu Cao Dam.
Pham Hau, who lived from 1903 to 1995, was a talented painter who produced a wide range of famous artworks.
One piece by the Hanoi-born teacher known as Nine Carps In The Water, (Cửu ngư quần hội in Vietnamese), fetched a record price of over US$ 1.1 million at Sotheby's Hong Kong auction back in 2019.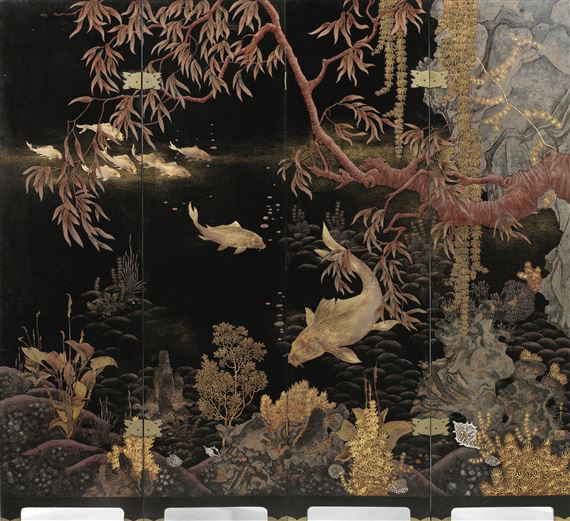 Nine Carps in the Water. Photo: mutualart
"Presented in four exquisite vertical format panels, the lot depicts an ethereal lagoon featuring nine majestic carps swimming playfully. Nine Carps in the Water is an outstanding example of the very finest of lacquer works, produced with a 'black mirror effect'. It is rich in color; from the decadent gold and silver accents, to the woody auburns, ochre, and eggshell whites.
Pham Hau pays meticulous attention to the minutiae of details, creating a divine aquatic landscape in resplendent colors that almost seem larger than life. The carps, the tree branch, and the overhanging of leaves cascading over the water are executed in a realistic manner, giving the piece a sense of presence and corporeality against the flat background of the panel," Sothebys said.
Pham Hau (1903 - 1994) studied at the Indochina Fine Arts School from 1929 to 1934, the same generation of painters Tran Binh Loc, Nguyen Do Cung, Tran Quyen, Nguyen Van Thuan, and Tran Van Can.
In the mid-1930s, he set up his first lacquer painting studio. Pham Hau won the Salon Gold Medal of the association for fine arts in 1935. He drafted a textbook that laid the theoretical foundation for the teaching of lacquer art and directly taught at the National School of Fine Arts.
Make in Vietnam
Vietnam introduced potential for trade and investment to Algeria's localities