India daily weather forecast latest, January 25: Cold wave conditions return to some areas with orange alerts for dense fog
India is forecasted to cope with cold weather over Punjab, Haryana, Delhi, Chandigarh and Uttar Pradesh, which brings about orange alerts for dense fog.
According to Skymet Weather, a Western Disturbance is over Jammu and Kashmir and is moving away eastwards.
An induced cyclonic circulation is over Punjab and adjoining area, it will move eastwards. A cyclonic circulation is persisting over the eastern part of Bangladesh.
During the next 24 hours, scattered rain and snow may continue over Western Himalayas until evening or night of January 24. Thereafter, the weather will clear up.
The weather of northwest India will also become dry now. Icy cold winds from Western Himalayas will drop the minimums across the north-west and Central India.
The minimums of East India will start dropping by January 26. Cold wave conditions are expected over parts of North Rajasthan, Punjab, Haryana, Delhi and Uttar Pradesh between January 26 and 27.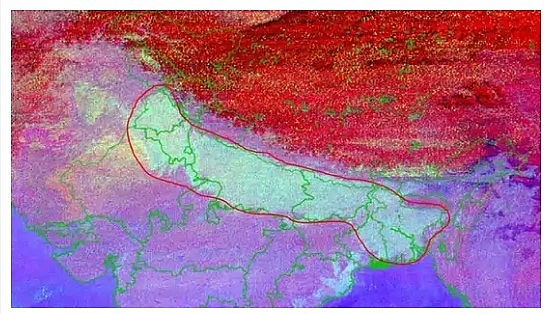 Large scale dense to very dense fog (visibility<200m) has been reported over the northern plains as per satellite images(Courtesy- IMD)
The Indian Meteorological Department (IMD) predicts a return of cold wave to severe cold wave conditions over North India starting January 27. IMD has already issued orange alerts for dense fog and cold weather conditions in Punjab, Haryana, Delhi, Chandigarh and Uttar Pradesh from January 24 to 25. Jammu and Kashmir is witnessing its 40-day period of harsh winter cold known as Chillai Kalan. Under the influence of western disturbances lying over parts of northern Pakistan as cyclonic circulation, northern Indian states including the Himalayas can likely witness rain, thunderstorm and snow during the next few days.
"There has been widespread snowfall in the hills on Friday and Saturday. Rain is also likely over north Punjab and north Haryana. From January 25 onwards; very cold north westerly winds are likely to blow over Delhi, which will lead to a significant fall in minimum temperatures. On January 26, 27 and 28, minimum temperature is likely to fall to 4 degree C over Delhi," said Kuldeep Shrivastava, head of the IMD's regional weather forecasting centre.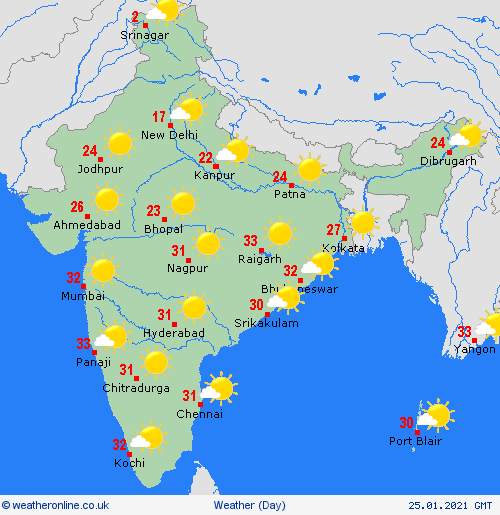 Photo: Weather Online
5-Day Nationwide Weather Forecast
According to Weather.com, a western disturbance as a cyclonic circulation lies over Jammu and Kashmir and neighbourhood, with a trough in mid-tropospheric westerlies, as per the India Meteorological Department (IMD). Under the influence of this system, isolated rain or snow is forecast across Jammu and Kashmir, Ladakh, Himachal Pradesh and Uttarakhand during the next 24 hours.
Dry weather will continue throughout the rest of the subcontinent, except for some precipitation in the northern mountains of Arunachal Pradesh.
An anticyclonic circulation centred on the Deccan Plateau and/or Central Highlands will become dominant, and calm wind conditions are expected in the surrounding areas. Along the east coast, conditions are favourable for fog formation. In the morning, dense fog is possible along the east coast of the subcontinent, especially in coastal Odisha. Dense to very dense fog is forecast across Indo-Gangetic Plains and parts of northeast India as well.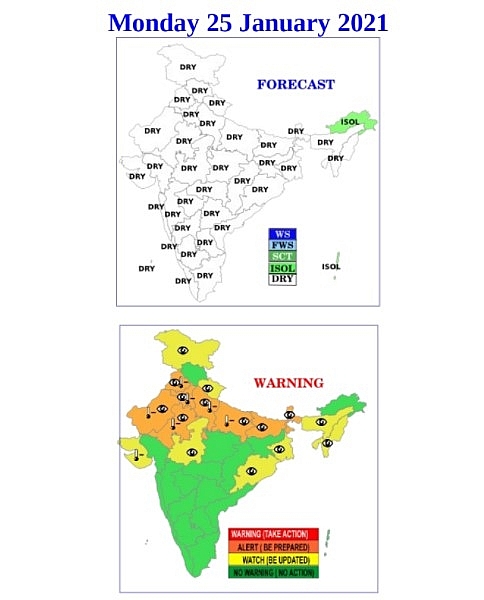 Photo : IMD
The nighttime temperature will be in the single digits over the Indo-Gangetic Plain, eastern Rajasthan and much of Madhya Pradesh until the end of January. While cold day conditions are forecast for Uttar Pradesh over the next two days while cold wave will sweep Rajasthan till Tuesday. Cold wave will also grip Delhi, Chandigarh, Punjab and Haryana on Monday and Tuesday.
Temperatures will continue to be higher than normal in the central parts of Western Himalayan Region, including Nepal, at least until at the beginning of February.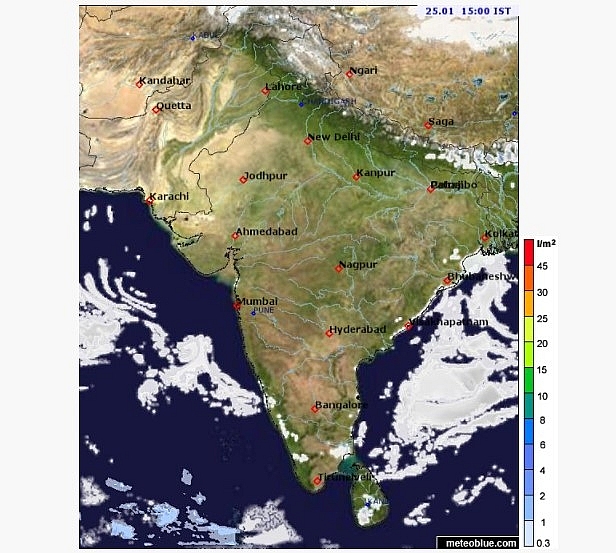 Photo: Meteoblue
Regional Forecast
Dense fog is possible in a wide area of Indian east coast and eastern Uttar Pradesh in the morning hours. Cold wave will also grip Delhi, Chandigarh, Rajasthan, Punjab and Haryana. Cold day conditions are forecast for Uttar Pradesh. Isolated rains are likely over Arunachal Pradesh, as well as Andaman and Nicobar Islands.