India weather forecast latest, December 4: Red alerts issued for 4 districts of Kerala due to Cyclone Burevi
Red alerts have been issued for 4 districts of Kerala as Cyclone Burevi is very close to Tamil Nadu coast.
According to Skymet Weather, Cyclone Burevi is over the southwest Bay of Bengal and has intensified into a severe cyclone and will cross Sri Lanka coast, north of Trincomalee soon. Wind speed at the time of landfall will be 80 to 90 kmph gusting to 95 kmph.
The cyclone Burevi will enter Gulf of Mannar on 3rd December morning and head for Tamil Nadu coast moving west-southwest. The system is expected to make a landfall between Pamban and Kanyakumari over South coast of Tamil Nadu on the morning of December 4.
The cyclonic circulation over Bangladesh and adjoining area persists. Western disturbance will affect Western Himalayas on December 4.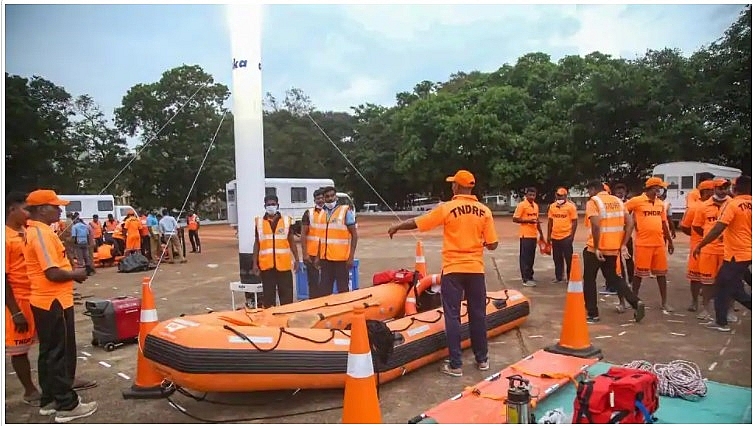 Tamil Nadu Disaster Response Force personnel prepare themselves ahead of Cyclone Burevi, in Kanyakumari on Wednesday.(PTI Photo)
During the next 24 hours, heavy to heavy rain and thundershower with isolated extremely heavy spell may occur over South coastal Tamil Nadu.
Light to moderate rain with few heavy spells are possible over South Kerala and interior parts of Tamil Nadu. Scattered light to moderate rains are possible over north Tamil Nadu and South coast of Andhra Pradesh.
Isolated light rain may occur over Rayalaseema and South interior Karnataka. Sea conditions will be a rough to very rough along the gulf of Mannar, Tamil Nadu, and Kerala coast.
Delhi NCR air quality will be once again in poor to very poor category, with moderate category in some of the pockets. Cyclonic Storm Burevi is very close to the Tamil Nadu coast.
According to India Meteorological Department (IMD) bulletin on Thursday morning, Burevi is very likely to move west-northwestwards and emerge into Gulf of Mannar near Mannar coast during next three hours.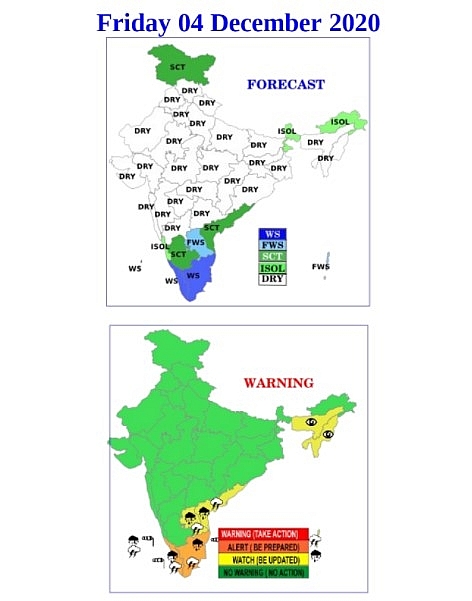 Photo: IMD
"Cyclonic Storm Burevi lay centered at 0530 hrs IST of 03rd December over Sri Lanka near Lat. 9.0°N and Long. 80.3°E, about 40 km east of Mannar, 120 km east-southeast of Pamban (India) and 320 km east-northeast of Kanniyakumari (India)," the IMD bulletin at 8:30 am said.
"The Cyclonic Storm with wind speed of 70-80 gusting to 90 kmph would be centered very close to Pamban around noon of 3rd December," it further added.
It is likely to cross south Tamil Nadu coast between Pamban and Kanyakumari in the night and early Friday morning, Hindustan Times reported.
As many as eight teams of the National Disaster Response Force (NDRF) and personnel of the Air Force and the Navy have been deployed for rescue and relief operations ahead of the landfall of the cyclone, Kerala chief minister Pinarayi Vijayan said on Wednesday.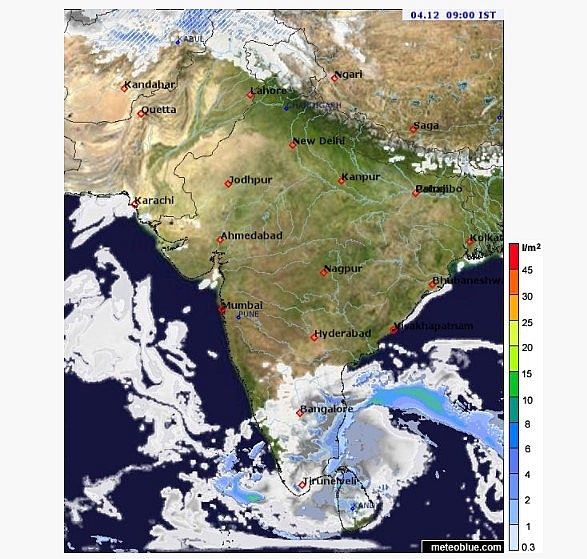 Photo: meteoblue
The IMD has issued a red alert for Thiruvananthapuram, Kollam, Pathanamthitta and Alappuzha districts for December 3, in view of cyclone Burevi.
Cyclone Burevi, named by the Maldives, will not be as strong as Cyclone Nivar which lashed the northern coast of Tamil Nadu last week, said weather department officials. They said the storm is expected to have a speed of 80-90 km/hour unlike Nivar which had a speed of 110-130 km/hour.
IMD also said that there is a forecast of shallow fog on December 4 or 5. The minimum temperature will go up and settle at 10-11 degrees Celsius in the next two days.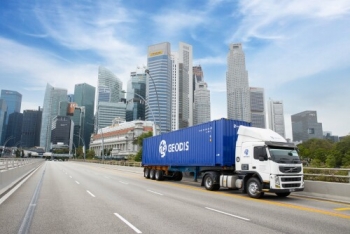 Economy
GEODIS, a global leading transport and logistics services provider, has expanded its road network in Southeast Asia to Vietnam; another step towards its ambition to develop a scheduled road service connecting Singapore to China.