India weather forecast latest, November 29: Weather remains dry with cold wave continues
Weather is forecasted to remain dry with cold wave continues in Himachal, Keylong in India.
According to Hindustan Times, minimum temperatures decreased by one to two degrees on Friday as cold wave continued to grip Himachal Pradesh despite the state witnessing a sunny day after receiving snowfall and rainfall in the last couple of days.
The state's meteorological department director Manmohan Singh said the weather is very likely to remain dry till December 2.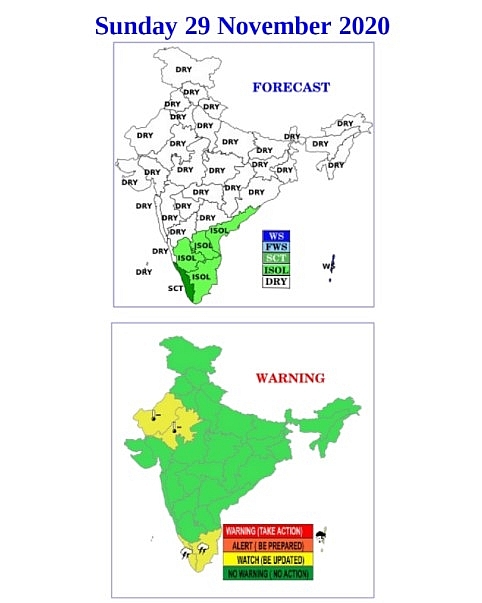 Photo: IMD
Keylong in Lahaul-Spiti district was the coldest at minus 9.9°C. Minimum temperature in Shimla was 5°C while it was 1.5°C in Kufri. Manali in Kullu district shivered at minus 1.2°C while Dharamshala and Dalhousie recorded 6.6°C and 3.4°C respectively. Minimum temperature in Una was 6°C, Solan 3.4°C, Bilaspur 7°C, Hamirpur 6.8°C, Nahan 12.5°C, Mandi 3.1°C and minus 3.6°C in Kalpa.
According to the system of air quality and weather forecasting and research (SAFAR), the AQI is likely to deteriorate slightly within the moderate category. "The AQI is forecasted to stay in the 'moderate' to 'poor' category for the next two days.
Surface winds are forecasted to decrease by November 30 and the air quality will hover between 'poor' to the lower end of the 'very poor' category," stated SAFAR in a statement on Friday.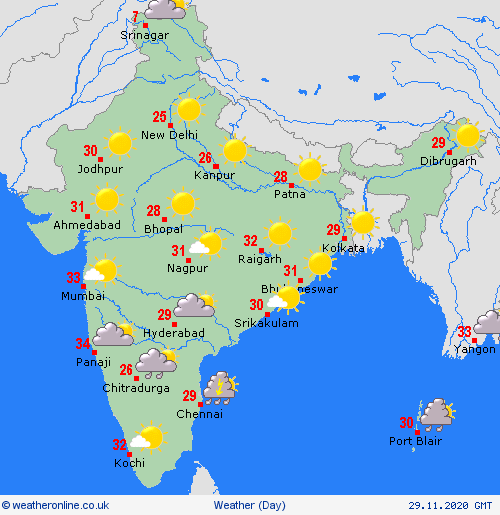 Photo: Weather Online
According to Skymet Weather, during the next 24 hours, moderate to heavy rains are expected to continue over northern Tamil Nadu, Andhra Pradesh and Rayalaseema.
Light to moderate rains are likely to occur over South Interior Karnataka and South Odisha along with the rest of Tamil Nadu.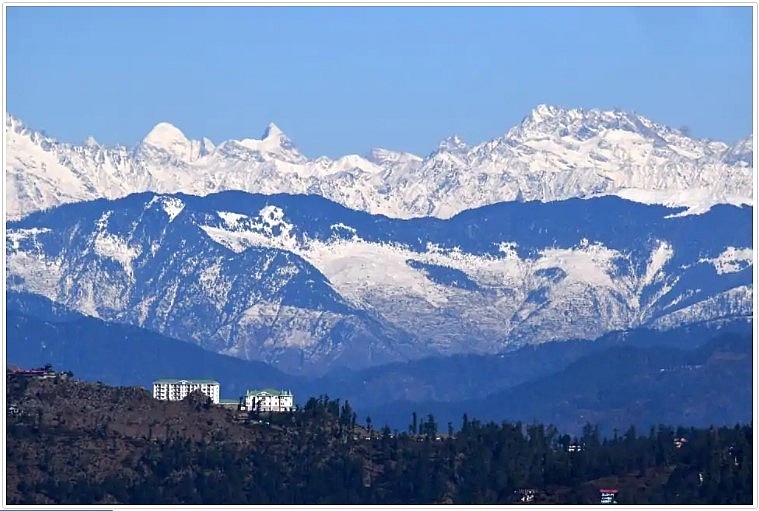 A view of the snow-capped mountain ranges seen from the state capital Shimla on Friday. (Deepak Sansta / HT)
Light to moderate rain is possible in Telangana. Light rain is expected at one or two places in Gangetic West Bengal, Jharkhand, Chhattisgarh, Uttar Pradesh, and Punjab. Light to moderate rains and snowfall can still be seen in Himachal Pradesh and some parts of Uttarakhand.
Thundersquall with lightning is very likely at isolated places over Andaman and Nicobar Islands and thunderstorm with lightning at isolated places over Kerala and Mahe. Besides, squally weather sets to cover central parts of South Bay of Bengal. Fishermen are advised not to wenture into these areas.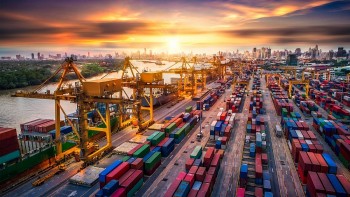 National
Vietnam, a rising star in the global supply chain, has the potential to become a new tiger in Asia, economist Brian Lee Shun Rong at Maybank - Malaysia's largest financial services group and the leading banking group in South East Asia – has reportedly said.