According to India Meteoroligical Department, heavy rainfall is likely to occure at isolated places over Rayalaseema, Tamilnadu, Puducherry & Karaikal and Coastal Andhra Pradesh & Yanam.
Thunderstorm with lightning very likely at isolated places over Coastal Andhra Pradesh & Yanam, South Interior Karnatake.
A night of cracker bursting, pushed Delhi's air quality further into the 'severe' zone, touching 468 at 7am on Sunday. Central Pollution Control Board (CPCB) data showed that from around 3 pm on Saturday, the air quality in Delhi entered the 'severe' zone and continued to deteriorate throughout the evening.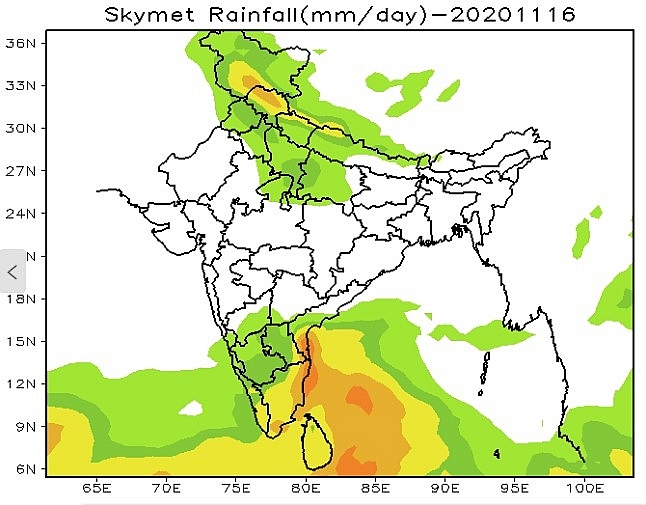 Photo: Skymet weather
At 3 pm, the hourly average AQI recorded was 405, by 6 pm; this had spiked to reach 423. By midnight, with cracker bursting continuing unchecked, the AQI levels had reached 460.
By 7.30 pm, the AQI reading at the monitoring station at Jahangirpuri had already maxed out at 500, the highest possible reading recorded in the AQI scale.
According to Skymet Weather, the weather has brought a pleasant change for the plains states of North India. Due to the active western disturbance that reached the mountains of North India, the fate of the plains states has also been aroused.
Photo: mausam.imd.gov
Since the night of Diwali in the plains, there has been a change in the direction of the winds and clouds are appearing in some areas of Punjab, Haryana and North Rajasthan. Rainfall activities are expected on November 15 in the national capital Delhi and NCR as well as some areas of western Uttar Pradesh, most cities of Haryana and Punjab, northern and northeastern Rajasthan, as well as some areas of northern Madhya Pradesh. Today, on November 15, light and moderate thundershowers may fall in some places on November 15. At the same time, lightning strikes can occur in some places.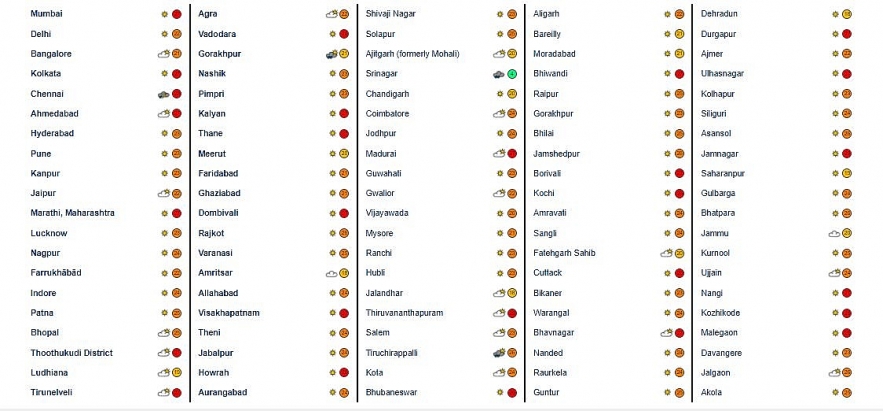 Photo: Weather Forecast.com
This rain will act as a medicine for those cities of North India, including Delhi NCR, where the air pollution is at the Very Poor category. Improvement in poor air quality is mainly possible in only two ways, one when high winds blow and the other when there is heavy rain.
Based on the current weather scenario, we can say that strong wind will not move during the coming 48 to 72 hours, but the possibility of rain during the next 24 hours will clear this pollution to some extent, improving the Air Quality Index.
The Union ministry's air quality monitoring centre, System of Air Quality and Weather Forecasting and Research (SAFAR), said despite the spike, this Diwali week is likely to be better than the impact seen over the last four years.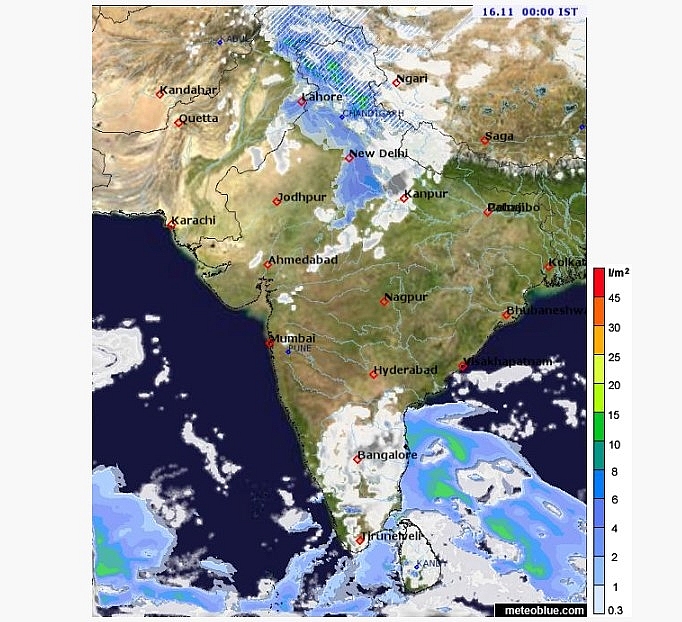 Photo: Meteoblue
The forecast said that a western disturbance passing over Delhi-NCR is likely to improve the wind speed over the city by Sunday afternoon, helping disperse the pollution particles that have accumulated close to the surface.
By Monday, the impact of light rain in parts of NCR and high wind speed will be seen more clearly, Hindustan Times reported.
Ruby Lee