Indian man tests COVID-19 positive after stolen protective suit from hospital, thinking it is raincoat
An injured drunken man admitted to a hospital in India allegedly stole an used personal protective equipment (PPE) kit, thinking that it was a raincoat, and later tested positive for COVID-19 infection.
Representative image. Photo Credit: ANI
According to Times Now, the man makes a living by selling vegetables. Last week, he got injured after falling into a drain while returning home as he was heavily drunk. He then was rushed to a nearby hospital for initial treatment and was later shifted to a hospital in Nagpur, northeastern Maharashtra state, western India.
It was at the hospital that he came across a PPE kit and stole it, thinking it was a raincoat. When he went home, he showed it to everyone saying it was a raincoat he had bought for 1,000 rupees (about USD 13.32).
People around him grew suspicious and it was soon discovered that it was indeed a PPE kit. Local authorities were alerted, who recovered the item and burned it.
Subsequently, the man's samples were collected for a COVID-19 test which came out positive. The man's family and everyone who came into contact with him, including his family members, relatives and friends, were also tested for the virus. Thankfully, all of them were found negative for the infection, according to a report by Sakal Times.
Twitter users are sharing news reports after his tests returned positive for the novel coronavirus.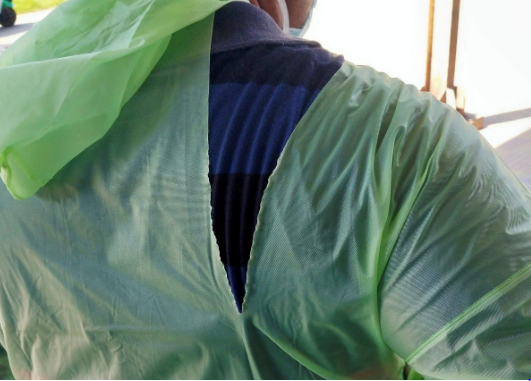 Shortages of protective health gear in India are forcing some doctors to use raincoats and motorbike helmets while fighting the coronavirus. A doctor wearing a torn raincoat stands at the major coronavirus disease treatment facility in Kolkata, India, March 26, 2020. REUTERS/Stringer
Bizarre incidents have been galore during the coronavirus pandemic.
In May, more than 20 people regarding an abduction in India, including the family of the man who kidnapped the 18-month-old toddler, policemen, and two journalists, have been sent to quarantine, after the kidnapper and rescued boy both tested coronavirus positive.
When contacted, police officials told Indian Express that before being produced in the court, the 27-year-old accused was made to undergo medical tests, including for COVID-19, and he tested positive for the virus. Following that, the kidnapped boy was also tested and he too turned out to be COVID-19 positive.
Race to COVID-19 drugs
Global coronavirus cases have crossed 18.3 million, resulting in close to 694,000 deaths. India has a caseload of over 1.8 million, the third biggest, behind the United States and Brazil.
India's Sun Pharmaceutical Industries Ltd said on August 4 it would soon begin selling its version of favipiravir, becoming the latest generic drugmaker to supply the antiviral to treat COVID-19 in the world's third worst-hit nation, reported Reuters.
Favipiravir, along with another antiviral, remdesivir, has emerged as one of the most sought-after drugs at hospitals fighting COVID-19 in India, which saw a surge of 50,000-plus infections for the sixth straight day on August 4.
Sun's version of favipiravir, to be called FluGuard, will cost 35 rupees (USD 0.47) per 200 mg tablet, making it the cheapest version available. Stocks will be available from this week.
Favipiravir was originally developed by Japan's Fujifilm Holdings Corp as Avigan. Once hyped as a potential COVID-19 treatment, Avigan was dampened by clinical studies.
Still, Indian regulators gave emergency approval to favipiravir in June in an effort to tackle the "urgent and unmet" need for COVID-19 treatments in the country.
Separately, another Indian drugmaker, Jubilant Life Sciences Ltd, on August 3 announced the launch of its version of remdesivir, priced at 4,700 rupees per 100 mg vial. Jubilant is among the companies producing the drug under licence from US-based Gilead Sciences Inc./.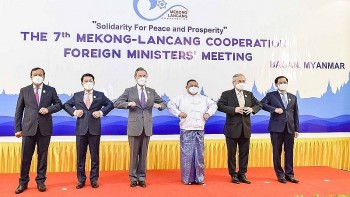 National
Foreign Minister Bui Thanh Son led a Vietnamese delegation to the seventh Mekong-Lancang Cooperation (MLC) Foreign Ministers' Meeting that was held in Bagan, Myanmar on July 4.