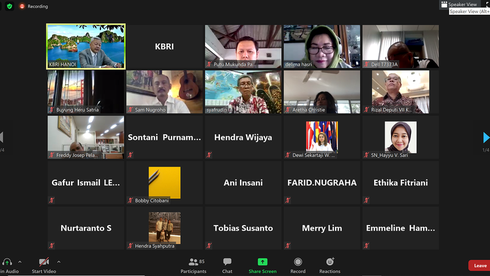 The teleconference (Photo: VOV)
The Indonesian Ambassador made the statement during a recent teleconference held to discuss the Vietnamese economic recovery following the COVID-19, along with the opportunities that exist for Indonesian businesses.
The diplomat noted that Vietnam has effectively controlled the COVID-19 epidemic with no new community infections for nearly two months in a row. It is now focusing on efforts to reboot the economy aimed at stimulating domestic consumption and boosting exports.
An export-driven economy like Vietnam with export turnover last year alone reaching US$264 billion is presenting plenty of opportunity for Indonesian businesses to supply raw materials and semi-finished products to the nation, said Ibnu Hadi.
In addition, he suggested Indonesian businesses take advantage of tax reductions and preferential measures offered to businesses by the Vietnamese government to deeply penetrate into the market.
The Ambassador outlined how the two countries have always been rivals in terms of the coffee, pepper, rubber, and textile industries, noting Vietnamese success in becoming one of the 10 main economic partners of Indonesia.
It is time for Indonesia to stop treating Vietnam merely as a competitor but to seize opportunity to make inroads into this potential market, said Ibnu Hadi, adding that the Jakarta business community must learn from Hanoi's experience in connecting with the global supply chain.
english.vov.vn