Indonesia rejects China's offer for East Sea talks, says 'Nine-Dash Line' puts its interests at risk
Indonesia recently rejected a Chinese offer for negotiations on the South China Sea (called the East Sea in Vietnam), as Jakarta reiterated that it had no overlapping claims with Beijing in its exclusive economic zone (EEZ). Foreign Minister Retno Marsudi said that Indonesia's economic interests are threatened by
China's Nine-Dash Line
.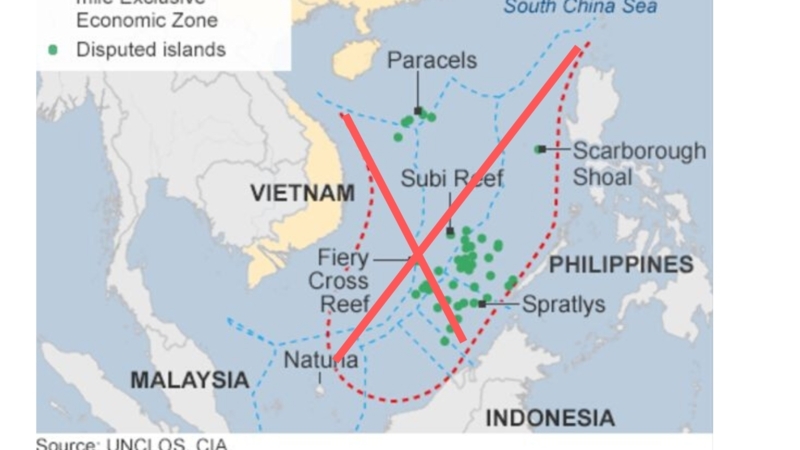 Indonesia officially rejects China's Nine-Dash line in a letter to UN's Chief. Source: UNCLOS
The Chinese government, in a letter to UN Secretary-General António Guterres on June 2, acknowledged it had no territorial dispute with Indonesia but said the two countries had overlapping claims over maritime rights in in parts of the East Sea.
Beijing's letter was in response to a diplomatic note sent by the Indonesian government to the UN chief on May 26, in which Jakarta rejected China's Nine-Dash Line map or claim of historical rights to nearly all of the contested waterway.
"Based on UNCLOS 1982 Indonesia does not have overlapping claims with the PRC, so it is not relevant to hold any dialogue on maritime boundary delimitation," Damos Dumoli Agusman, Director General of international law and treaties at Indonesia's Ministry of Foreign Affairs, told BenarNews on June 5.
He was referring to a January 2020 statement from the ministry confirming that Indonesia had no territorial dispute with Beijing in the South China Sea based on the 1982 United Nations Convention on the Law of the Sea (UNCLOS).
"It was stated that we reject (any negotiation)," Damos said.
In its letter to the UN, China argued that its maritime rights and interests in the South China Sea were "established in the long course of historical practice and consistent with international law," including UNCLOS.
"There is no territorial dispute between China and Indonesia in the South China Sea. However, China and Indonesia have overlapping claims on maritime rights and interests in some parts of the South China Sea," China's permanent mission to the United Nations said in the letter, a copy of which was posted on the mission's website.
"China is willing to settle the overlapping claims through negotiation and consultation with Indonesia, and work together with Indonesia to maintain peace and stability in the South China Sea," the letter said.
Indonesia has insisted that China's claims are "unilateral" and have no legal basis in international law.
According to CNN, Beijing's territorial claims, known as the nine-dash line -- owing to the markings printed on Chinese maps of the region -- are by far the largest and encompass almost the entirety of the sea, from Hainan Island down to the top of Indonesia. China's claims have no basis under international law and were found to be invalid in a 2016 international court ruling.
Despite this, from about 2015 the Chinese government began to bolster its territorial ambitions by building artificial islands on reefs and shoals in the South China Sea, and then militarizing them with aircraft strips, harbors and radar facilities.
In the letter sent to Guterres last week, Indonesia spelled out the Indonesian government's support for a 2016 ruling by the Permanent Court of Arbitration in The Hague, when the court sided with the Philippines in a case that Manila brought against Beijing over a territorial dispute in the South China Sea.
"Indonesia reiterates that the Nine-Dash line map implying historic rights claim clearly lacks international legal basis and is tantamount to upset UNCLOS 1982," said the letter from Indonesia's Permanent Mission to the United Nations, referring to a boundary on Chinese maps that encompasses Beijing's claims in the maritime region.
"As a State Party to UNCLOS 1982, Indonesia has consistently called for the full compliance toward international law, including UNCLOS 1982. Indonesia hereby declares that it is not bound by any claims made in contravention to international law, including UNCLOS 1982," the letter stated.
The letter, parts of which were posted to Twitter by Sidhant Sibal, a reporter for the WION news website, referred to the United Nations Convention on the Law of the Sea, the international treaty adopted nearly 40 years ago. WION and Rappler.com included portions of the letter in their reports on this issue.
A spokesman for the Indonesian Ministry of Foreign Affairs said Jakarta used the letter to indicate that China's Nine-Dash Line had crossed boundaries set by Indonesia's EEZ.
"We never know what China's intentions are in establishing a Nine-Dash Line. It may have the potential to create conditions that disrupt what was determined by Indonesia from a long time ago," ministry spokesman Teuku Faizasyah told BenarNews on May 29. "Therefore, we need to inform these matters by communicating our position openly to the international community."
On June 4, Indonesian Foreign Minister Retno Marsudi reiterated her country's stance on the issue.
"In a diplomatic memorandum sent on 26 May 2020, Indonesia reaffirmed its consistent position in responding to China's claim to the UN that could affect Indonesia's EEZ and also emphasize the need for full compliance with UNCLOS 1982," Retno told reporters during a virtual press conference.
EEZ is a concept adopted at the Third United Nations Conference on the Law of the Sea (1982), whereby a coastal State assumes jurisdiction over the exploration and exploitation of marine resources in its adjacent section of the continental shelf, taken to be a band extending 200 miles from the shore.
While Indonesian territorial claims in the South China Sea do not directly conflict with China's, the EEZ around its Natuna archipelago overlaps with the nine-dash line. Chinese fishing vessels have repeatedly operated in the area, according to EurAsian Times.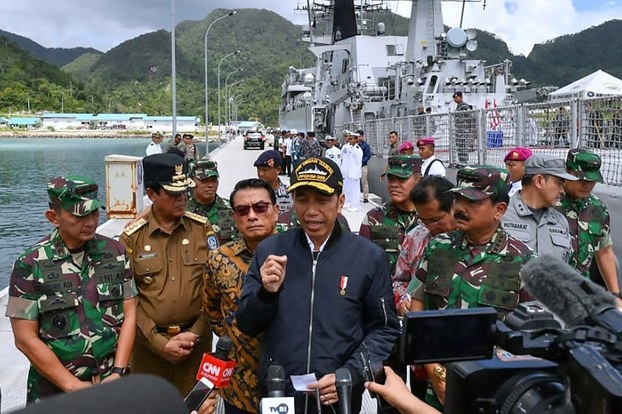 Indonesian President Joko "Jokowi" Widodo (center) speaks to journalists during his visit to a military base in the Natuna Islands, Jan. 8, 2020. Handout/Presidential Palace/AFP
In Washington, Gregory Poling, director of the Asia Maritime Transparency Initiative, said Indonesia's action broke new ground.
"This note verbale is the first time that any of the Philippines' Southeast Asian neighbors has stood up and explicitly endorsed its 2016 arbitration win against China. Officials in Jakarta have been pushing this for four years and it looks like they've finally won out over political fears about China," he told BenarNews.
"If this, or more likely the next, Philippine government ever wants to take up the cause again, Indonesian support could be an important part of building a coalition."
Meanwhile, an international maritime law researcher at the University of Gadjah Mada (UGM), I Made Andi Arsana, described China's offer for negotiation as illogical.
"Indonesia's claim is based on international law while China's claim is unilateral. It's not an apples-to-apples thing," Arsana told BenarNews, adding that Indonesia should not and would not agree to bilateral talks or negotiations on the issue.
Hikmahanto Juwana, an international relations professor at the University of Indonesia, said the Chinese response was consistent with its playbook.
"Indonesia should never allow itself to be lured into negotiating. So far, Indonesia has consistently refused and will never want to negotiate with China," he said.
Earlier last month, Indonesian Foreign Minister Retno Marsudi issued a statement saying her government was closely following recent developments in the sea region.
As reported by Vietnam Times earlier, Beijing is taking advantage of the coronavirus pandemic to forward its interests in the South China Sea (called the East Sea in Vietnam).
2020 began with a standoff in the Natuna Islands on the far southern end of the South China Sea, territory claimed by China and Indonesia, CNN said. Vessels from both countries were reportedly involved in the standoff, which began when Chinese fishing vessels started to operate inside Indonesia's EEZ.
Eventually, Indonesia deployed F-16 fighters and naval ships to the islands and President Joko Widodo personally flew to the area.
In April, a Chinese maritime surveillance vessel rammed and sank a Vietnamese fishing boat in the waters belonging to Vietnam's Hoang Sa (Paracel) archipelago in the East Sea.
The act prompted Vietnam to send a diplomatic note to the United Nations protesting China's illegal claims over the East Sea and reiterating its consistent policy of settling East Sea disputes through peaceful means. Foreign Ministry spokesman Geng Shuang responded by saying China would take "all measures necessary" to safeguard Beijing's interests in the region.
"I want to stress this: attempts by any country to negate in any means China's sovereignty, rights and interests in the South China Sea and to reinforce its own illegal claim are bound to be fruitless," Geng said./.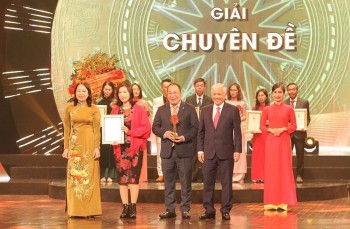 Overseas Vietnamese
VietnamTimes (Viet Nam Union of Friendship Organizations) is a reliable address for overseas Vietnamese to quickly and objectively update political, economic, cultural, and social news. The agency has created a helpful forum and connection between expatriates and the motherland.