International fundraiser founded by students to heal war wounds in Vietnam
A group of the UK's Shropshire students have launched a charitable project which aims to remove unexploded ordnance (UXO) from the American war in Vietnam, local newspaper reported.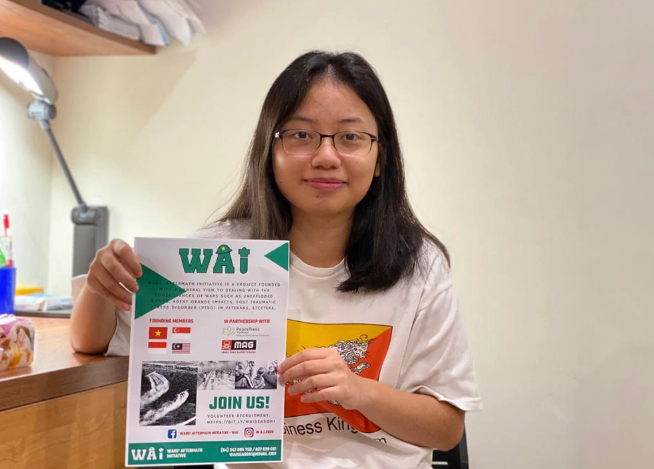 Duong Nguyen with a WAI recruitment poster. Source: Shropshire Star
According to Shropshire Star, Concord College students Duong Nguyen, 16, and Amber Leung, 17, together with leavers Harry Le, 19, and Karen Lukito Setiawan, 19, are currently fundraising for the Wars Aftermath Initiative (WAI).
The group has so far been fundraising through their Vietnamese friends and families, but want to invite the Acton Burnell-based college community to also support the initiative.
According to the student team, the initiative helps to reduce the negative impact of war in the lives of society.
The charity works with relevant national Government organisations, dedicated to helping them and local authorities in dealing with the aftermath of wars, mainly through fundraising and awareness.
It has been founded by young people from Vietnam, India, Indonesia, Malaysia and Singapore.
Duong, WAI founder said: "This is a charitable project founded with a general view to dealing with the consequences of wars across the world. This includes unlawful actions such as unexploded bombs, Agent Orange impacts and post traumatic stress disorder in veterans.
"As a newly found charitable initiative, we chose Vietnam as our first destination to support due to the readily available ties we already have with friends, family and local communities.
"Lasting for approximately 20 years, the American war in Vietnam left serious repercussions for both sides.
"The number of bombs dropped on Vietnam during the war is more than the total amount used in the entirety of the Second World War, and they have been killing more than 40,000 up until 2019."
The first benefactors of WAI's fundraising include PeaceTrees Vietnam and the Mines Advisory Group (MAG), Duong added.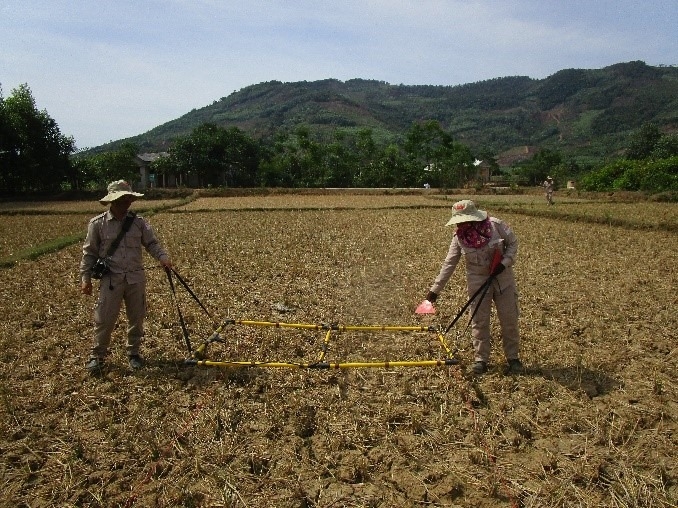 PeaceTrees Vietnam deminers use a large-loop detector to search for unexploded bombs. Source: PeaceTrees Vietnam
Founded in 1995, PeaceTrees Vietnam was the first US organization permitted to sponsor humanitarian demining efforts in Vietnam and continues to be the only US organization working to remove unexploded bombs and mines today.
PeaceTrees have since built 19 kindergartens and 12 libraries, removed over 100,000 dangerous explosive remnants of war, provided survivors of landmine accidents long-term and direct economic support mostly in Quang Tri province, and recently expanded their demining work into the province of Quang Binh province with MAG and Norwegian People's Aid (NPA).
And, similarly founded in 1989, MAG finds and destroys land mines, cluster munitions and unexploded bombs in areas affected by conflict. The group has helped over 18 million people in 62 countries since its formation.
MAG has worked in Vietnam since 1999 — last year, they made safe more than 33 MILLION square metres, found and destroyed more than 15,000 mines and unexploded bombs and helped more than 50,000 people.
You can donate here: justgiving.com/team/rmvbombs
According to the Ministry of Labour, Invalids and Social Affairs, Vietnam is one of countries most contaminated with UXOs.
It is estimated that about 800,000 tonnes of UXOs were left across the country after the war ended in 1975, mostly in the central region. Some 6.13 million hectares of land are polluted with or suspected of being polluted with UXOs, accounting for 18.82 percent of the country's total area.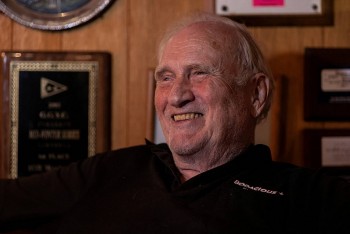 World
Alain Aspect, John F. Clauser, and Anton Zeilinger have won this year's Nobel Prize in physics for their work in quantum mechanics, Sweden's Karolinska Institute announced on Tuesday.