International organizations seek cooperation with Vietnam in COVID-19 vaccine producing
In the afternoon of June 30, Vietnam Deputy Prime Minister Vu Duc Dam, Head of the National Steering Committee on COVID-19 Prevention and Control, presided a meeting on the pandemic prevention and control in the current period.
The meeting marked the attendace of epresentatives of the World Health Organization (WHO) and the Centers for Disease Control and Prevention in Vietnam, VNA reported.
Speaking at the meeting, World Health Organization (WHO) Representative to Vietnam Kidong Park spoke highly of Vietnam's achievements in the Covid-19 prevention and control as well as the efforts of Vietnamese scientists in researching and manufacturing medical equipment and bio-products in service of disease prevention and control.
Mr. Kidong Park also emphasized that global COVID-19 pandemic have evolved in a complex manner with nearly 10.4 million people infected with SARS-CoV-2 virus and more than 507,000 people died. WHO records about 150,000 new infections and more than 4,000 deaths everyday. It is noted that international community currently does not have drugs or special vaccines to combat this virus.
Deputy Prime Minister Vu Duc Dam chaired the meeting. Photo: Van Diep - VNA
Regarding the review and decision on reopening the border, reconnecting international flights with a number of countries and territories which have controlled the COVID-19 epidemic, experts recommend that COVID -19 pandemic still continues, countries need to consider cautiously to decide this issue.
When it comes to WHO's meeting on information of opening borders and resuming international flights in July 2020, Mr. Kidong Park said countries should pay attention to three important factors including controlling disease in the country of flight to and from; coping with cases increasing after reopening; conducting detection, track and management to intrusive cases of surveillance system.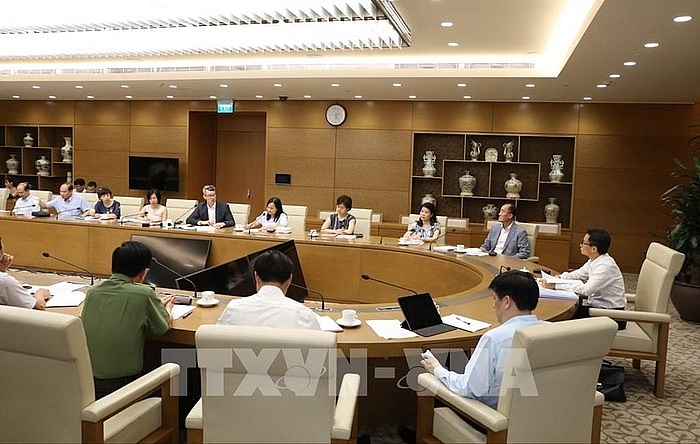 Quang cảnh họp phòng, chống dịch COVID-19 trong giai đoạn hiện nay. Ảnh: Văn Điệp - TTXVN
It is also important to take care of any further step in border reopening. WHO recommends that only crucial travel activities could be prioritized. Countries need to consider the monitoring capacity at the border are of each one, reaction of the people and capacity of the country's economy.
At the meeting, some international experts emphasized that currently few countries controlled the disease, which meet the criteria of 30 consecutive days pass with no new cases in the community, except for some Asian countries.
Therefore, experts noted that countries should consider the maximum investment for the health system, improve the readiness to cope with issues as well as proactively make bilateral dialogue with relevant countries relating to reopening the border, resuming flight routes.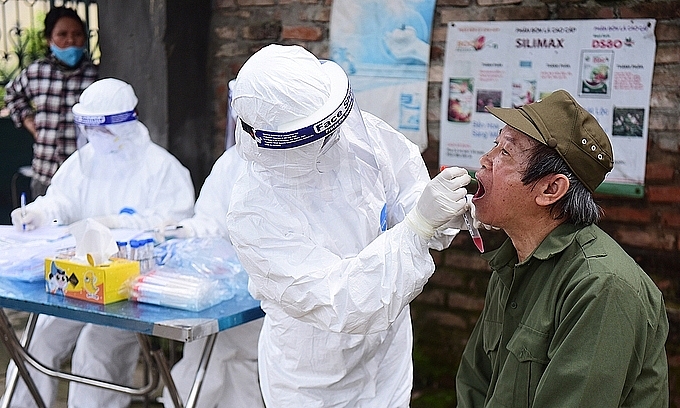 Photo: VNE
Regarding the prevention and control of COVID-19 pandemic in the coming time, international experts said that Vietnam needs to improve testing capacity because this is a key factor contributing to the prevention of COVID-19 pandemic.
In addition, International organizations alos commit to coordinate with Vietnam in combating and disease prevention.
Besides, these organizations want Vietnam to share and cooperate in research and production of COVID-19 vaccine. Mr. Kidong Park said that COVID-19 Vaccine Alliance wants to invite Vietnam to participate in research and production. "Joining the COVID-19 Vaccine Alliance is an important key for people to access to the vaccine as soon as possible, which is expected around the end of 2021," said Mr. Kidong Park.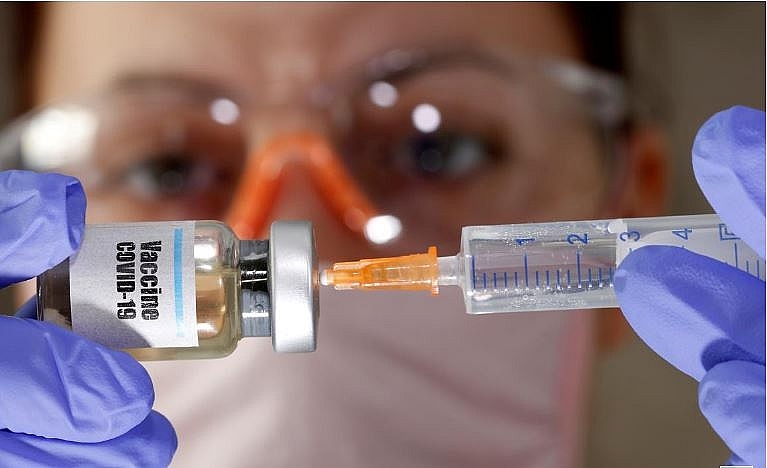 A bottle named Covid-19 vaccine. Photo: Reuters
Regarding vaccine production, Deputy Minister of Health Nguyen Thanh Long said that Vietnam has two units taking charge of researching production of vaccines against COVID-19, which have conducted trial on mice.
Accordingly, the vaccine quality is relatively good. It is expected that it will be tested on primate and later in human. Deputy Minister Nguyen Thanh Long wants WHO and international organizations to cooperate and share experience to ram up the vaccine production process in Vietnam.
In the spirit of COVID-19 prevention and control is a worldwide task, Deputy Prime Minister Vu Duc Dam emphasized that Vietnam is ready to accompany and contribute to the world prevention and control of COVID-19 pandemic.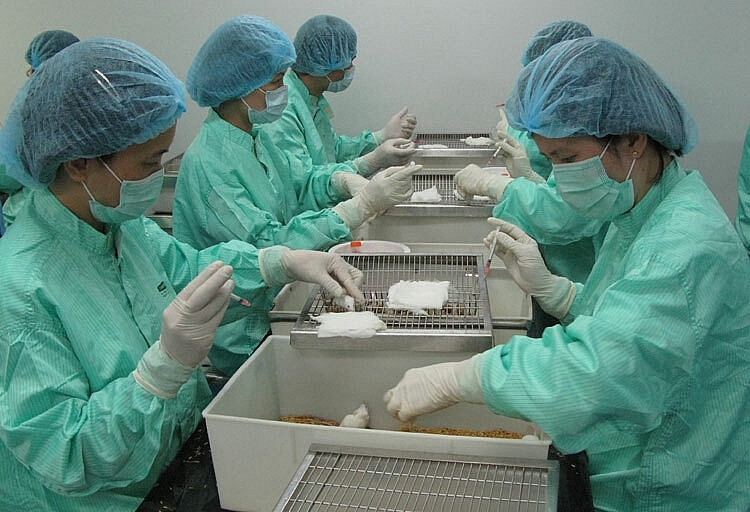 Testing the vaccine on mice at Vabiotech. Photo: Dinh Tuan.
Currently, Vietnam has mastered the technology of producing 4 types of test bio-products (test kit), including the test kit appreciated with high sensitivity and high specificity. It also has cheaper price than the one sold on the world market.
In the coming time, Deputy Prime Minister wants WHO and international organizations to strengthen cooperation and support for Vietnam to connect, share and disseminate products to countries around the world to push back the COVID-19 together.
Company for Vaccine and Biological Production 1 (VABIOTECH) under the Ministry of Health conducted a second test of Covid-19 vaccine on mice in June, Dtinews reported later May.
The move followed the positive results of the first test carried out recently.
The second phase of testing will be carried out early June, said Dr. Do Tuan Dat, head of the Hanoi-based VABIOTECH company, which produces vaccines.
During the first testing phase, 50 mice in the lab remained healthy two weeks after they were injected with the vaccine on April 26, according to Vnexpress.
On May 14, researchers sent the mice's blood samples to the National Institute of Hygiene and Epidemiology for first evaluation.
The vaccine has been developed by collaborating scientists of VABIOTECH and the U.K.'s Bristol University.