Internet fee in Vietnam surprises foreigners
"Does Vietnam have internet?". The question seems silly however, it sparks a lively debate on social networks.
Chuck Bottle, an English teacher in Vietnam said on Quora – an American-question-and-answer website
"Vietnam actually has excellent internet. It's cheap enough that I can't even tell you how much it costs me. Literally every cafe supplies free wifi which is amazing. There are cafes everywhere in Vietnam, ranging from fancy Starbuck like cafes to a roadside stall with plastic stools, but all of them have great wifi. It's super convenient and you'll always find a few Vietnamese people playing MOBA games on their phones at every cafe.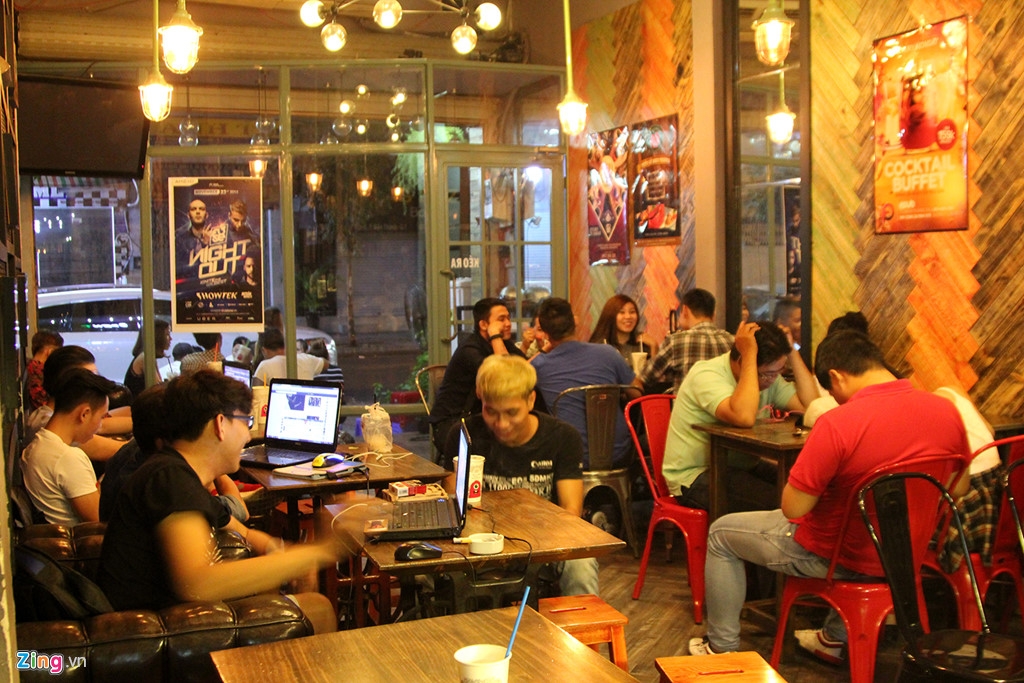 Almost coffee shops in Vietnam have free wifi. Photo: zing.vn
I personally think that Vietnamese internet is better than Australia's internet. In my experience travelling in both countries, Vietnam has way better internet. Honestly Australia is annoying as to travel in without a SIM Card with 3G, and those are kind of expensive to make you consider going without. But it'd be hopeless. You would need google maps or something and would be fucked. Whereas in Vietnam you could literally just drive until you don't know where you are then stop at the cafe that is probably within 10 meters of wherever you stopped. Buy a $1 coffee and use their wifi and then you're back on track. In Australia the coffee would be $5, and they probably wouldn't have wifi, or they'd be dicks about it."
And for account Robert Travelstone, the question is 'crazy'. "With a ten dollar data sim I get 15 gbytes of 4g coverage almost everywhere, valid one month. Also every hotel, guest house, coffee shop and restaurant has fast WiFi. Better internet and cheaper than anywhere else I have been," he said.
This topic is also hotly debated on Facebook groups such as "Vietnam is awesome".
Karel Vandeschoor comments "It works better than in Belgium and it's cheaper too"
Martin Forkel "All over the country better than in germany...."
Tylre Burman "The SIM cards are super cheap and have 4g. The coffee shops all have free WiFi. I never had a single issue with internet in Vietnam."
Woody Mylo said "Better than Australia internet coverage and speed"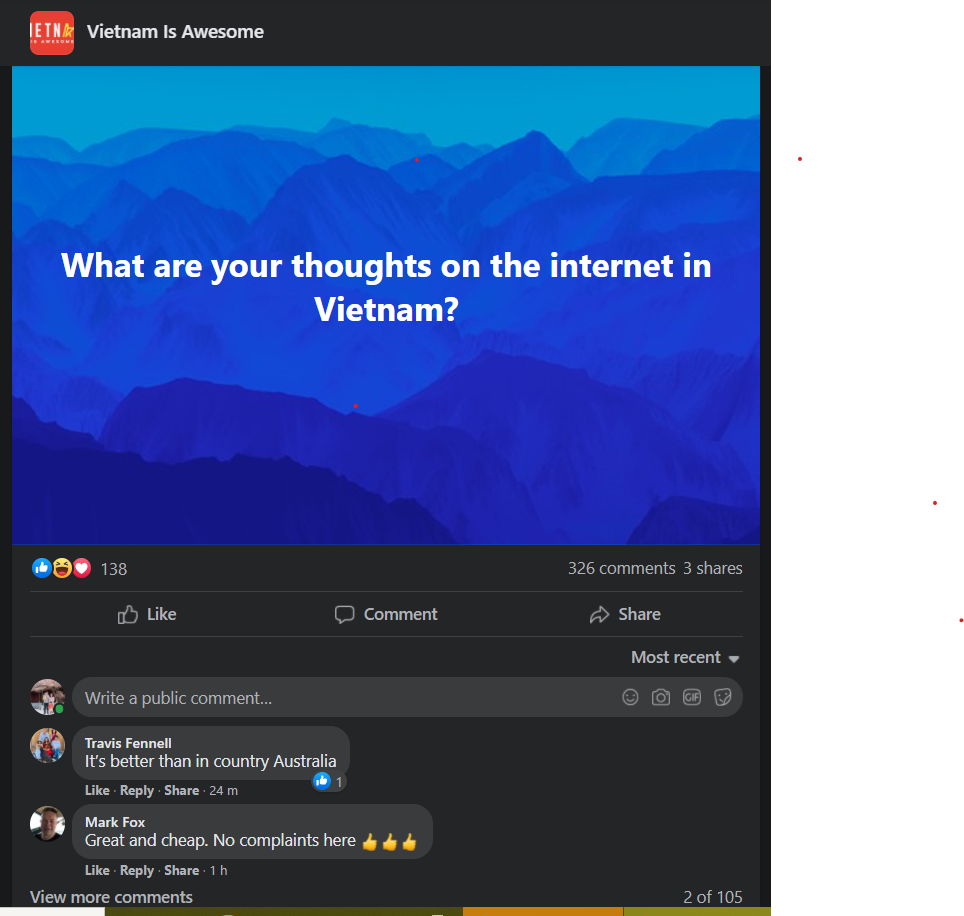 Screenshot photo
How much does the Internet cost in Vietnam
According to a new study by Cable, a U.K. broadband, TV, phone and mobile provider, Vietnam is the 10th cheapest country in the world to purchase mobile data.
The country's average price for one gigabyte (1GB) of mobile data costs $0.57, much lower than the global average of $5.09
Accordingly, the cheapest price for 1GB for 30 days in Vietnam is only VND1,000 ($0.04) while the most expensive price is VND300,000 ($12.84), Vnexpress reported.
Vietnam's 4G average download speed of mobile data clocked at 20.6 Mbps, ranking 41st among 100 economies and second behind Singapore in Southeast Asia, according to a report released this month by OpenSignal, a British company that measures mobile user experience globally.
The telecom firms are chasing a head start in the 5G race, with Vietnam aiming to become an early adopter of the technology. Telecom giant Viettel broadcast from its network of 5G base transceiver stations in Ho Chi Minh City last September for the first time.
Telecom providers in Vietnam are expecting to price 5G services at the same rate as their 4G equivalents, and would not require users to change their SIM cards.
Vietnam plans to provide 5G coverage nationwide by 2030, offering all citizens broadband Internet connection at low cost, according to Vietnam Telecommunications Authority (VNTA).
Around 64 million people, or over half the country's population, are online.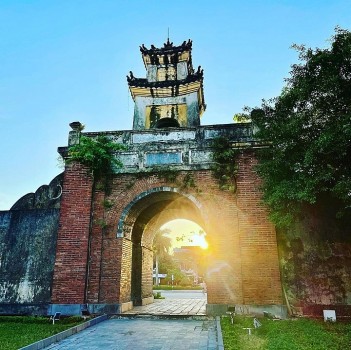 Travel
Quang Binh has many natural wonders as well as magnificent man-made architecture, one of which is Quang Binh Quan