Vietnamese Cuisines: Top 5 Best Food Specialties in Tri Ton, An Giang
Tri Ton is the biggest district in the Mekong Delta province of An Giang. The vast district has a wide range of tasty dish. Every bite will transport you to the southern Vietnamese paradise.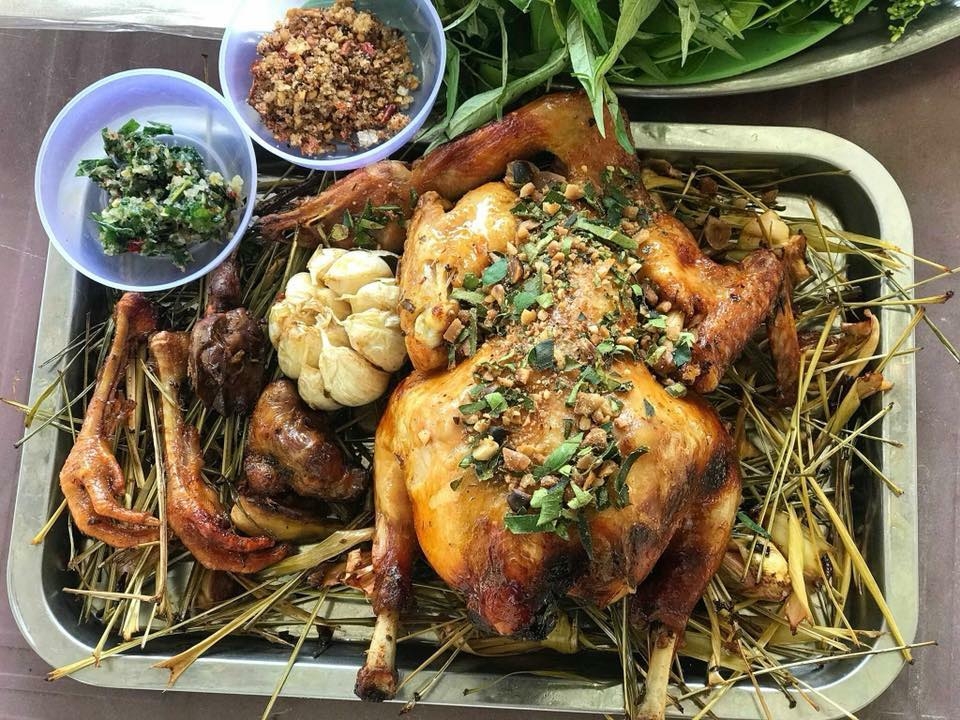 Tri Ton is home to a variety of unique dishes. Photo Vi Vu Mien Tay Facebook
Tri Ton district, located in the southwest of An Giang province, shares the border with Cambodia.
Visitors to Tri Ton can travel to famous tourist destinations like Ba Chua Sam mountain, Cam Mountain, Tuc Dup Hill, and the historical site of Ba Chuc Tomb. In addition to enjoying the landscapes, tourists can also try delicious local dishes.
Here are five unique Tri Ton dishes to satisfy your tastebuds this summer!
Chicken grilled with Kaffir lime leaves
Grilled chicken is a traditional dish of Khmer people in An Giang. Chickens selected for this dish must be raised by running freely in the farm and weighs about 1.2 kg each.
After preliminary processing, the chef will marinate the chicken with lemongrass, chili, garlic, sugar, and salt with the right amount.
Kaffir lime leaves are an indispensable ingredient to make the dish to have unique flavor.
Once the chicken is seasoned, the chef will place it in the oven. The bottom of pot is scattered with a layer of salt, lemongrass, garlic and Kaffir lime leaves.
The chicken is put on this layer and grilled until it is cooked evenly.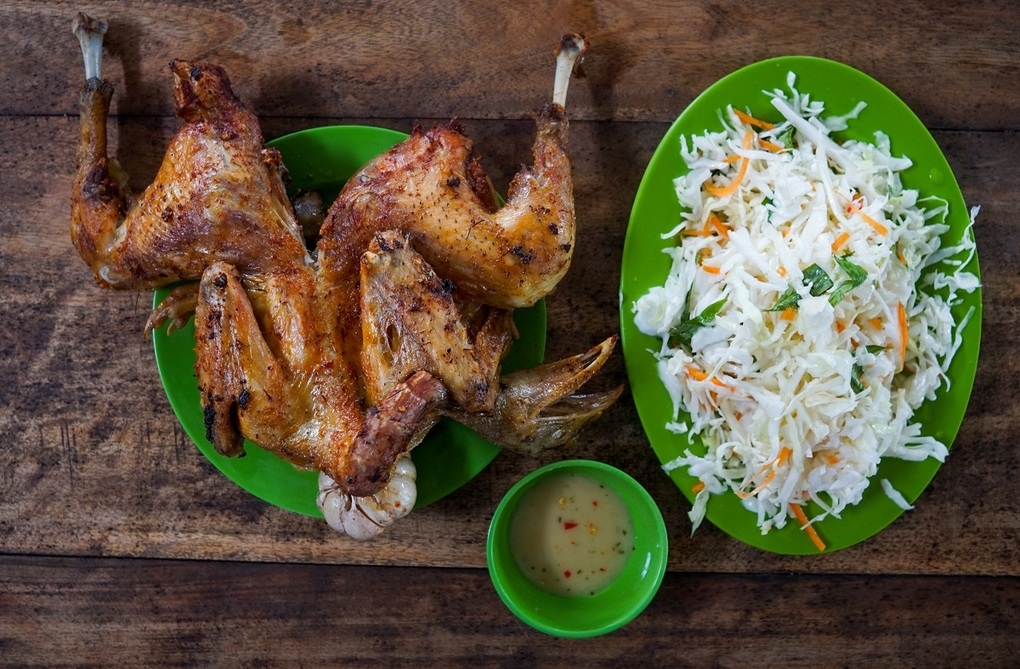 Photo VnExpress
A perfect grilled chicken must have eye-catching yellow color with soft meat.
The dish is served with a plate of sweet and sour cabbage salad or raw vegetables, cucumbers, dipped with Kaffir lime leave dipping sauce or salt, pepper, lemon, chili salt.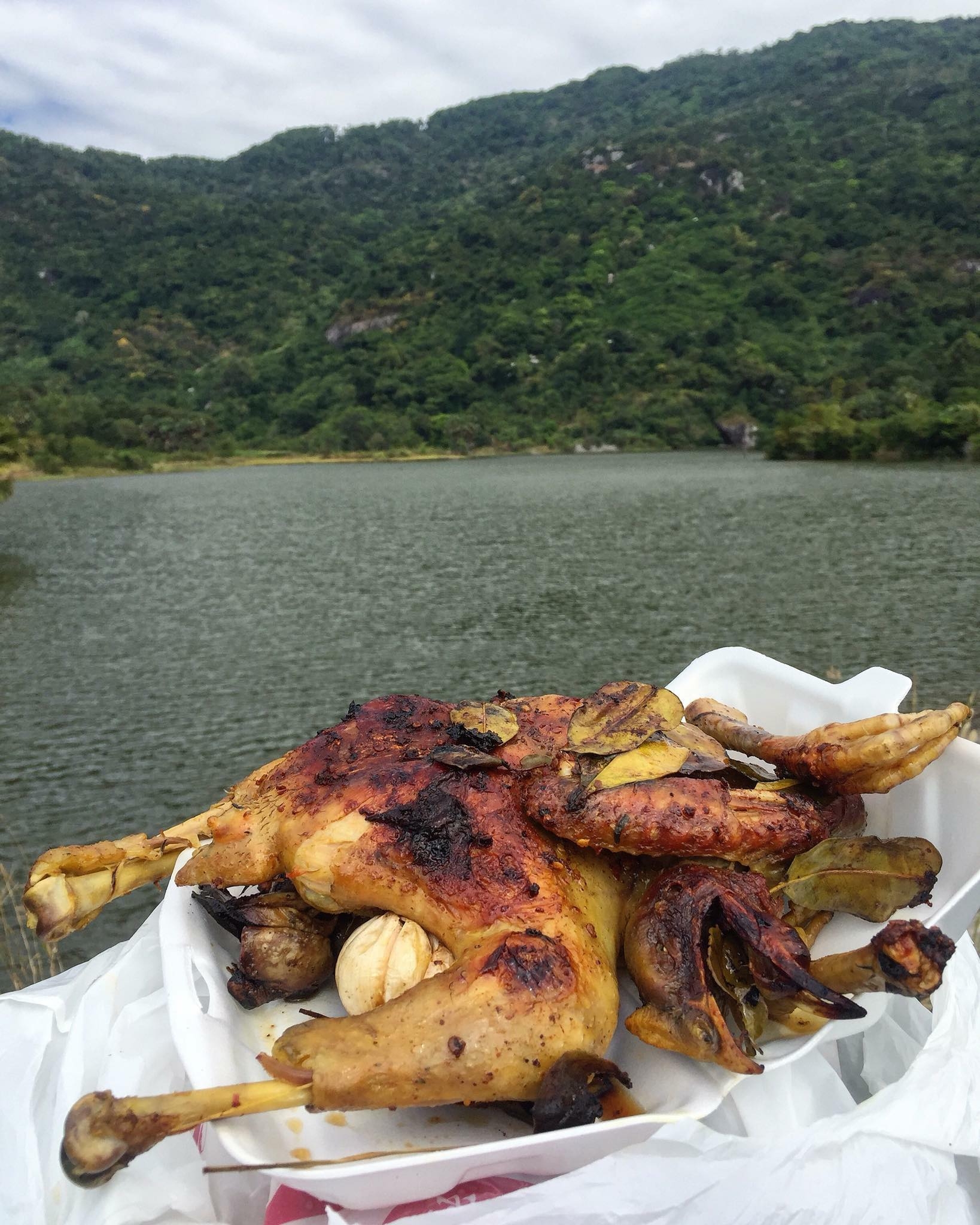 Photo Vi Vu Mien Tay Facebook
Using hands to eat the grilled chickens is the best way to enjoy the dish. Photo VnExpress
Kaffir lime is a plant native to Asia. In Vietnam, it is grown on Seven Mountains (Bay Nui) of An Giang. The whole plant has fragrant essential oil, which is widely used in cooking, pharmaceuticals to cosmetics.
Photo baolamhoangnguyen
Thanks to its essential oils, leaves, fruit and bark, the plant is used in herbal medicine.
Kaffir lime leaves taste like lemon leaves, but have stronger aroma. It does not taste bitter and loose its flavor even when cooked for a long time. They are used in many Indian, Thai, Laotian, Indonesian, Filipino, Malaysian dishes. Young Kaffir lime leaves made into salads. The whole leaves are used in soups and curries, chopped or shredded Thai fish cakes, Thai hot pot.
In An Giang, Kaffir lime leaves which are thinly sliced ​​ are sprinkled on steamed or boiled chicken and eated with steamed fish, snails, clams, stir-fried eels, frogs, grilled beef or hot pot.
Beef porridge
Beef porridge is one of the most prominent dishes in Tri Ton.
The porridge is cooked like a regular pork belly porridge but uses different ingredients. It includes beef intestines, liver, lungs, blood jelly and medium-rare cooked beef.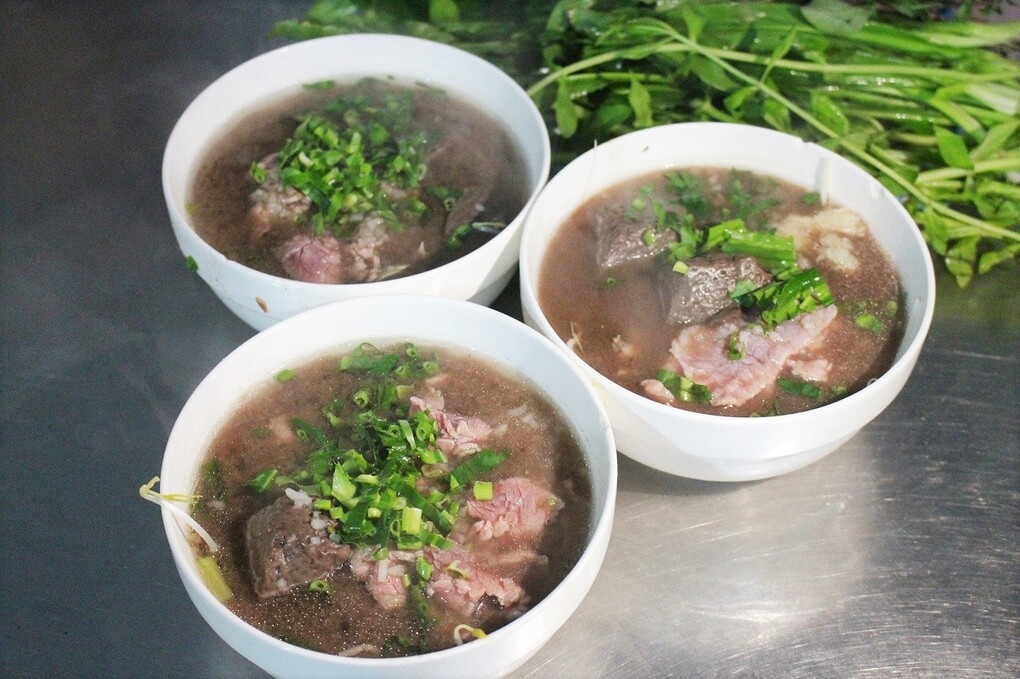 Photo VnExpress
The dish is served with raw bean sprouts, cinnamon, coriander leaves and thinly-chopped Kaffir lime leaves.
Nothing better than having a breakfast in An Giang with a bowl of beef porridge and a cup of ginger fish sauce to dip the beef intestines. The porridge is sourer, and definitely tastes more delicious if you squeeze juice from Kaffir limes.
Local residents in the Mekong Delta region often eat hot beef porridge with fresh vermicelli or bread for a full breakfast.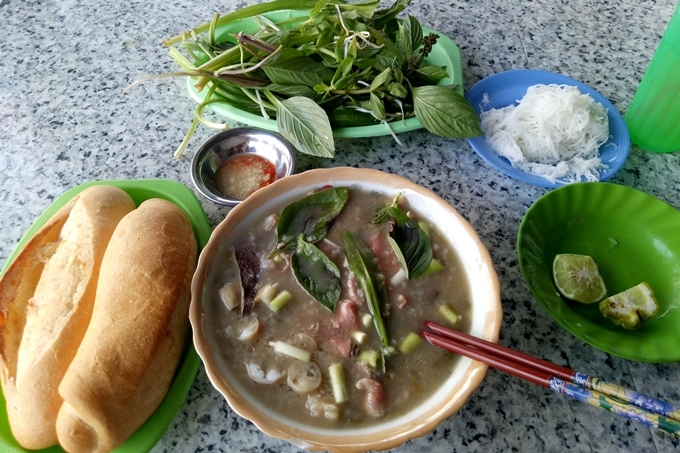 Photo Ngoi Sao
Half-dried baby clams
Photo VnExpress
Baby clams dried under the sunshine is a dish coming from the Cham people and is sold in many places in An Giang such as Tan Chau, Tri Ton, Chau Doc.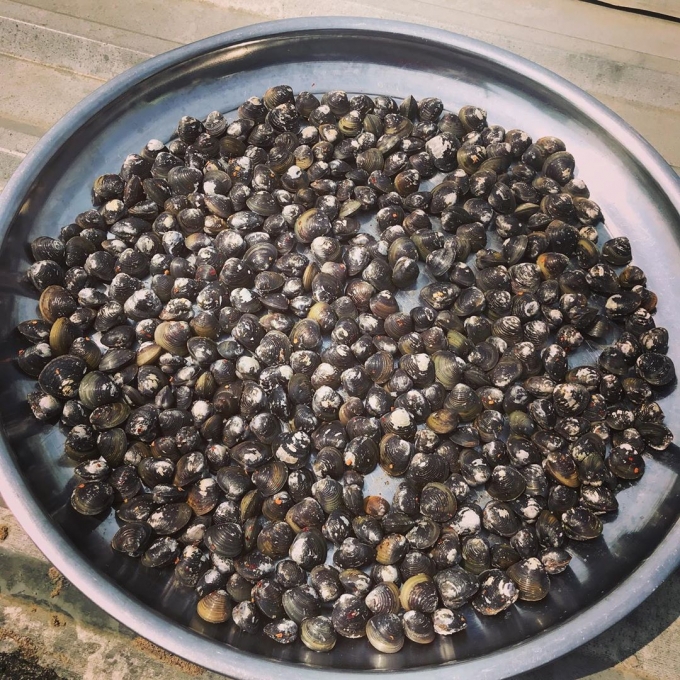 Photo Instagram
Live baby clams are carefully washed and left dried, then briefly cooked in boiling water or left fresh and then marinated with salt, sugar, chili and Kaffir lime leaves.
The clams are put on guava leaves and dried in the sunshine of the dry season.
In the rainy season, this dish will not be available. Rarely cooked baby clams tatse sweet and might have a fishy smell.
The dish is served with salt and lemon chili.
It is such a great snack of generations of children in Tri Ton.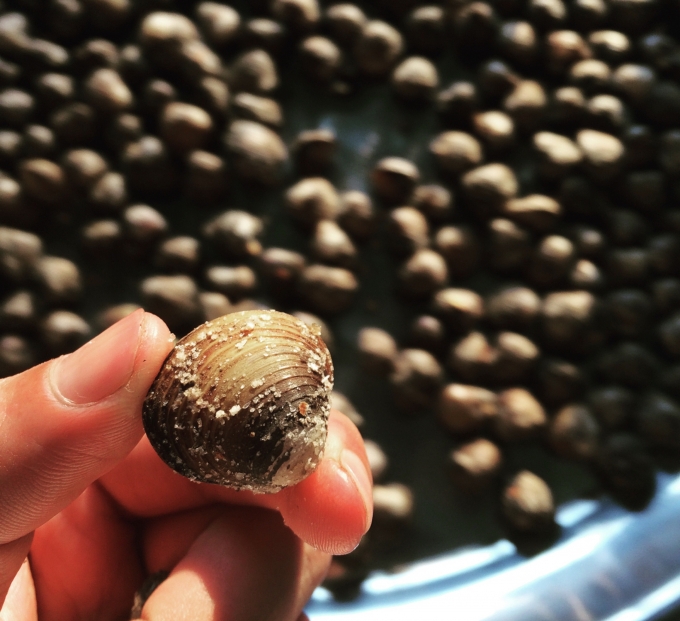 Photo Instagram
Papaya salad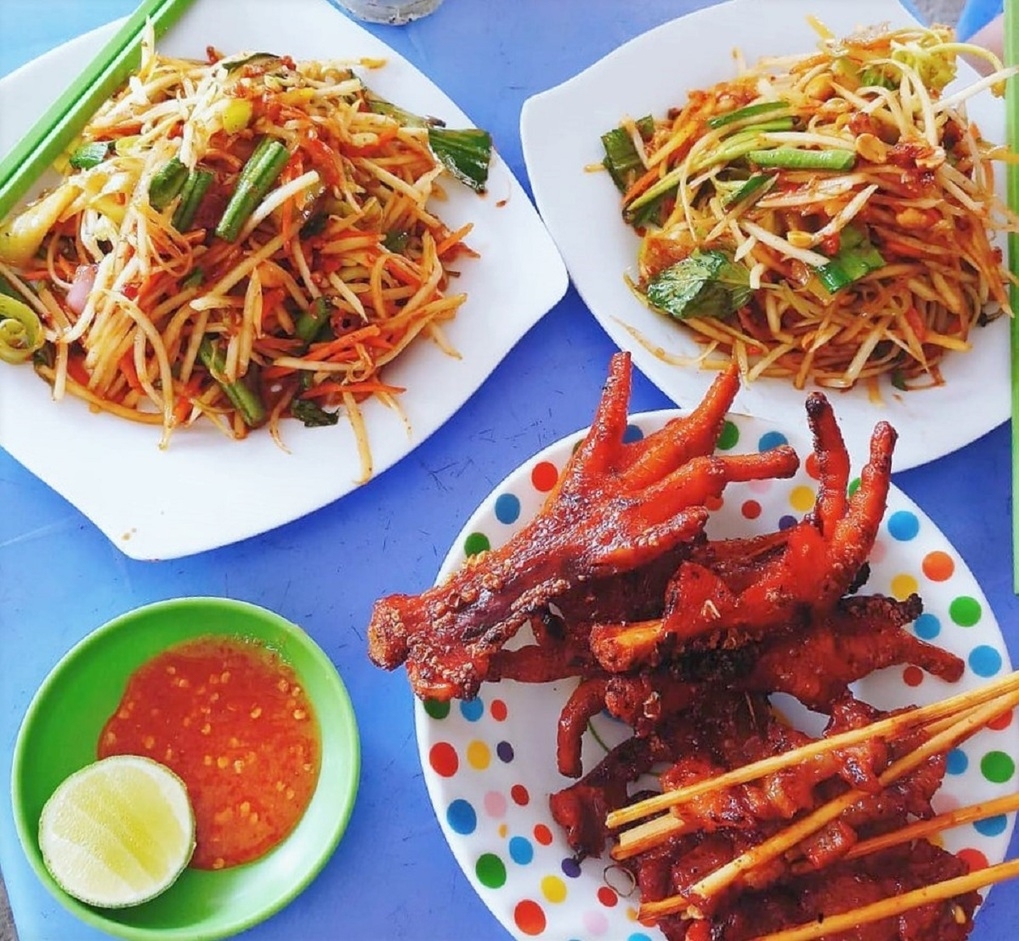 Photo VnExpress
This is actually the Cambodian papaya salad. In An Giang, the dish is called 'the crushing papaya' because papaya is crushed in a mortar. The main ingredients are shredded ripe papaya and fish sauce.
When a customer orders the dish, the chef will put sugar, salt, monosodium glutamate, red onion, garlic, chili and a piece of lemon, cowpea into the mortar and stab all of them. Then he/she will put in the papaya, water spinach, herbs, cinnamon in the mortar and continue to crush them.
The salad is often served with grilled beef skewers or chicken eggs.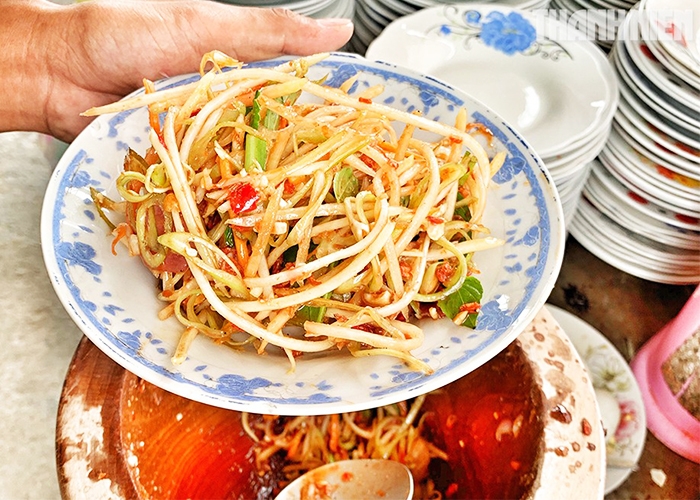 Photo Travel Mag
Grilled frog stuffed with pork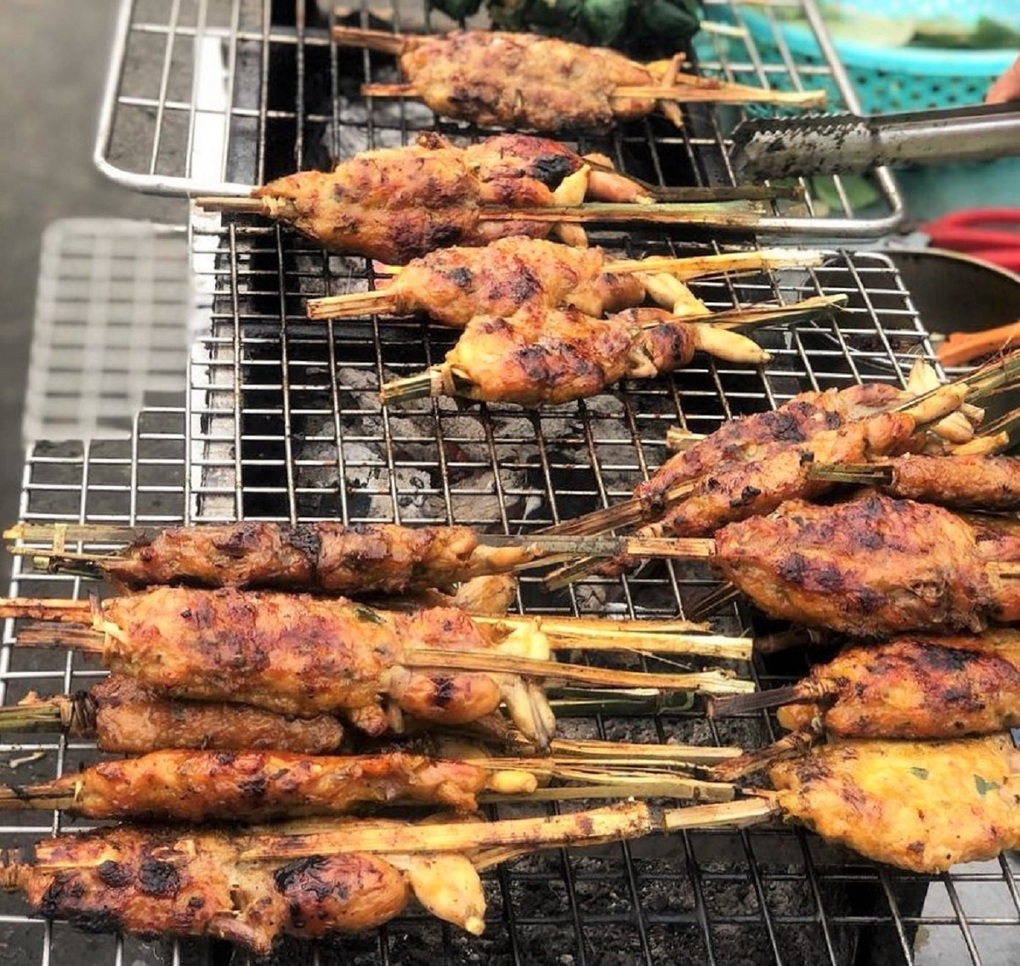 Photo VnExpress
The dish is sold at food stalls selling snakcs in Tri Ton.
The big-sized frogs are cleaned without any intestines inside. Minced pork mixed with lemongrass, turmeric, Kaffir lime leaves will be put inside the frogs,
The chef then will tie the frog tightly and clip it to a pair of grilled bamboo for barbecue.
Cooked frogs have golden skin. The pork inside is very juicy.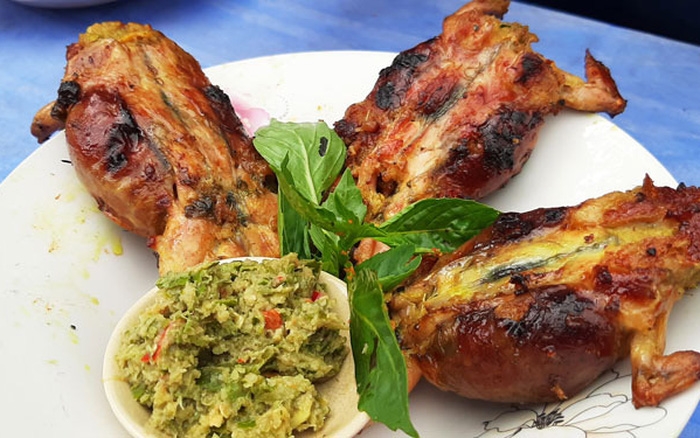 Photo Nguoi Lao Dong