Javier Perez - Spanish cyclist won the third stage of HTV Cup national race
On Thursday, Spaniard Javier Sardá Pérez won the third stage in the Vietnam National Men's Multi-day Bicycle Stage Race, also known as HTV Cup 2021, with an impressive breakaway sprint which brought him victory.
Circuit racing is always an advantage for the cyclists with good sprints. With breakaway specialist Le Nguyet Minh and two crew members, Vinama and New Group, HCMC dominated the round of 42 km in the northern highlands' Lang Son Province.
Spanish rider Javier Perez finishes first at the third round of the HTV Cup on April 8, 2021. Photo courtesy of HTV Cup.
Dong Thap also has two breakway specialists Nguyen Tan Hoai and Tran Tuan Kiet, but their squad power proved no match for HCMC, according to VnExpress.
Coach Do Thanh Dat of HCMC had the second team, New Group, start the race. About 500 meters away from the finish line, the second team made way for the first team, Vinama, to breakaway. Their opponents couldn't repond in time, allowing HCMC cyclists to reach the finish line first.
Perez crossed the finish line first, followed by Minh. The third and fourth place were also taken by HCMC riders Nguyen Duong Ho Vu and Nguyen Truong Tai.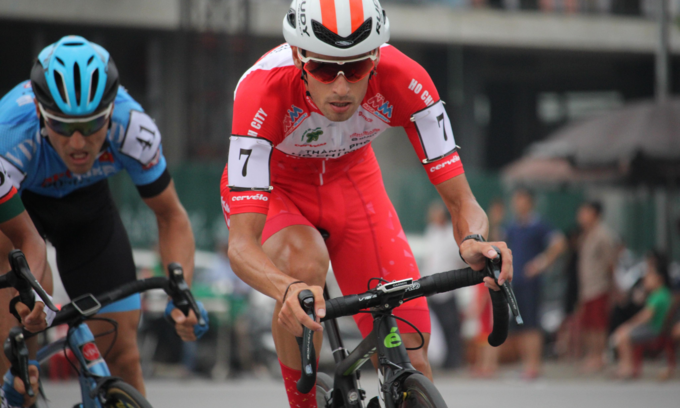 Javier Perez competes for HCMC -based team VUS in HTV Cup 2019. Photo coutersy of Javier Perez.
"I was a bit surprised with this victory, because my breakaway is not as strong as the opponents. But thanks to my teammates who put me in a comfortable position, I won. From the bottom of my heart, I'm really grateful," Perez said.
Perez had won the tournament's Yellow Jersey in 2019 and 2020.
The HTV Cup tourney will take place from April 6 to 30, and cyclists will have to cover 2,350km of the competition's 22 stages from Cao Bang Province in the north to Ho Chi Minh City in the south.
The longest stage, about 200km, will be from Nghe An Province to Quang Binh Province in the north-central part of the country.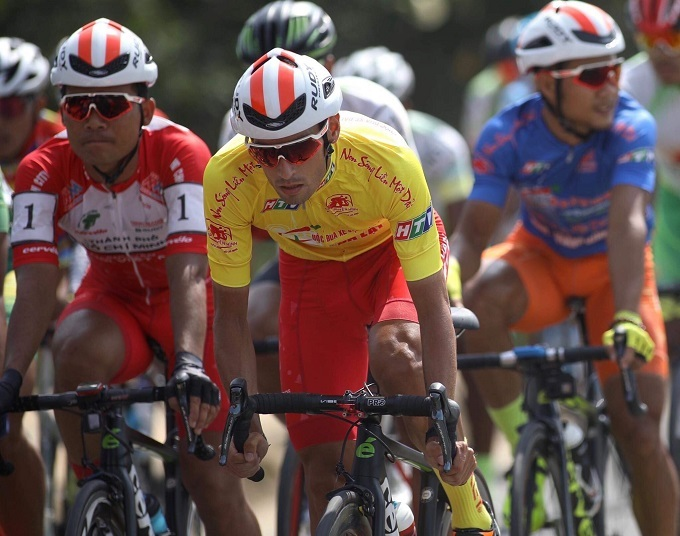 Javier Sardá Pérez in the leader's jersey at the 2019 HTV Cup. Photo courtesy of Javier Sardá Pérez.
The rider who wins the most prestigious yellow jersey will be rewarded with VND200 million (US$8,648) while VND50 million ($2,162) each will go to those who wear the blue and polka dot jerseys in the end.
Each lap win will earn a cyclist VND20 million ($865).
The best cycling team will receive VND100 million ($4,324).
The tourney's prize money totals VND2 billion ($86,480), the largest ever.
After three stages, Minh has held on to the Yellow and Blue jerseys. Rider Thai Ngoc Hai from Vinh Long team holds the White Jersey, which is given to the best young racer.
The fourth stage of the race, running 145 kilometers from Lang Son to Hanoi, will be held Friday.
Considered Vietnam's 'Tour de France,' HTV Cup has been held annually since 1989.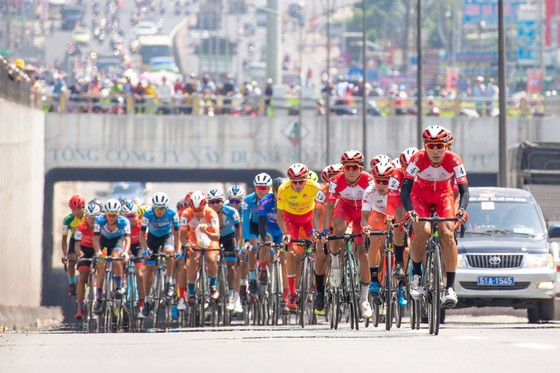 Cyclists take part in the HTV Cycling race in 2020. This year's event will be held on April 6-30 to celebrate Reunification Day. Photo nld.com.vn
In its 33rd edition, the tourney is organized every year to celebrate Vietnam's national reunification, which was achieved on April 30, 1975.
While the Covid-19 pandemic has meant that the organizers could not invite foreign teams, the tournament still has two veteran foreign riders in Vietnam – Perez (HCMC) and Frenchman Loic Descriac (Dong Nai).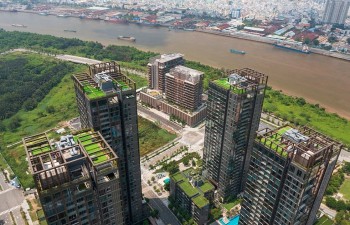 Economy
Vietnam Business & Weather Briefing (August 11): Vietnam to increase coal imports in 2025-2035 period, ten tonnes of Vietnamese longan exported to Australia.