Korean NGO presents water filtration system to Thanh Hoa's commune
A water filtration system RO producing 1,000 liter/hour was handed over to Ninh Khang commune, Vinh Loc district, Thanh Hoa province by the Korean non-governmental organization Good Neighbors International (GNI) in Vietnam.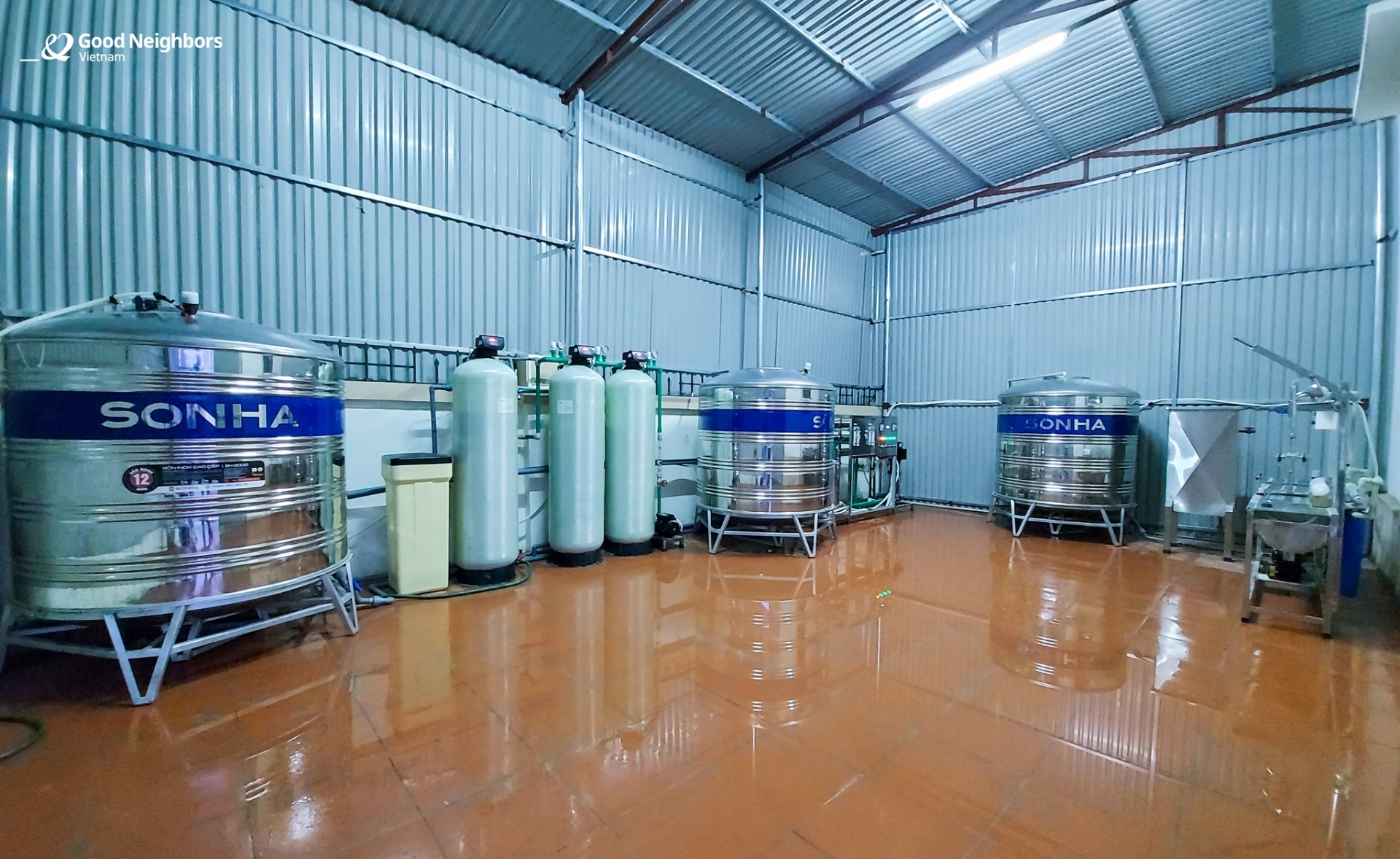 The water filtration system RO produces 1,000 liter/hour. Source: GNI
There are still many limitations for people in rural areas of Vietnam in access to clean water sources. To improve people's access and use of clean water, in 2019, with the support of Korea Institute of Ceramic Engineering and Technology (KICET), GNI tested quality of domestic water and water from drilled wells in Vinh Khang Commune (Ninh Khang Commune now), Vinh Loc District, Thanh Hoa Province.
In October 2020, KICET continues to support GNI in establishment of a system to filter water from drilled wells in Ninh Khang Commune. The system includes components to remove impurities, soften and supplement minerals in water, RO filter system produces 1,000 liter/hour, equipped with disinfection lighting and bottling system. Total cost of the system is more than 310 million Vietnam dongs. With filtration capacity up to 1,000 liter per hour, the system can supply water for about 4,000 ~ 5,000 people each day.
Through this activity, the Korean NGO hopes that not only people in Ninh Khang Commune have clean water to use every day but also schools, offices and residential areas in the project are of GNI in Vinh Loc District.
Good Neighbors is an international, non-profit humanitarian organization that plans, implements and raises funds for the provision of services in child education, community development, health, sanitation, and disaster relief projects. Currently Good Neighbors has works in 37 countries, supporting approximately 17 million people, including about 10 million children.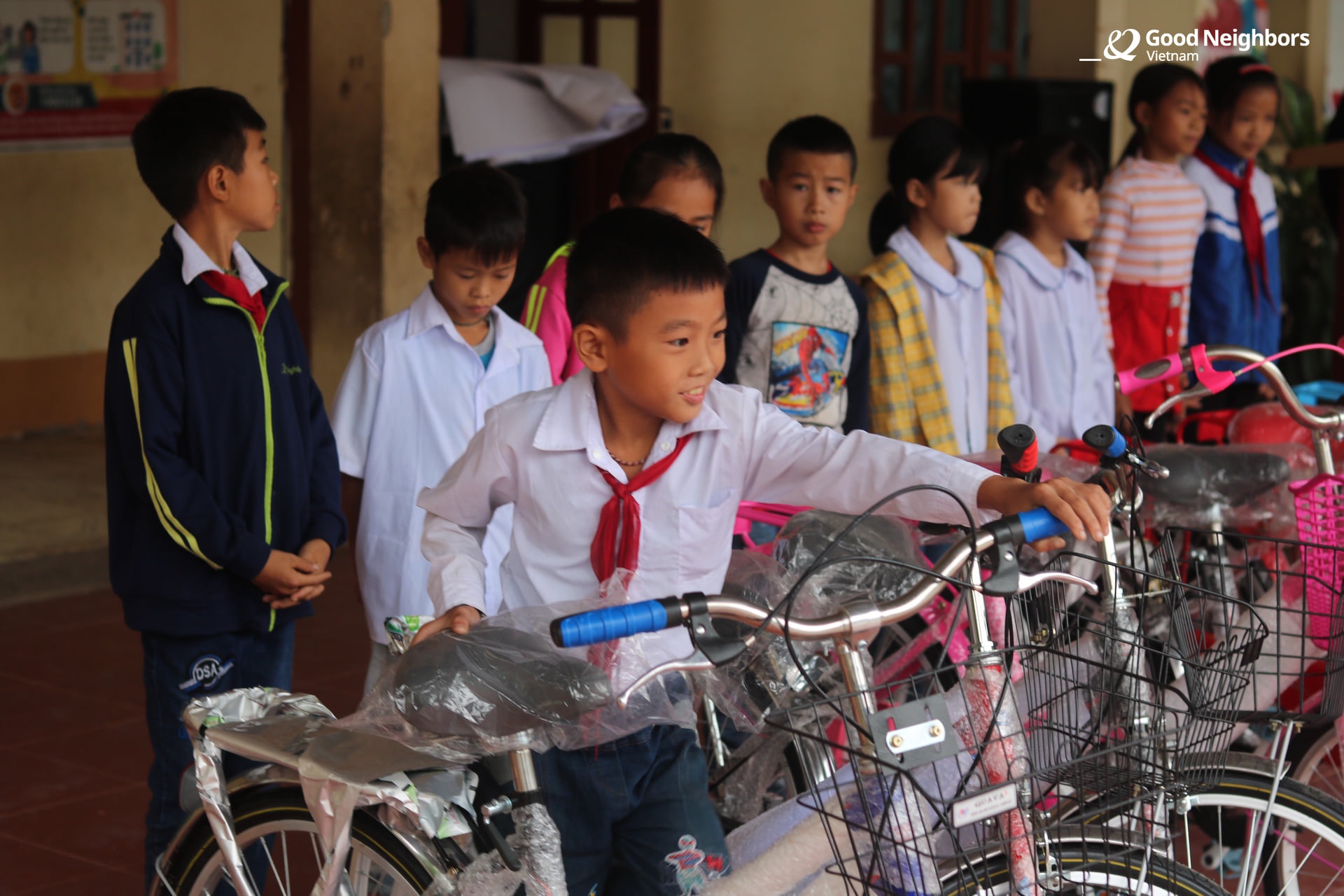 GNI presents 56 bicycles to disadvantaged students at 4 high schools and secondary schools in Tan Bac and Yen Thanh communes, Quang Binh district, Ha Giang province with a total value of more than 80 million VND.
Good Neighbors International in Vietnam is implementing Community Development Projects (CDP) based on child sponsorship in 4 provinces: Ha Giang, Tuyen Quang, Hoa Binh and Thanh Hoa. GNI in Vietnam sponsors about 10,000 children and implements community development projects (CDP) in education, water & sanitation, income generation sectors in 7 different areas of Vietnam.
With the desire to support the Vietnamese people to overcome the consequences of floods, GNI in Vietnam plans to give a VND 120 million (USD 5,100) flood relief package to Tuyen Hoa district, Quang Binh province. Of which,VND 18 million (USD 776) is contributed by GNI staff in Vietnam.
GNI will coordinate with the Union of Friendship Organizations of Quang Binh province and the Fatherland Front Committee of Tuyen Hoa district in providing relief to the right people and in accordance with the needs of children and local people. The organization hopes that this support package will contribute to sharing difficulties with local people.
Earlier, on October 19, GNI presented 56 bicycles to disadvantaged students at 4 high schools and secondary schools in Tan Bac and Yen Thanh communes, Quang Binh district, Ha Giang province with total value more than VND 80 million (USD 3,449).
Nguyen Van Chien, Principal of Tan Bac Secondary School, shared: "The school board, on behalf of the students, thanked GNI for giving disadvantaged students these bicycles. This valuable support will motivate the students to fulfill their dreams for a brighter future."
With the desire for children to have the best conditions to access basic resources such as education, healthcare, nutrition, shelter, etc., every year GNI conducts activities to support children in difficult circumstances in project areas. This is one of the activities under the Child Protection program implemented by GNI from 2005 to present./.
Sa Pa hosts Korean Cultural Day

Korean Culture Day has been held in the northern town of Sa Pa on October 24, with a range of prestigious artists from both Vietnam ...