Land of Palm Trees: Delicious Specialtries Made From Coconut in Ben Tre
Ben Tre, the land of coconut, is famous for its products and delicacies that are made from coconut, bringing a distinctive taste for Ben Tre's dishes.
Located in the in the downstream of Mekong River, Ben Tre is one of the special agriculture provinces in the South of Vietnam. So what makes Ben Tre an attractive destination in Mekong Delta? That will definitely be its indigenous plant – coconut!
Ben Tre is featured with a plain geography, which is scattered around by sand dunes and adorned by rice fields, fruit plant gardens, and numerous rivers and streams, canals and arroyos. The four Tien Giang river branches, including My Tho, Ba Lai, Ham Luong and Co Chieu rivers, split Ben Tre into 3 islands of Minh, Bao, and An Hoa. All contribute to an ecological system of rivers, canals, arroyos and green trees, facilitating transportation, hydro-electricity, and more importantly, ecological tourism potential.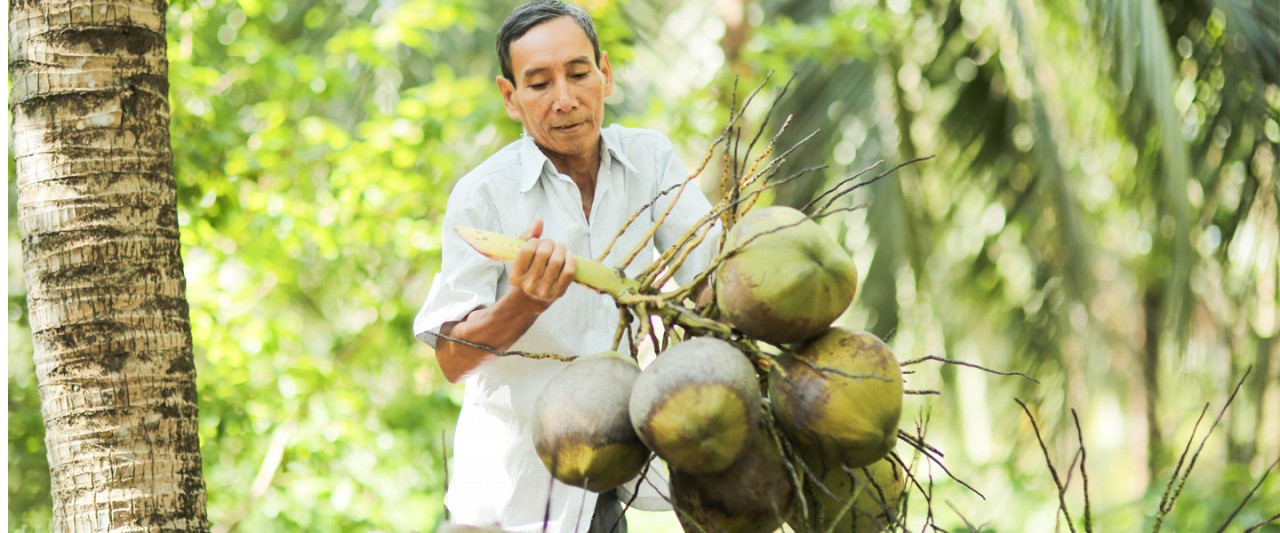 Photo: Betrimax
Verdant and flat, the province is mostly given over to rice and fruit cultivation. Traditional Mekong life is the norm here and it's a very unadulterated scene — wandering the market, sipping the coffee, doing a boat trip and skipping through the local museum are the main pastimes.
Coconut palms has been seen as the symbol of Ben Tre ever since the early days of land opening in the Southern part. Famous for its coconut desserts, Ben Tre is suitably covered in coconut trees. During the war, these coconut trees were used to make coconut oil which was then used as a valuable substitute for kerosene. The province now has nearly 36,000 hectares of coconut woods. Even through years of fierce wars, coconut survived and stayed as close as a dear flesh-and-blood friend of the Ben Tre people. There was a time, many people in Ben Tre felled the tree for economic reasons, but have later been back with it because they realized it was with the coconut tree that their livelihood could be sustained for quite a long time. Today, Ben Tre's coconut area is approximately 36,000 hectares, yielding around 242 million nuts per year.
1. Coconut candy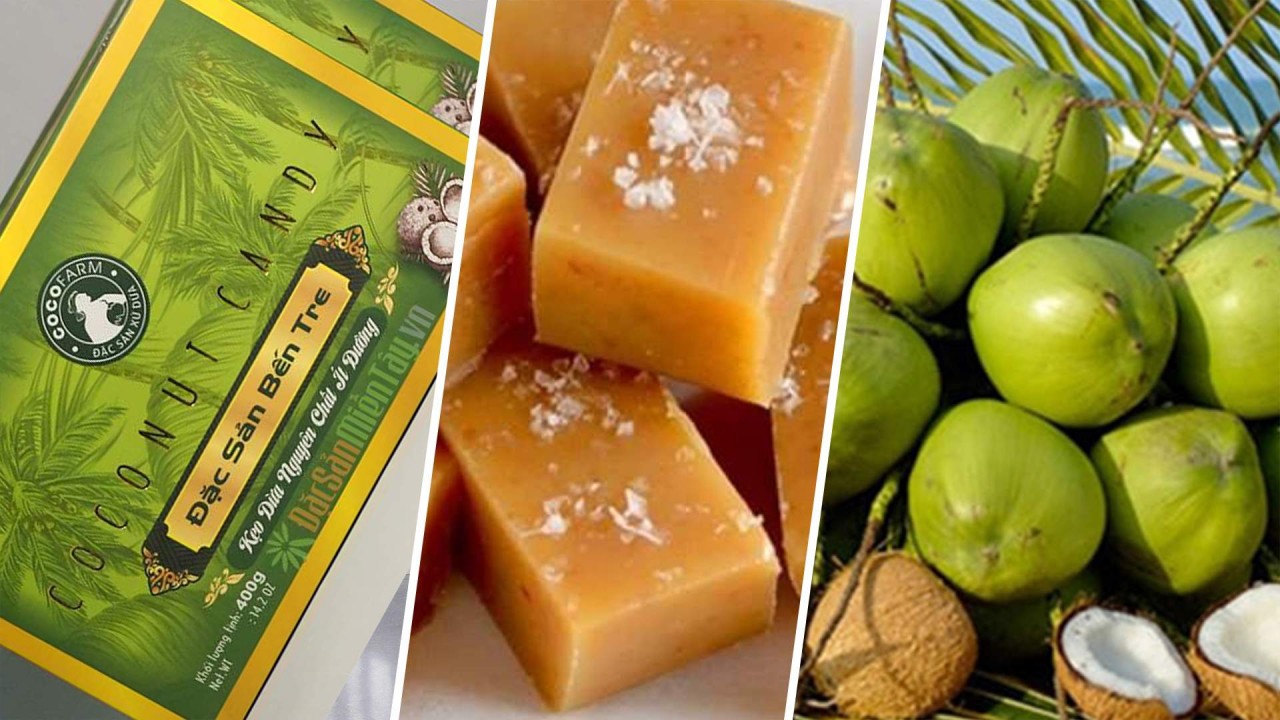 Photo: CultureMagazin
First introduced in the 1930s, Vietnamese coconut candy is the creation of Ms. Nguyen Thi Ngoc in Ben Tre Province - the so-called "Kingdom of Coconut". But it was not until 1970 that Thanh Long - the first factory of this sweet - appeared and the industry has flourished since then.
Nowadays, more than a hundred factories in Ben Tre produce this confectionary, making an association of coconut candy suppliers. Interestingly, this specialty is not only delivered throughout the country but also exported to China, Laos, Australia, Germany, Sweden, etc.
Keo Dua is mainly made of coconut milk, malt and sugar. To create tasty coconut candies, workers have to carefully choose the ingredients. Coconuts to make candy should be those newly dried inside and freshly picked from the trees so that the milk extracted will have the special flavor. Besides, malt is originated from high-quality sticky rice and cooked by highly-skilled craftsmen. In addition, sugar to make these candy has to be newly produced with a bright yellow color. Especially, coconut candies are wrapped with incredibly-thin layers of edible rice paper which also act as desiccants.
2. Cu hu dua salad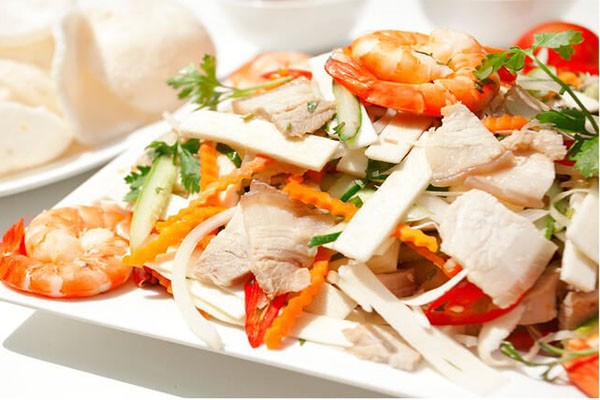 Photo: Disney Cooking
Cu hu dua can be found in the tops of the trees, hidden inside the branches.
The core was covered by a thin layer of capsules, and it's sweet, fresh, cool and highly nutritious, especially in minerals, and it is good for the digestive system.
The ingredients for the dish (serves two) include 200g of coconut core, 100g shrimp, 100g bacon, 1 big onion, 1 carrot, 1 cucumber, 1 red chili, laksa leaves, roasted peanuts, 2 garlic cloves, 60g sugar, 80ml fish sauce, and 15ml lime juice.
The coconut core, carrot and cucumber should be cut into strips but not too finely to avoid them from losing their crunch. The shrimp should be steamed before being cut in two and the bacon is boiled and cut into thin strips. Then they are marinated in a bowl with fish sauce for 15 minutes before draining.
The next step is to make the main sauce which involves sugar, seasoning powder, chili sauce, ground chili, coriander and lime juice. They are added to the mix and topped with roasted peanuts and fried dried onions.
3. Coconut rice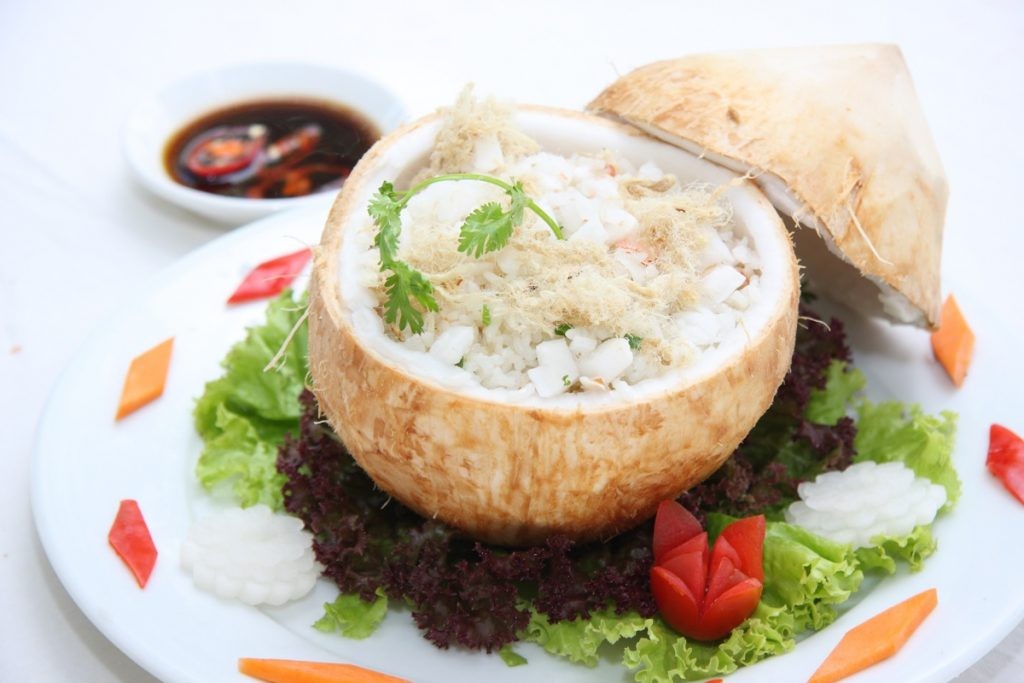 Photo: Saigon Riders
It is not difficult to make this food. You only need delicious rice which has a sweet aromatic fragrance, a steamer, and some coconuts to make the dish. First, you have to peel freshly an outer layer and a fibrous husk of the coconut. Use the sharp knife to cut the top of the coconut let the water out, flatten the bottom and use the coconut as the cooking pot.
Place the rice in a colander or sieve and rinse in the cold water. Then, drain the rice. After that, place the rice in coconuts, add enough coconut water (enough to cover the surface of the rice) and put the lids on the coconuts. The hardest part is to measure the right amount of coconut juice, if there is too much water, the rice is wet, too little and the rice is dried. Finally, put all the coconuts in a steamer and leave the rice to simmer for about 1 hour, until the water is absorbed all and the rice becomes soft.
When the coconut rice is cooked, it is better to keep warm in a steamer and only take the coconut out when it is ready to use. If the rice is brought out early, it will become cold and yellow. One tip to enjoy all the tastiness is to eat with roasted shrimp with coconut water.
4. Coconut Wine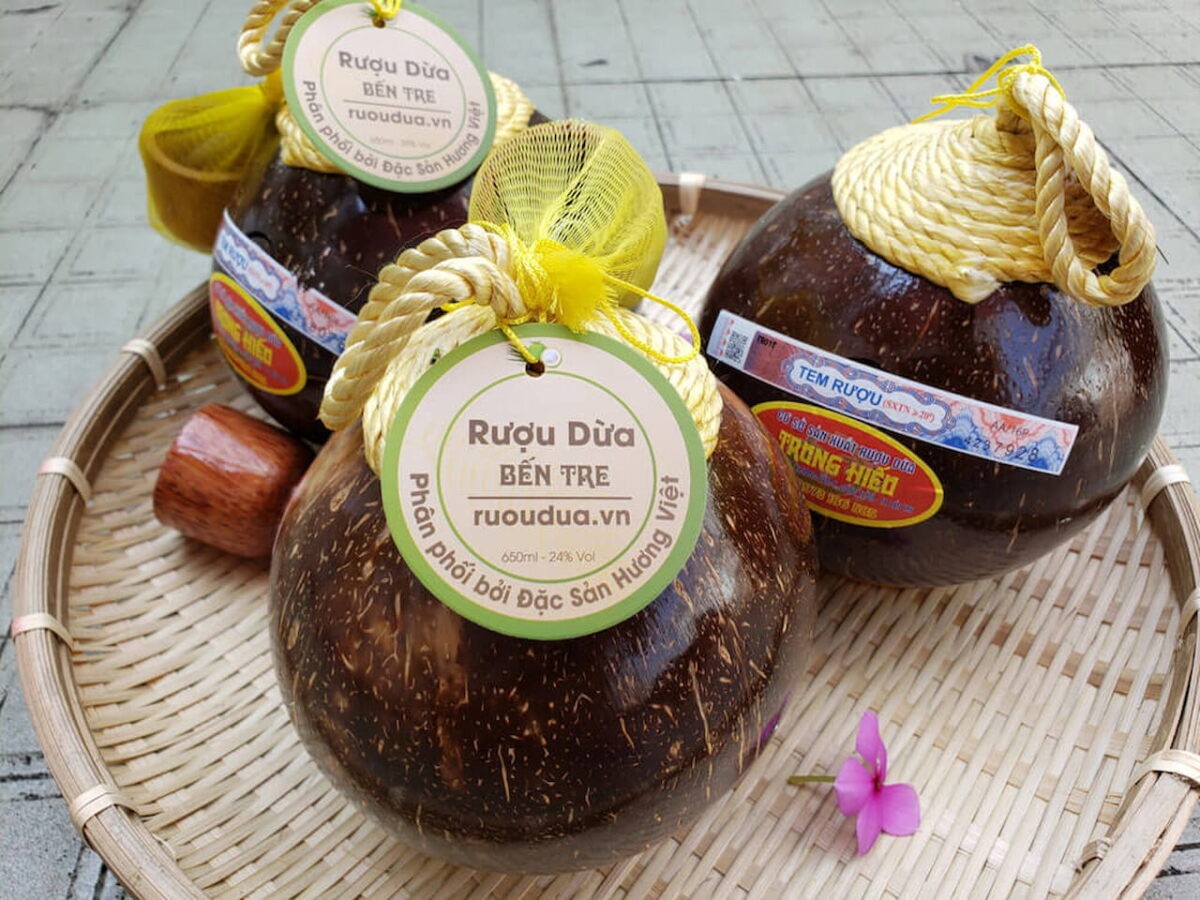 Photo: Mekong Smile Tour
Coconut wine is made from the traditional fermentation process, therefore, contains no chemicals and preservatives. Especially, the wine is not stored in luxury glassed bottles but right in complete coconuts, making it rustic but still elegant.
Coconut wine has gradually become a commercial product. "Wine bottles" are entirely "casted" entirely fresh coconut fruits and covered with small mesh bags, and go over every part of the country to promote the Ben Tre coconut wine brand. Coconut wine also contributes to the list of famous wine in three regions with its strange flavor. Drinking coconut wine is not to be drunken but to be captivated because of something subtle but full of taste.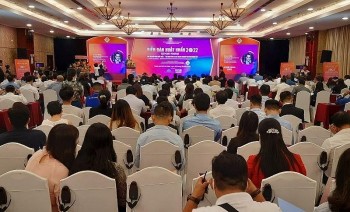 Focus
Vietnam News Today (Dec. 9): Vietnam - Singapore innovation centre helps firms transform production; HCM City among most searched destinations by travelers; Vietnamese digital technology industry's revenue estimated at 148 billion USD in 2022; Two Vietnamese films up for consideration at Oscars.