Learning Vietnamese to Preserve National Traditions
Despite many difficulties in life, Vietnamese people in Cambodia always try to integrate into the host society, and at the same time preserve the traditional values ​​of the nation, including the Vietnamese language.
According to the Khmer-Vietnam Association and the representative agencies of Vietnam in Cambodia, there are currently about 30 schools and classes in Phnom Penh and 14 provinces across Cambodia that teach in two languages, Khmer and Vietnamese, with nearly 1,400 students enrolled.
Pham Thanh Thuy, Vice President of the Khmer-Vietnam Association in Cambodia, said that Vietnamese children in these schools and classes study for free in the program of the Cambodian Ministry of Education, Youth and Sports. They also learn Vietnamese from the textbooks of the Ministry of Education and Training of Vietnam.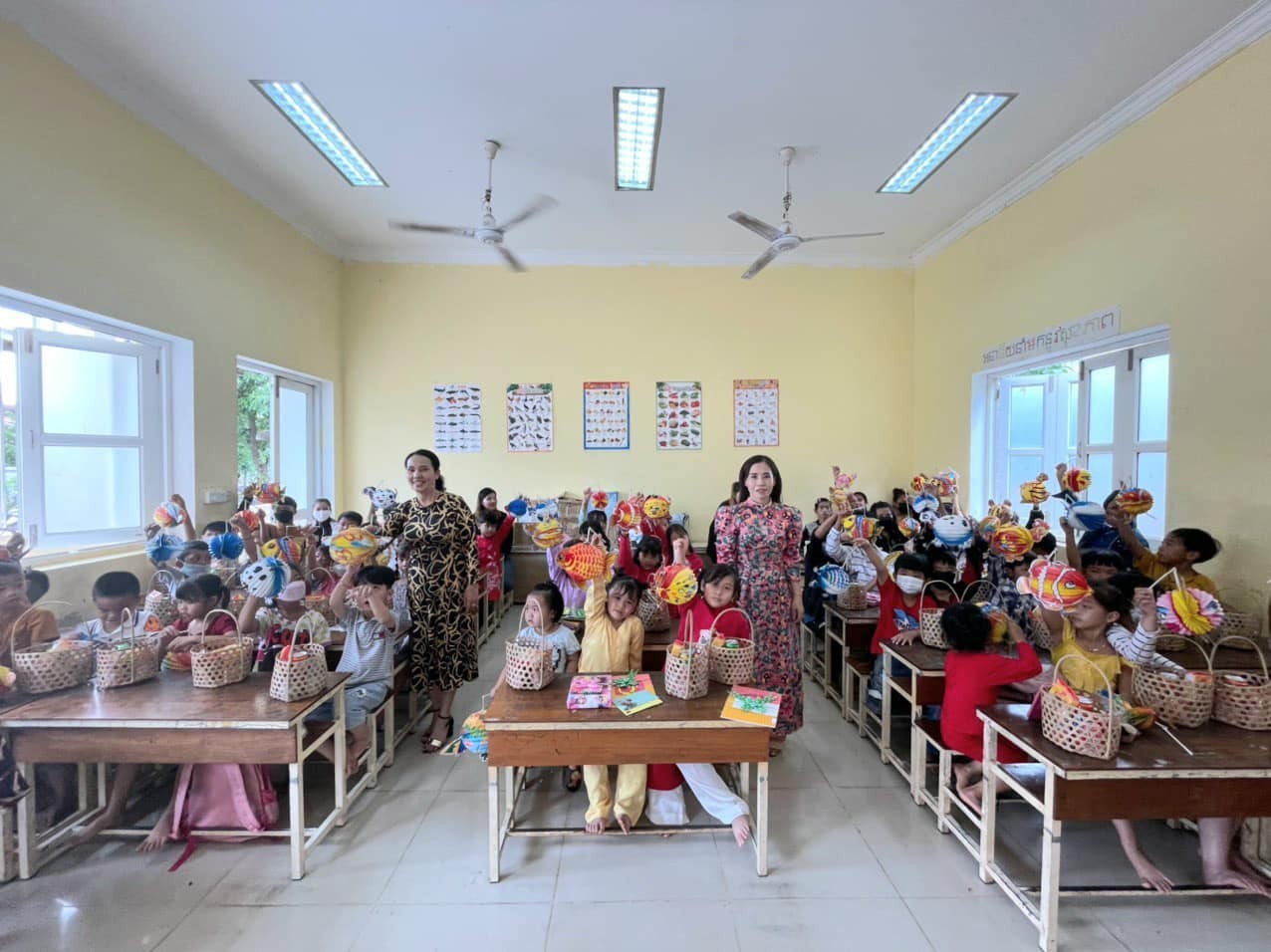 Vietnamese students in Siem Reap province celebrate Mid-Autumn Festival 2022. (Photo: Thoi Dai)
According to Thuy, for many years, building schools and organizing classes for Vietnamese children in Cambodia has been strongly supported by Vietnamese organizations. "The Khmer-Vietnam Friendship Primary Schools in Prey Veng and Svay Rieng provinces are funded by Vietnam's Dong Thap and Long An provinces. The school in Kandal province was built by Agribank," said Thuy.
Realizing the importance of giving their children education and knowledge so that they can change their difficult living situation, many Vietnamese families are determined to arrange their work and time to bring their children to schools and classes in two languages ​​Khmer and Vietnamese.
Teacher Le Thi Thuy Linh is currently taking charge of a Vietnamese class with the attendance of 48 students in Siem Reap province. She said that there are parents who are at the age of 40 and can't read Vietnamese. They went to school urgently asking her to teach their children Vietnamese so that later they would have the knowledge, would have a better life, and would not forget their Vietnamese roots.
"The children learn very quickly. They can read and write Vietnamese after only a few months of learning. To be honest, I feel very special and emotional for bringing the mother tongue to children in difficult circumstances here. I am very happy when I hear them read Vietnamese clearly", Linh said.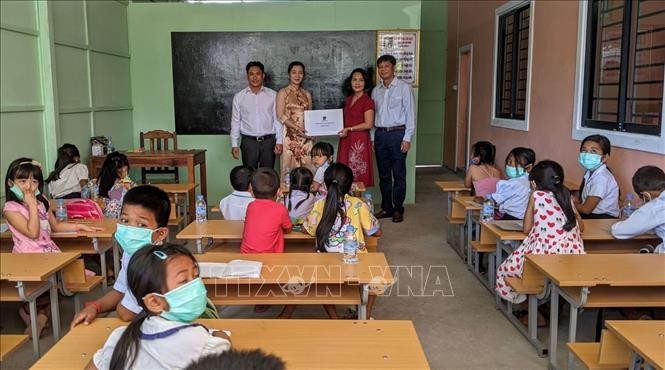 The Consulate General of Vietnam in Preah Sihanouk gave spelling books and comics to children at the community house of the Khmer-Vietnam Association in Koh Kong in 2020. (Photo: VNA)
She used to participate in the professional training course for overseas Vietnamese teachers in Hanoi. Returning to the classroom at the multi-purpose house of the Vietnamese community in Siem Reap, she wishes that one day her students would have a chance to return to the country, visit the capital, and speak their mother tongue in the homeland.
Nguyen Nhi Anh is the President of the Khmer-Vietnam Association in Koh Kong province. He said that both Vietnamese classes here are still maintained. The Executive Board of the Association regularly visits Vietnamese families to encourage their children to go to class.
"During the day, children go to school to learn the Khmer language. In the evening, parents take them to free Vietnamese classes. Vietnamese community here also understands the importance of sending their children to school to gain knowledge, to learn the Vietnamese language, and to preserve the traditional values ​​of the homeland," said Anh.
Chau Van Chi, President of the Khmer-Vietnam Association in Cambodia, said that the Association always encourages children of the Vietnamese community to go to schools and classes in Khmer and Vietnamese, guiding the children towards their ethnic origin. If they learn Vietnamese well, they will have more opportunities to receive scholarships and study at universities in Vietnam.
"Since 2006, the Association has received more than 200 scholarships from Vietnam. Currently, more than 150 children have graduated from university in Vietnam and returned to Cambodia to live and work. This is a human resource contributing to building Cambodia, strengthening the position of the Vietnamese community in Cambodia," said Chi.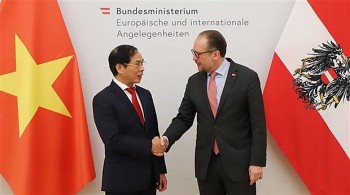 Overseas Vietnamese
Fifty years have passed since the establishment of the relationship, the two countries have enjoyed great strides in bilateral cooperation.