Teaching Vietnamese Abroad: A Colorful Challenge
Teaching Vietnamese language overseas has been a noble mission of Vietnamese teachers for many years. In each country, they have their own stories to share about the challenge of preserving the mother tongue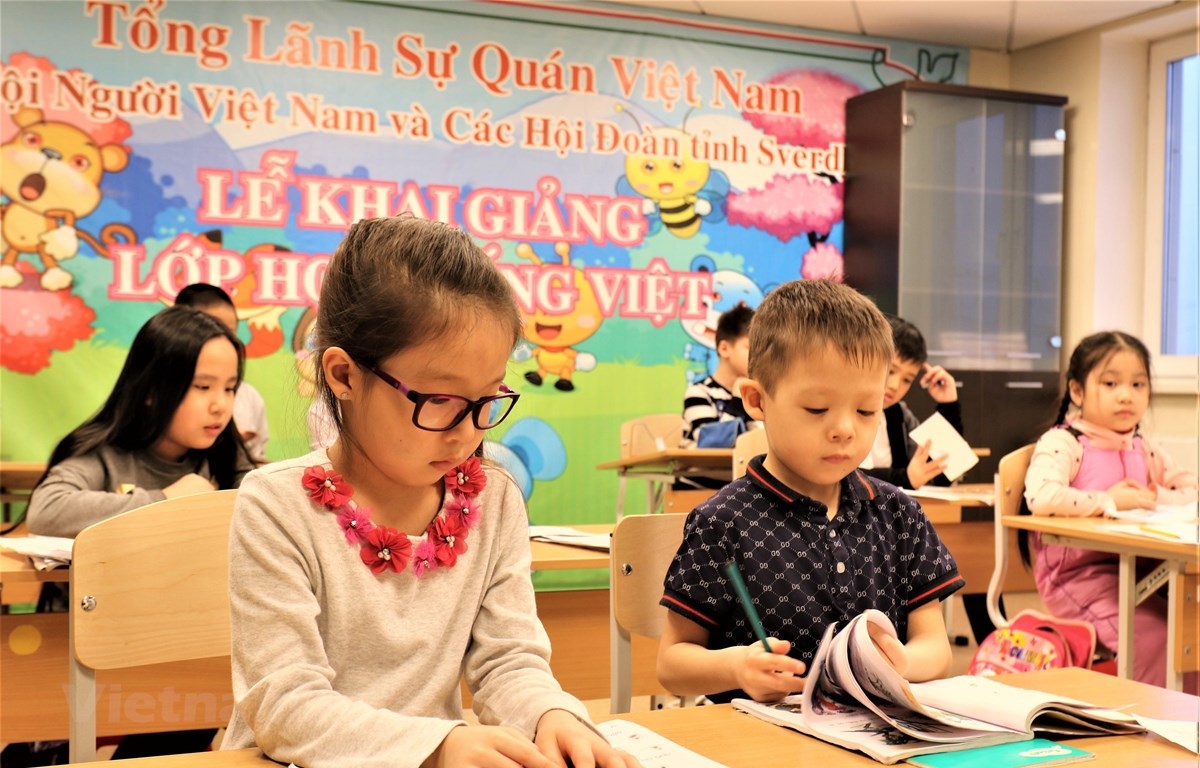 A Vietnamese language class for children in Russia. Photo VNA
Overseas Vietnamese teachers understand too well difficulties of teaching abroad. Instead of being discouraged, they look for solutions to improve teaching quality and effectiveness. Many creative teachers have effectively applied digital technology to teach the language, especially during the Covid-19 pandemic.
The Vietnamese language center in Budapest, Hungary, opened in 2010. There are not many Vietnamese people living in Budapest, resulting in low demand for language learning. Although the Vietnamese resources and teachers are limited, the center operators have tried to maintain classes for different ages and levels.
Teacher Nguyen Luu Lan Anh, who has been teaching Vietnamese in Hungary for 10 years, encourages parents to send their children to the class regularly and practice their mother tongue at home.
Anh says she will continue to teach even if there is only one student.
Teacher Duong Thi Bich, working at the Department of Southeast Asian Studies, Goethe University in Frankfurt, Germany, has also tried to maintain classed despite lacking teachers and professional textbooks.
In a short survey for Vietnamese learning needs, Bich found that 100% of parents wanted to teach Vietnamese to their children. However, they could only arrange for their children's study on weekends, while maintaining classes requires more coordination and active support from families.
Bich keeps self-improving, designing the curriculum to make lessons more attractive and closer to the students. Her colleagues such as teacher Khuat Phuong Dung in Russia or Nguyen Vu Nhu Quynh and Nguyen Thanh Hang in France also overcome difficulties so that they can continue Vietnamese language teaching overseas.
Teacher Le Xuan Lam, general secretary of the Vietnamese association in Poland, and the founder of Lac Long Quan school, which specializes in Vietnamese, understands every challenge of the teaching journey.
The school, which was established in 1999, is proud of the achievements its teachers have made in the development of the Vietnamese community.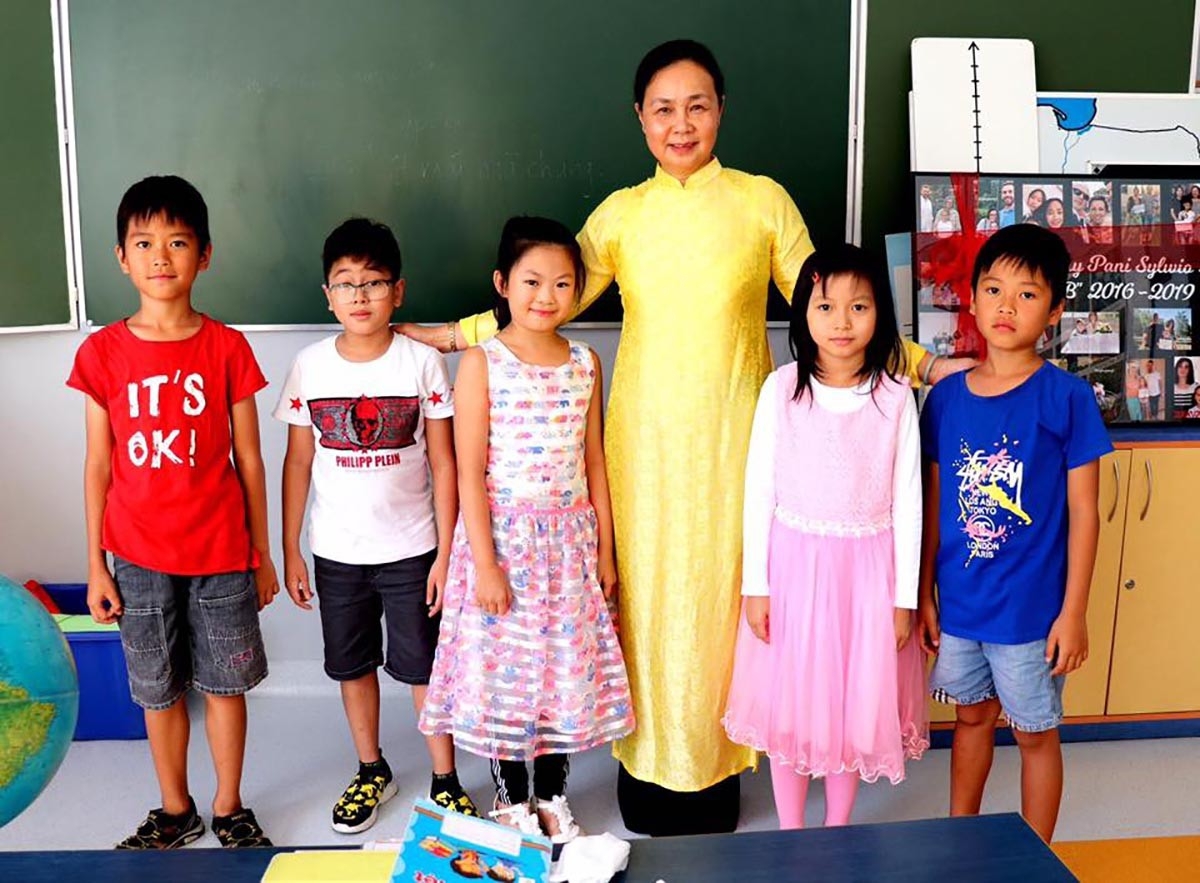 Vietnamese teachers and students at Lac Long Quan school. Photo: The World and Vietnam Report
The school has sent teachers to Vietnam to attend teaching skill training sessions. The school's teachers have also compiled a book entitled "I love Vietnamese" as a reference source for language teaching and learning.
During the Covid-19 pandemic, the teachers have compiled online lesson plans on the E-learning Moodle platform, he said.
Dinh Hoang Linh, acting director of Information and Culture Department, the Ministry of Foreign Affairs' Committee on Overseas Vietnamese, said the department, the foreign affairs ministry and Vietnamese domestic and representing missions oversea had always paid attention to teaching and learning Vietnamese abroad.
"In the context of Covid-19, we plan to conduct online training for Vietnamese teachers, organize an online seminar at Vietnam Summer Camp to nurture the homeland spirit among the young Vietnamese generation of overseas Vietnamese. We want to continue to listen to the suggestions of teachers in each area to make this work more effective."
Creative teachers
Ha Thi Van Anh, an experienced teacher of Taras Shevchenko National University in Kiev, Ukraine, said every teacher must find their own ways to improve teaching quality. For example, they should classify students into groups or have clear-oriented teaching and learning purposes. Teachers must also be equipped with teaching skills, ensure the logic and connection of lessons and understand the psychology of students from different age groups .
Anh has stuck to the motto of "learn to play, play to learn" without creating pressure on students. She uses visual aids such as videos and pictures for illustration during her classes. She has succeeded in teaching students with a specially designed curriculum which is relevant to each age group and living area.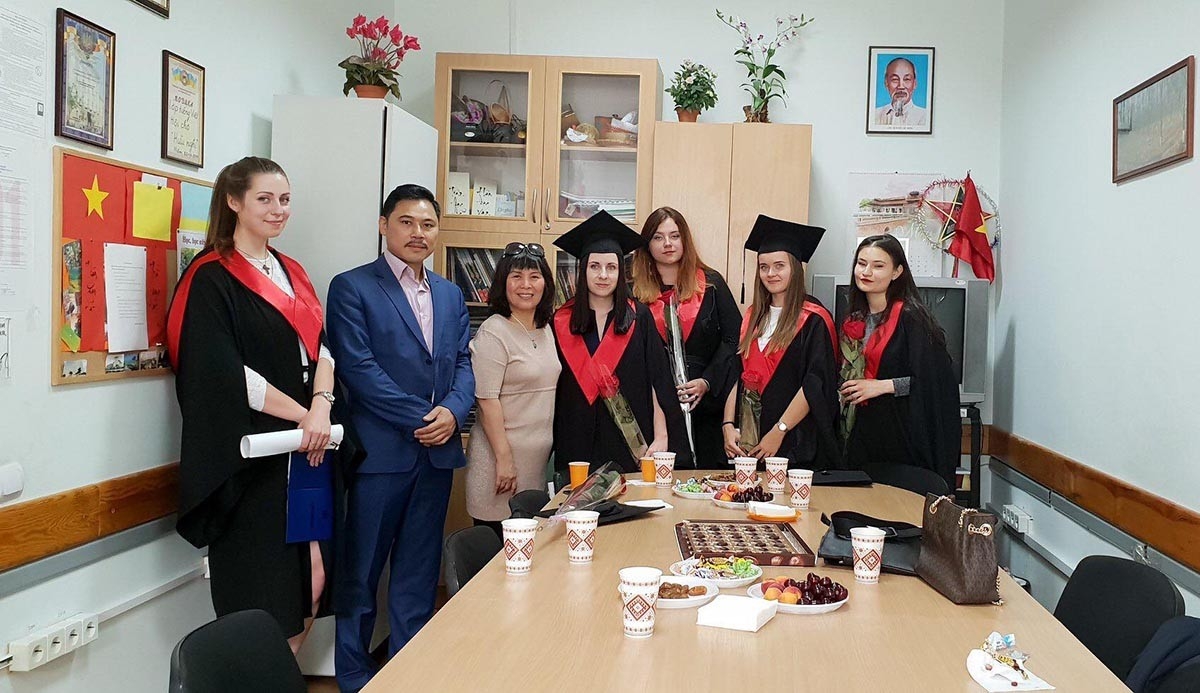 Teacher Ha Thi Van Anh (third from left) has been teaching Vietnamese language to Vietnamese and local students in Kiev, Ukraine. Photo: The World and Vietnam Report
Also focusing on creativity, Ngo Tuyet Mai, a Vietnamese teacher in Australia, has created the Smart Learning program which offers online teaching solutions and skills.
"Amid the challenges of learning Vietnamese online, it is important for teachers themselves to overcome psychological barriers. When we are in trouble, we must ask experts for help," she told The World and Vietnam Report.
"We will continue to support teachers through workshops which share online learning motivation and assist them with online learning methods."
Vietnamese language needs to shine
Teacher Vu Thai Linh expressed her joy that more people are interested in Vietnamese language in the Republic of Korea (RoK).
The number of people learning Vietnamese in Korea is increasing day by day. The learners include leaders, employees of companies coming to make investment in Vietnam, Korean students, children of Korean-Vietnamese families, and Korean women who get married in Vietnam.
Vietnamese language teachers in the RoK have been equipped with everything so they do not face difficulties like teachers in other countries. Meanwhile, the RoK has made proper investment in teaching Vietnamese, Linh said.
Not only Vietnamese community in the RoK but Korean people also love learning Vietnamese language. Photo Chosun Ilbo
In Taiwan (China), Nguyen Lien Huong, who has been teaching Vietnamese for 21 years, is happy that Vietnamese has become more popular.
In addition to the increasing demand for Vietnamese learning among the Vietnamese community, more than 50% of universities in Taiwan have introduced Vietnamese into their curriculum.
The Vietnamese language teaching and learning movement in Thailand has also emerged as a bright spot in recent years.
Pathumthepwitthayakarn high school in Nong Khai province has made Vietnamese a compulsory subject.
Phan Quoc Loi, vice president of the Vietnamese Association in Nong Khai, said at first there were only about 35 students. Now after three years, the Vietnamese classes have 200 students ranging from grades 7 to 12.
The school has built a Vietnamese language and cultural center where information about Vietnam has spread to more than 60 high schools across Thailand's northeastern region, where a lot of overseas Vietnamese live.