Lunar New Year Officially Recognized by California
The Lunar New Year, the grandest celebration in many Asian countries including Vietnam and China, is now a state holiday in California
California Governor Gavin Newsom recently announced that he had signed a law that would make Lunar New Year an optional state holiday.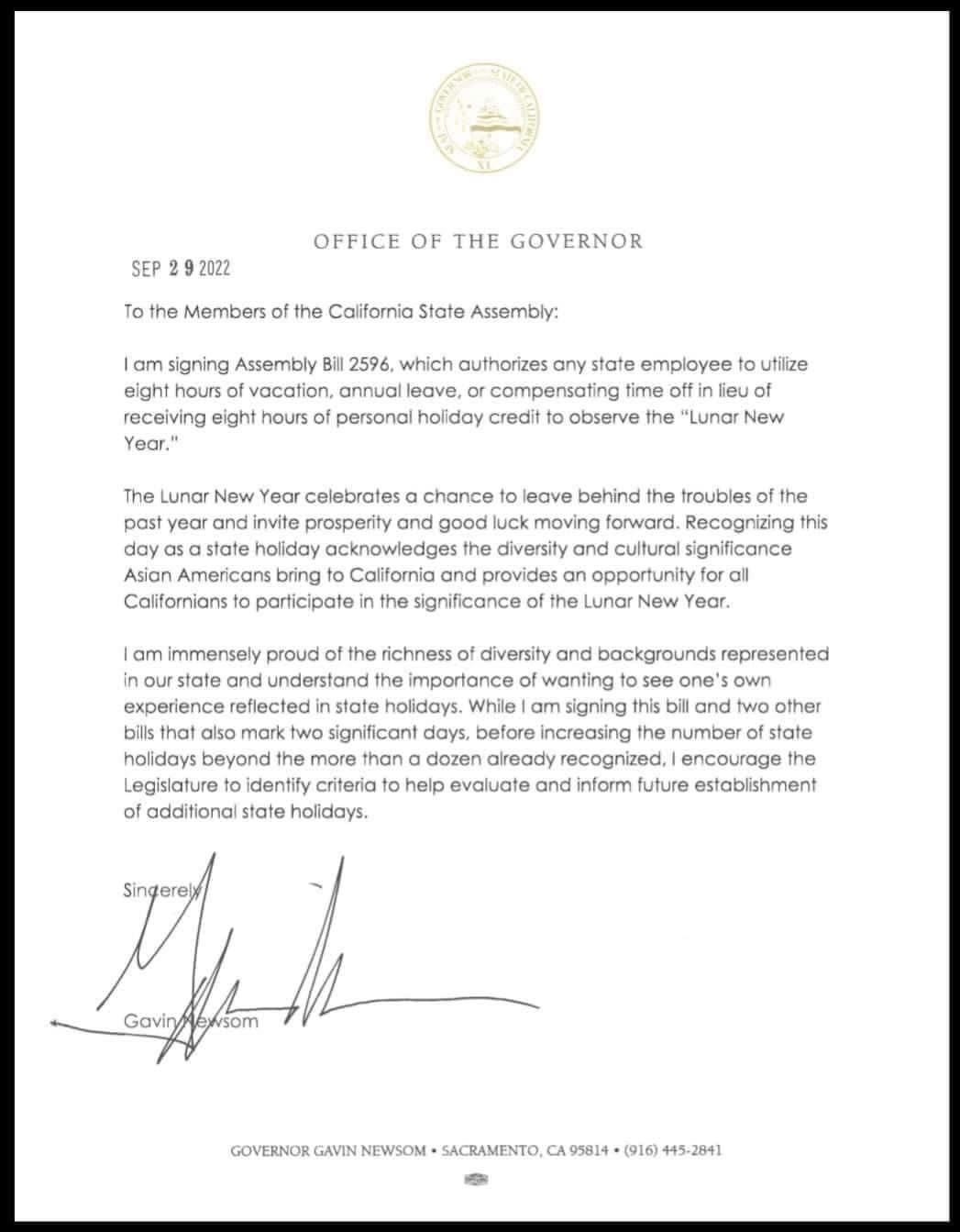 Source: NEXTSHARK
According to KCRA 3, the governor's office announced that he had signed several different laws. Among those laws was AB 2596, which makes Lunar New Year a state holiday. The governor also signed a law that makes Juneteenth a state holiday.
The new state law authorizes any state employee to receive eight hours of holiday credit rather than personal holiday credit and utilize eight hours of vacation, annual leave or compensating time off to observe the Lunar New Year.
With the addition of the Lunar New Year (Tet in Vietnamese), California now has three new state holidays, including Juneteenth and Genocide Remembrance Day.
"The Lunar New Year celebrates a chance to leave behind the troubles of the past year and invite prosperity and good luck moving forward," Newsom in a letter announcing the signing of AB 2596. "Recognizing this day as a state holiday acknowledges the diversity and cultural significance Asian Americans bring to California and provides an opportunity for all Californians to participate in the significance of the Lunar New Year."
Assembly member Evan Low, who authored the bill, thanked Newsom for signing it into law.
Lion dance to celebrate the Lunar New Year 2022 in California. Screenshots of MERCURY NEWS
What does Vietnamese community say?
45-year-old Pham Quang Minh told Thanh Nien newspaper that he had read the decision that makes Lunar New Year a state holiday. However, he did not know whether this holiday will be paid or unpaid.
"The place where I work has not yet announced whether or not to pay for this day. My children's school has not mentioned. At work, in principle, you need to notify 2 weeks in advance if you want to take a day off, but in case someone also applies for leave on that day, they will divide or negotiate with each other," Minh said.
According to Minh, if the Lunar New Year falls on the weekend, it will be more crowded than on weekdays. In the US, parents' lives are almost tied to their children's school schedules.
"In my opinion, Tet here is mainly for children and the elderly. It also depends on whether or not children can take a break from school. On this side, all companies have regulations on holidays, at least 8 days off. If anyone works for the federal or state (as state employees) will get additional federal or state days off," Minh added.
Minh was born and raised in Ho Chi Minh City. He moved with his wife and two children to the US to live for 6 years. According to him, in the city of San Jose - where he lives, there are Vietnamese people working in every profession, but it is common to work in electronics outsourcing firms.
Sophia Luff, another Vietnamese living and working in California, said that she has been here for about 10 years and is currently doing freelance business. She was happy after learning that Lunar New Year is a official holiday in California.
"I work as a freelancer, so the working time is quite comfortable. Just like in Vietnam, people who work at companies, schools or hospitals when they read that the Lunar New Year is a holiday they will celebrate. In the past, on this day, if the owner was Vietnamese, they would usually let them rest. Or if you want to apply for leave, you will report illness or take unpaid leave on the Lunar New Year," said Sophia.
Miss Vietnamese food, including Vietnamese banh mi
When asked about his hometown of Vietnam, Minh mentioned the cuisine and the characteristics of the alleys in Saigon.
He said, when he was still in Vietnam, he often ate Bay Ho banh mi (in District 1), Lan Hue banh mi (District 3), Hoa Ma banh mi (District 3), among others.
"In California, many people also sell banh mi, but it's definitely not as good as in HCM City, but it's okay. The owner and staff are Vietnamese. The popular type here will have pate, ham, ham, pork, cucumber, sour food, chili. Some shops have typical ingredients such as grilled meat, fish cakes, bread, bacon only and vegetarian banh mi," he said.
His family sometimes still eats banh mi, often when going out.
Sophia Luff returns to Vietnam once a year, but since the Covid-19 outbreak, she has not been able to visit her hometown. She shared that many places in California sell banh mi. Previously, each loaf cost USD 3 (about VND 70,000) but now it costs USD 6 (about VND 140,000) but the loaf is big and a lot of meat, it takes two people to finish it all.
"In my opinion, Vietnamese banh mi is better because the loaf is small and has less meat. There are too many fillings here, so I don't eat much, but in general, everyone's taste is different. I see a lot of bakeries selling banh mi, but not along the roadside because in the US, the housing area is far from the shopping area. If you want to buy, you have to drive, not walk to the end of the alley," she said.
The Lunar New Year, which usually takes place at the end of January or the beginning of February, is predominantly celebrated by Chinese, Korean, Vietnamese and other Asian communities. Based on the lunar calendar, the special event marks the arrival of spring.
Earlier this year, Rep. Grace Meng introduced a new bill that would recognize Lunar New Year as a federal holiday in the US.
The US Census Bureau estimated the total population of Vietnamese Americans was about 2 million in 2016. The largest group of the Vietnamese in the US live in California with about 40%.
The Lunar New Year falls generally on the second new moon and is celebrated by millions of Californians at community events. Many jurisdictions in California, including the city and county of San Francisco, have already designated Lunar New Year as an official school holiday.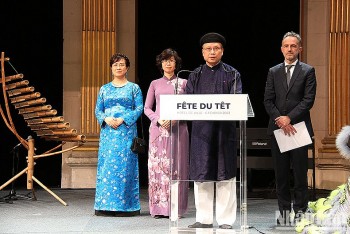 Friendship
Speaking at the celebration on the occasion of Lunar New Year for the overseas Vietnamese in France on February 6, Ambassador Extraordinary and Plenipotentiary of Vietnam in France Dinh Toan Thang emphasized that 2023 is an important milestone to promote the friendship and cooperation between Vietnam and France to the next level.