1.7 million Covid-19 vaccine doses to arrive in Vietnam this weekend
More AstraZeneca doses will arrive in Vietnam on May 16, the Ministry of Health announced Thursday morning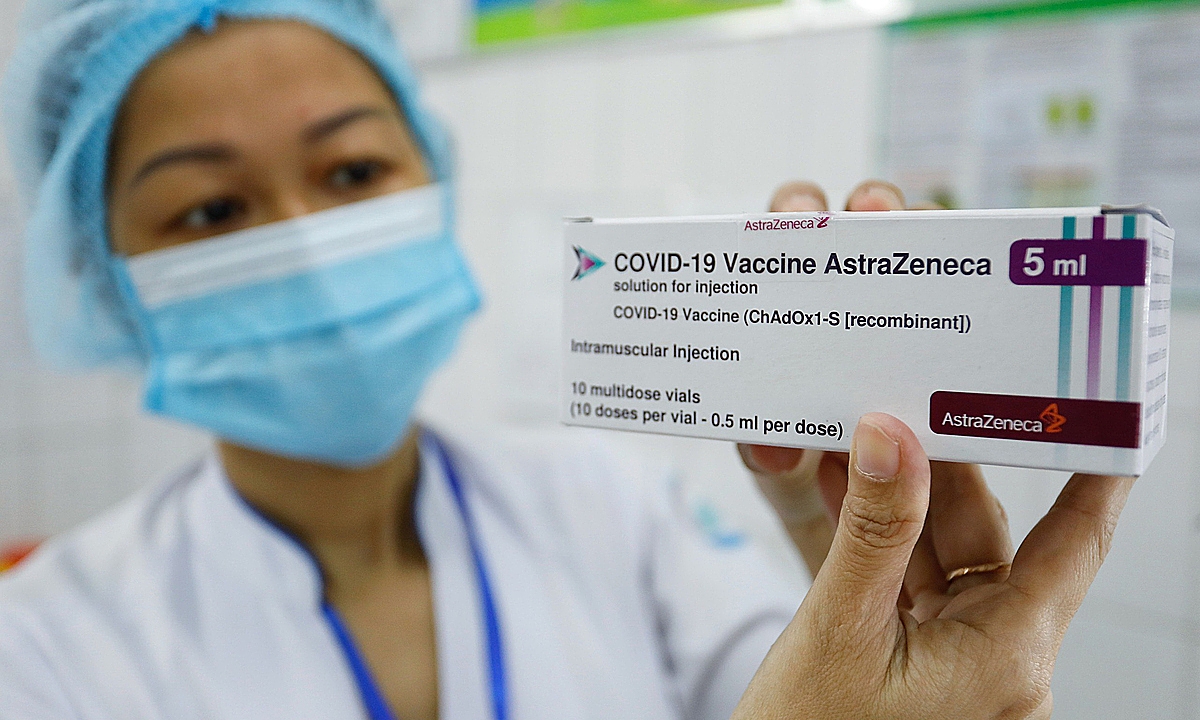 A medical worker holds a box containing Covid-19 vaccine doses by AstraZeneca. (Photo: VNE)
A second batch of the AstraZeneca vaccine, containing 1.682 million doses, sourced via the global COVAX program is set to be delivered to Vietnam this Sunday, the health ministry has said.
The batch, supplied by COVAX Facility via the UN Children's Fund, will soon be allocated to all agencies and localities, Deputy Health Minister Nguyen Thanh Long said. The move will speed up vaccination programs and increase coverage nationwide.
"We are continuing to accelerate the search, access and negotiation for vaccine sources in a bid to make sure there is enough vaccine availability and safety for all residents," the minister added.
Vietnam kicked off its national vaccination program on March 8. So far, the UK's AstraZeneca vaccine is the only coronavirus vaccine injected in Vietnam. In late February, the health ministry purchased over 117,000 doses via Vietnam Vaccine JSC. Over 800,000 doses supplied by COVAX Facility arrived in March. All the doses have been administered to prioritized individuals in 62 provinces and cities, including frontline medical personnel, Steering Committee for Covid-19 Prevention and Control members, police and military forces.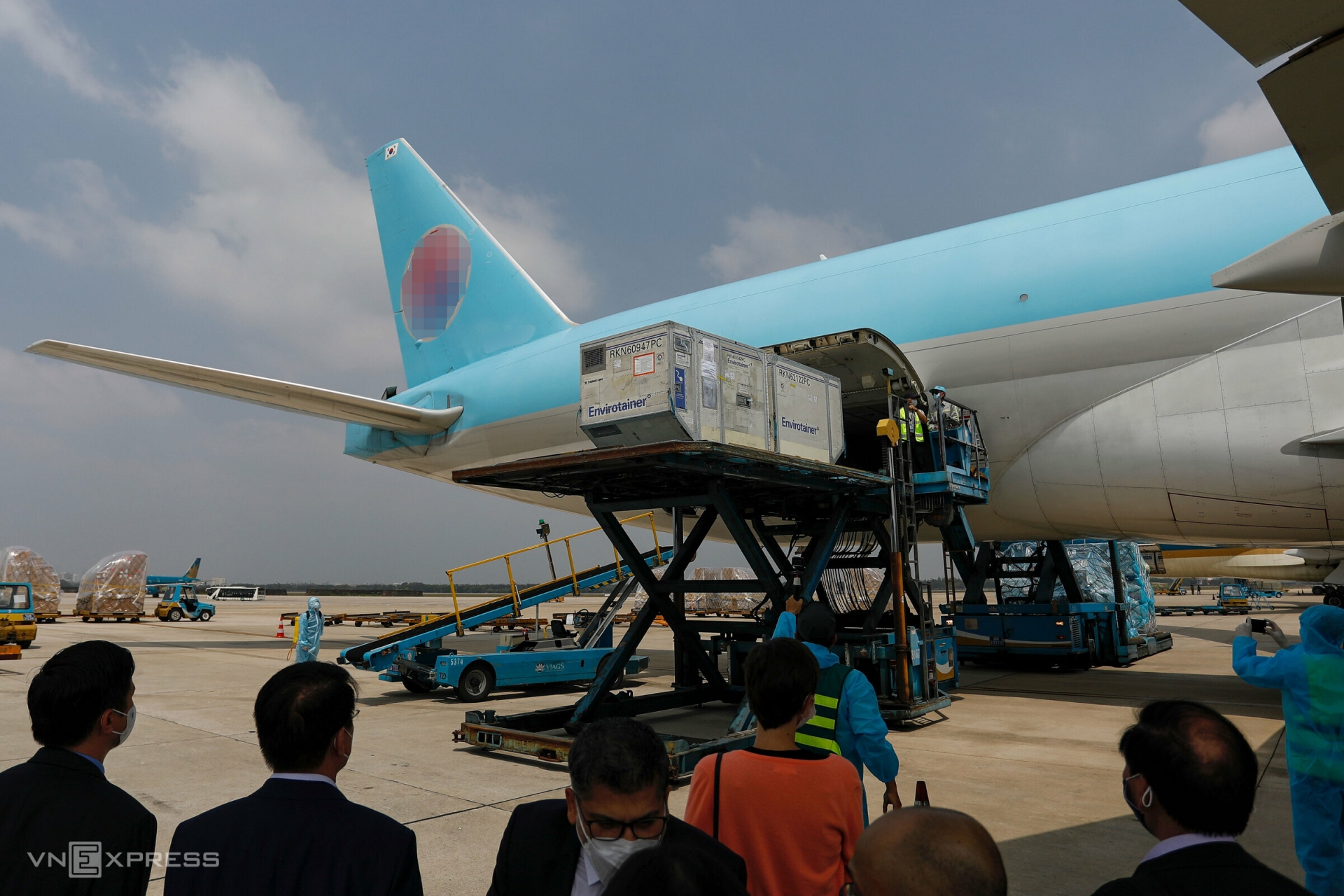 AstraZeneca Covid-19 vaccine batch lands in HCMC in February (Photo: VNE)
As of May 6, more than 600,000 people have been given the vaccine. A total of 16% of the recipients experienced post-inoculation reactions, all symptoms wore off within 24 hours. The rate, according to Long, is lower than in other countries. Those having more severe side effects were given prompt treatment and are now in stable health condition. A 35-year-old female medical staff has been the only coronavirus vaccine recipient to die of post-injection shock in Vietnam so far.
The country aims to secure 150 million doses to cover 70% of its population by next year
In the meantime, Vietnam is working on four potential homegrown Covid-19 vaccines.
NanoCovax, developed by the Nanogen Pharmaceutical Biotechnology Company, is Vietnam's first candidate vaccine to reach the human trial stage. It is expected to receive authorization in Q3.
Nanocovax is priced at 120,000 VND (5.17 U.S. dollars) per dose. Along with injections, the vaccine will also be developed in the form of an eye-drop and nasal spray for special subjects.
Nanogen's current production capacity is around 10-20 million doses per year. It is planning to upgrade its factory to increase annual production to 50-70 million. The company said it would prioritize domestic distribution before exporting the vaccine.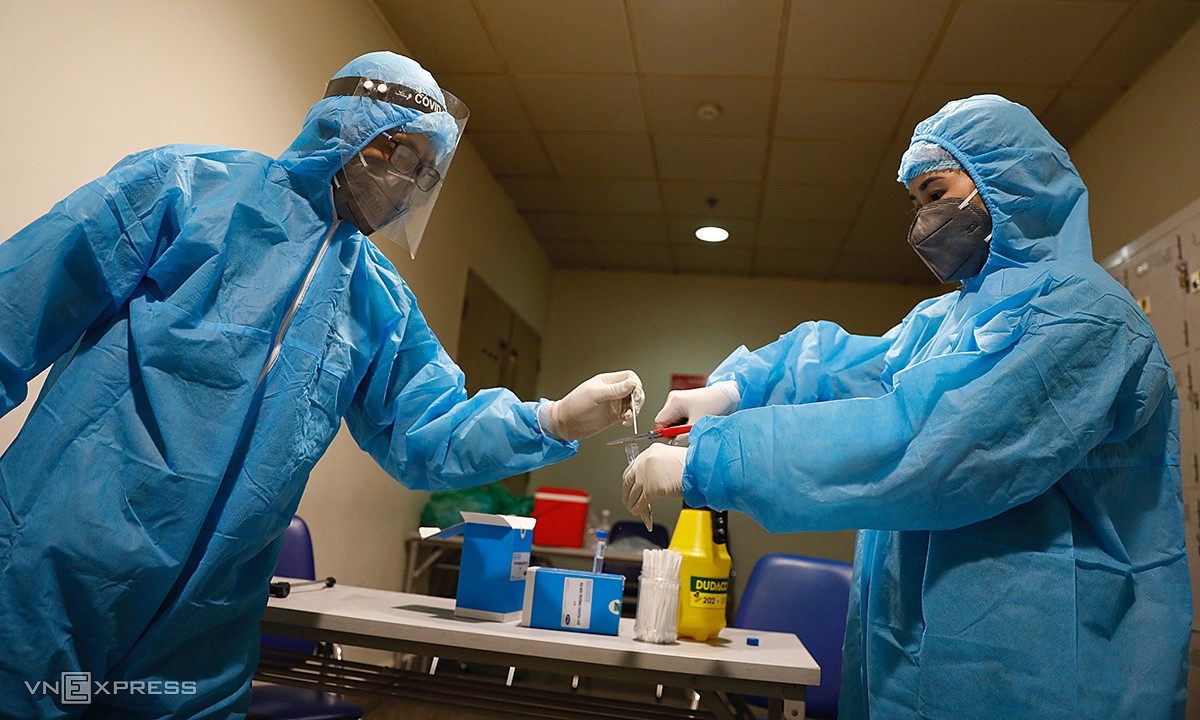 Medic collect samples taken for coronavirus tests at HCMC's Tan Son Nhat International Airport, May 2021. (Photo: VNE)
The vaccine from the Institute of Vaccines and Medical Biologicals, known as Covivac, is on the second human trial phase. One shot of Covivac has proved effective on the British and South African variants of nCoV, which emerged several months ago and been shwon as more dangerous than the original variant.
One dose of Covivac is priced at 60,000 VND. The Institute has a production capacity of 6 million doses per year. The number could be raised to 30 million doses per year.
Two other vaccinesare studied and developed by Vabiotech and Polyvac companies.
Vietnam is grappling with the fourth wave of the novel coronavirus, which started on April 27 and has been the country's most challenging by far. To date, 644 infections have been recorded in 26 cities and provinces.
The domestic Covid-19 tally was up by 33 on Thursday morning, including 30 who have been quarantined following contact tracing.
Since the disease appeared in the country early last year, Vietnam has had 3,658 Covid-19 cases, including 2,213 domestic cases and the rest imported.
More than 942,000 people, or 1% of the country's population, have been vaccinated against Covid-19.