Many a little makes Vietnam miracle - contribution of free meals to fights against COVID-19
Nguyen Thanh Thuy - a restaurateur volunteeres to cook 120 free lunch sets each day to frontline doctors at Central Hospital for Tropical Diseases No. 2, Dong Anh, Hanoi.  
Thuy ships lunch meals to doctors at Central Hospital for Tropical Diseases all by herself (Photo: Zing News)
The COVID-19 has been increasing complicatedly in Vietnam, with many new positive cases reported. The government, central and local authorities are struggling in the fight against the novel virus.
One frontline doctor in the Central Hospital for Tropical Diseases No. 2 has caught the disease, meanwhile, the hospital itself is admitting an increasing number of infections and suspected patients as well.
"Medical staff are struggling every minute to tend and treat hundreds of patients in the hospital. I'm very sorry for them. Luckily, I have some acquaintance working in this hospital, so I asked them for help", Thuy said. "What I'm doing comes from my gratitude, admiration for the medical staff in the frontline combat with COVID-19. I have no other purpose".
Thuy's every day starts bright and early. She goes shopping at 5 am every day to make sure all the ingredients are still fresh. Prepping and cooking process is ensured to meet food hygiene and safety standard. Each serving includes vegetables, meat, shrimp, rice and soup, accompanied with juice. Besides, she also makes "che" (sweet soup) to diversify the menu upon hearing one doctor complains of losing appetite for savory dishes. She's been serving free meals to five departments for four days now.
Every day, she contacted the hospital before writing out menu, making sure there are enough meals for the doctors. "Preparing, cooking, shipping the food all by myself gives me a peace of mind", Thuy shared.
Thuy couldn't handle all 120 portions on her first days, and resorted to some neighbors' help. (Photo: Kenh14)
"I couldn't handle 120 servings on the first day all by my self, so I resorted to my neighbors' help. Some of my friends who know what I'm doing also lent me a hand", Thuy said while smiling.
"I almost fell off the motorbike that day, as I was in a nick for time and drove too fast. What a relief, lest there would be no food for doctors' lunch", she recalled. "I can only serve five departments in the hospital now. But I've been very happy lately doing this. I feel like I've somehow contributed to the COVID-19 combat".
Being the main person in her family to bring home the bacon, Thuy had to shut her small restaurant down since the COVID-19 broke out in Vietnam and sent her children to her parents' home. With this voluntary project, she has financial concerns at first but was lucky enough to get some sponsors from wealthy individuals who happened to know her plan.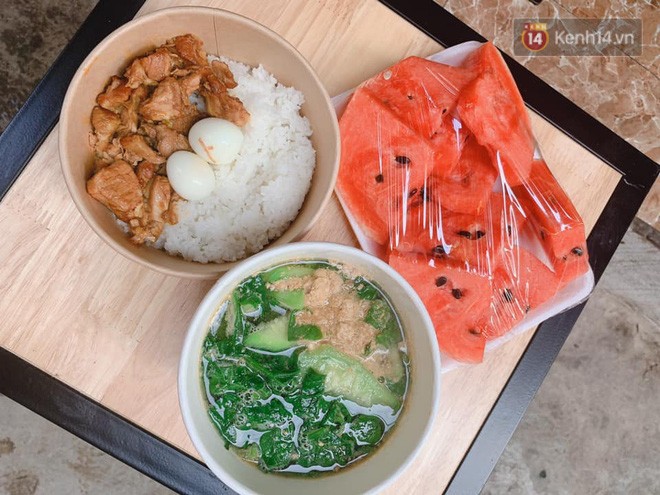 One lunch set (Photo: Kenh14)
Thuy is now sharing her project on social media and press agency. "I've been calling everyone to join me to serve more delicious meals for doctors, hoping them can enjoy yummy and nutritious meals after hours of hard work", she said.
Prior to Thuy, a coffee chain in Hanoi donates over 300 cups of coffee every day, each has an encouraging message from customers, employees to doctors and nurses at Central Hospital for Tropical Diseases No. 2. One famous restaurant in Da Nang, central of Vietnam also sends 1,000 free meals to frontline doctors.
As of March 27, Vietnam has a total of 153 COVID-19 cases, in which 20 patients have recovered, no death reported.
Zing news/ Kenh14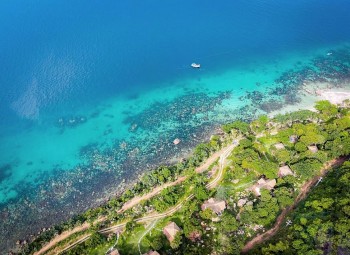 Travel
Vietnamese Ministry of Culture, Sports, and Tourism has issued a plan to stimulate travel demand, restore the tourism industry, and resume travel activities in late 2021 and early 2022.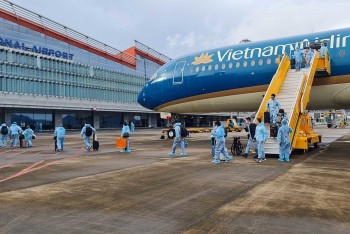 National
Vietnam News Today (September 27): HCM City expects a special mechanism for new normal; UNICEF speaks highly of Vietnam's priority to Covid-19 orphans; Vietnam considers mutual recognition of vaccine passport with select countries; Central Vietnam province prepares to welcome foreign tourists starting November.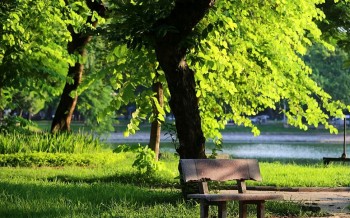 Travel
As Hanoi enters autumn, the atmosphere turns cool and relaxing. Hanoi's streets become more poetic with the clear blue sky and golden sun rays leaking through the leaves.