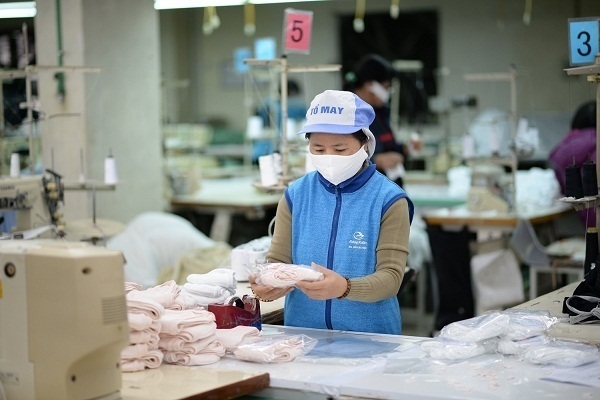 Businesses increase the production of cloth masks
At the present, Prime Minister Nguyen Xuan Phuc has approved the export of medical face masks and protective clothing providing domestic demand, including reserves, is met.
According to the General Department of Customs, Under the provisions of Resolution No. 20 / NQ-CP dated February 28, 2020, Viet Nam applies the export licensing regime for medical masks in the stage of preventing and controlling COVID-19 epidemic and only allows the export of medical masks for the purpose of humanitarian aid or international assistance implemented by the Vietnamese Government (up to 25% of output for export, 75% of output for domestic usage).
This regulation aimed to give priority to the fight against the pandemic in the country and ensure adequate medical equipment for doctors.
Chairman of DANAMECO Medical Joint Stock Corporation (DNM) Le Hai Trong told VnExpress he has to decline dozens of orders for medical face masks every day, due to the ambiguous export policy for this product.
Companies like DNM are shifting focus on raising production capacity of face masks to meet growing global demand. Trong said so far the company has invested in 100 production lines for medical face masks, which enable DNM to produce up to 7 million medical face masks and one million N95 face masks per day from May 15.
However, these face masks would not be exported until the Ministry of Health (MoH) could buy a total of 60 million face masks for national reserves, which currently stand at 46.1 million.
According to Hoai, the MoH's procurement through direct contracting with prices significantly lower than the market one, is discouraging face mask manufacturers from selling their products to the ministry for national reserves.
Hoai urged the ministry to exercise competitive bidding to purchase the remaining amount, so that face masks could be exported freely.
The MoH is planning to revise the government's Resolution No.20 regarding conditions for export of medical face masks. The resolution grants export permission to those having sale contracts or those committed to supporting local health facilities at least 20% of the amount intended for export.
The resolution does not apply to companies that produce face masks under contract orders for foreign firms with contract being effective before March 1.
According to the Ministry of Industry and Trade, there are about 20 textile companies in Vietnam producing anti-bacterial cloth face masks. The domestic firms also no longer have to rely on imported materials such as antibacterial fabrics or chemical substance. They could produce antibacterial fabrics made from domestically biological materials.
In response to the proposal, the Ministry of Finance (MoF) said such requirements may cost enterprises the opportunity for large export orders.
The MoF said the MoH should focus on buying sufficient amount of face masks for reserves, and give giving permission for export based on the producers' capacity.
Meanwhile, a representative of a medical equipment company said the MoH's cautious approach in setting conditions for medical gear export is understandable, given growing cases of mass quantity of face masks being confiscated due to low quality.
A tightening of control for face masks export could help made-in-Vietnam face masks avoid the situation that Chinese face masks in Europe have been recalled and returned for low quality.
DNM Chairman Trong added it is more important to control the product quality, instead of limiting export quantity.
At a time when Chinese products are gaining a bad reputation, major Vietnamese companies could grasp this opportunity to replace them in the US and European markets, Trong stressed.
Jennifer Tran
(Hanoitimes, Vietnam Customs)