Video "Five Things To Do To Prevent Covid-19", which is 1 minute in length was uploaded in early April during the peak of the Covid-19 pandemic in Vietnam when the social distancing order was applied nationwide. The video has attracted more than 23.5 million views so far.
The content includes the Ministry of Health's recommendations to protect people's health during the Covid-19 pandemic such as minimize going out in public places, always wear a mask and keep a distance of 2 meters in contact, frequently wash hands with soap or disinfectant solution, regularly clean and keep the house airy, conduct health declaration.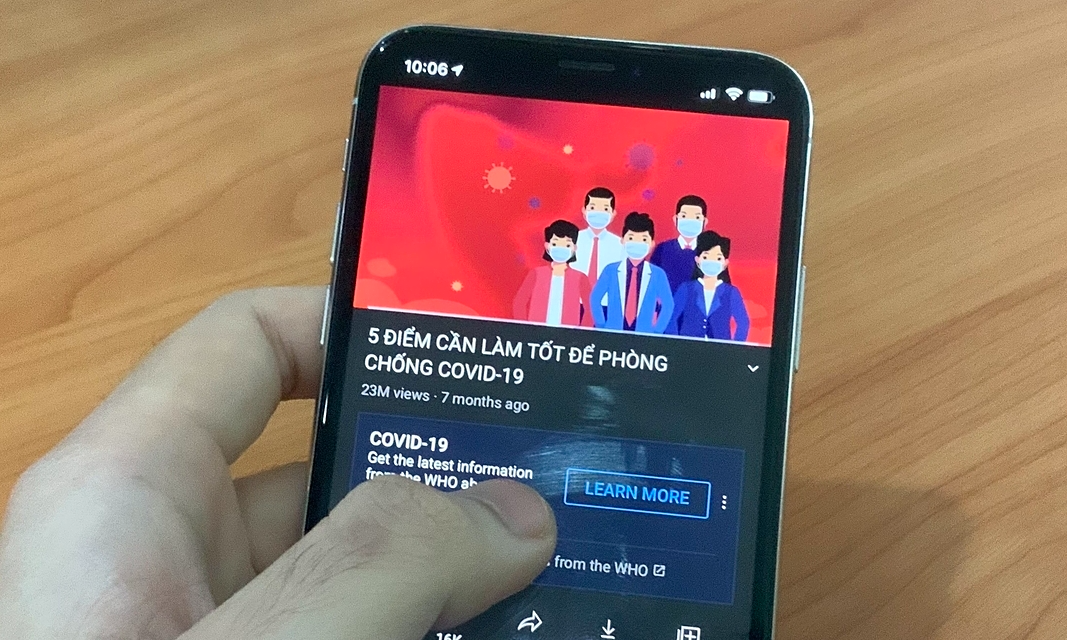 The Ministry of Health's "Five Things To Do To Prevent The Covid-19" video has garnered more than 23.5 million views on YouTube. Photo by VnExpress/Long Nguyen.
"The video about five steps we should do to prevent to Covid-19 pandemic has brought crucial health information to the public, helping Vietnam contain the pandemic effectively," YouTube said on December 3, adding it was creative.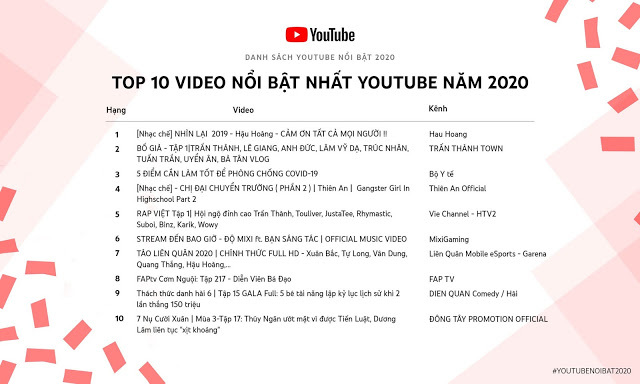 Top 10 trending videos on Youtube Vietnam.
Notably, in the top 10 of the most trending videos in 2020 just announced by YouTube, there are two videos in the form of music, which the top of the list is "Nhìn lại 2019" (Reviewing 2019) of Hau Hoang's channel. The video belongs to the genre of lyrics, the fun expression based on popular melody. This video was released on January 25 and accumulated more than 82 million views. In 2019, another music video of this channel also ranked top.
The most trending game show in 2020, Rap Viet, also present in the list besides videos from Tran Thanh and FAPTV channels.
According to YouTube, the most trending videos of 2020 are evaluated based on views, engagement, number of comments, shares, growth, ...
Issues relating to video on this platform are making relevant managers scratching their heads. According to the Ministry of Information and Communications, each month, thousands of videos with bad and malicious content have been removed on social networks. The response rate to remove malicious and illegal videos on the YouTube platform has increased from 50% to 90% in 2020.
YouTube is the most viewed video platform in Vietnam. Currently, Vietnam has 120,000 YouTube subscribers, 15,000 advertising revenue channels, 350 channels with over 1 million followers. Vietnam is also in the top 10 countries with the most YouTube views in the world.
Lyan Vu